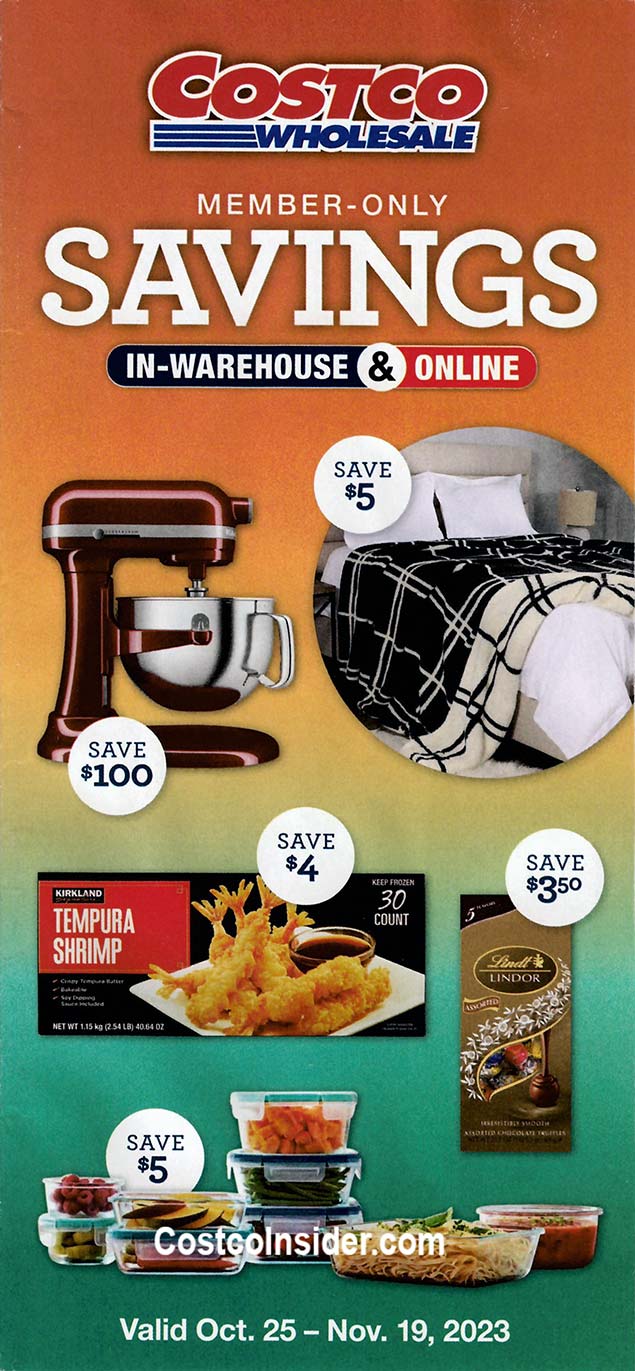 We love this time of year as we bring you the upcoming Costco November 2023 Coupon Book. This is the first of the Holiday coupons and will run from October 25th through November 19th. To display the coupons on the page just click the link above and you'll be taken to them. Then you've got the Costco Black Friday 2023 Ad which starts on October 30th and runs through November 27th. If you want to get notified as soon as we release the upcoming Costco December Holiday Deals then make sure to sign up for our email list, follow us on Instagram and Like us on Facebook!
The Costco November 2023 Coupon Book definitely has us getting ready for Thanksgiving and the holidays. Right on the cover page you see a few interesting items. The KitchenAid mixer is great for baking and is $100 off. The Kirkland Signature Tempura Shrimp make a great appetizer and is $4 off. The Snapware Pyrex 18-Piece Glass Food Storage Set is great for storing Thanksgiving leftovers and is $5 off, making it only $19.99. We always stock up on Kirkland Signature Organic K-Cup Pods and this month will be no different at $6 off. The tire coupon has switched back to Bridgestone, and is $60 off a purchase of $899.99 or less and $110 off a purchase of 4 tires for $900 or more.
If the link above isn't working for you to display the coupon book you can also click this link to go directly to the first page of the slideshow for the November 2023 Costco Coupon Book. What are you going to buy in this months coupon book? Leave a comment and let us know!
All the Costco Holiday 2023 Coupons
November 2023 Costco Coupon Book (Oct 25th – Nov 19th)
Black Friday 2023 Ad (Oct 30th – Nov 27th)
November 2023 Hot Buys Coupons (Nov 11th – Nov 19th)
December 2023 Costco Coupon Book (Nov 20th – Dec 24th)
Costco Holiday Handout 2023 (Dec 8th – Dec 24th)

Here's a few of the deals in the Costco November 2023 Coupon Book:
KitchenAid 6-Quart Professional Series Bowl-Lift Stand Mixer $399.99 – $100 off = $299.99
Reynolds Wrap Aluminum Foil $5.30 off
Lindt Lindor Assorted Chocolate Truffles $3.50 off
Kirkland Signature Tempura Shrimp $4 off
Vitamix E520 Blender $399.99 – $100 off = $299.99
Kirkland Signature Organic K-Cup Pods $35.99 – $6 off = $29.99
32 Degrees Dog Vest $5 off
Realgood Foods Gluten-Free Lightly Breaded Chicken Strips $4.50 off
Instacart+ Membership Promotion $79 – $30 off = $49