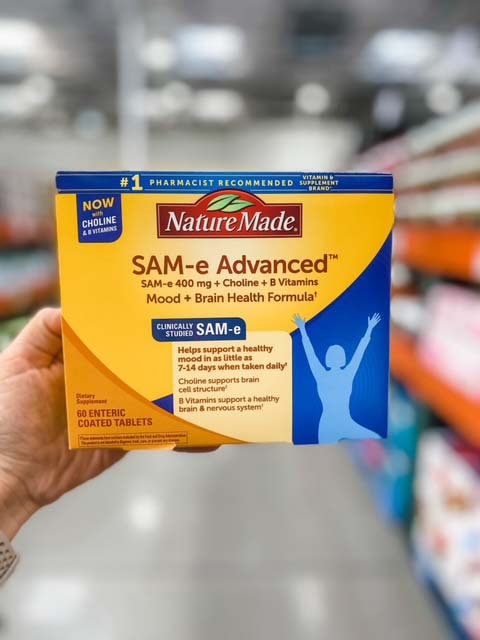 Disclaimer: This is a sponsored post by NatureMade. All reviews and opinions expressed in this email are based on our personal views. 
With all that is going on around us these days, we could all use some extra support when it comes to our mood and brain health.†That's why we were very excited when NatureMade reached out to us about their SAM-e Advanced product. This is an all-new product by NatureMade and we were very excited to give it a try.
If you're anything like us, you're probably wondering, "What even is SAM-e?" Well, SAM-e stands for s-adenosylmethionine, and it is a naturally occurring molecule in our bodies that may increase levels of neurotransmitters, or brain chemicals, responsible for mood.†
You might remember that NatureMade previously had a SAM-e Complete product at Costco that customers came to trust to support a healthy mood.†
Well, SAM-e Advanced is a new and improved formula that launched this month at Costco! SAM-e Advanced now includes Choline and B Vitamins. This is an important addition because Choline and B Vitamins help support a healthy brain in addition to the healthy mood support that customers have come to know and love NatureMade SAM-e for.†
So, all of this sounds great, but what are the actual benefits? And how does it all work?
NatureMade's SAM-e Advanced formula helps support a healthy mood in as little as 7-14 days when taken daily.† The new additions of Choline and B Vitamins have incredible benefits as well.
Choline supports brain cell structure, and is a nutrient found in many foods. Your brain and nervous system need Choline to regulate memory, mood, and muscle control .† Many times our diet doesn't contain enough Choline and sometimes we simply have other limiting factors that keep us from getting our needed amount.
That's where NatureMade SAM-e comes in! It supports your lifestyle and helps you get the nutrients your body and brain need to function at a more optimal level.†
The added B Vitamins are also important because they support a healthy brain and nervous system. Vitamins B6, B9, and B12 have been added to this formula to help brain cells produce the energy they need to function. As we get enough of our body's necessary nutrients, we feel better and stronger.†
Nothing feels better than having a body that's in balance, and often times our brain and our moods are the first to feel when that balance is happening and when it's not. And you can feel really good about this product because it's made by Nature Made, the #1 Pharmacist recommended vitamin and supplement brand*.
Right now through April 3, 2022, get $8 off your purchase at Costco. This is an incredible deal! Take advantage of a mood and brain health supplement you can add to your daily routine. Many of us need this more than we realize.†
Between 7 and 14 days we found this to really take effect. Calmer moods, happier, more content, and clearer thinking were all noticeable. It was such a simple addition to our daily routine, and it makes a world of a difference.
Here is what others are saying about it:
"This SAM-e does everything it says it will do. And a great price!"

"More than satisfied with this product!"
You can find this for just $39.99 in the vitamin and supplement aisle nationwide. Take advantage of the $8 off deal from March 9th to April 3rd.
Don't take our word for it! Give it a try today!

*Based on a survey of pharmacists who recommend branded vitamins and supplements.
† These statements have not been evaluated by the Food and Drug Administration. This product is not intended to diagnose, treat, cure or prevent any disease