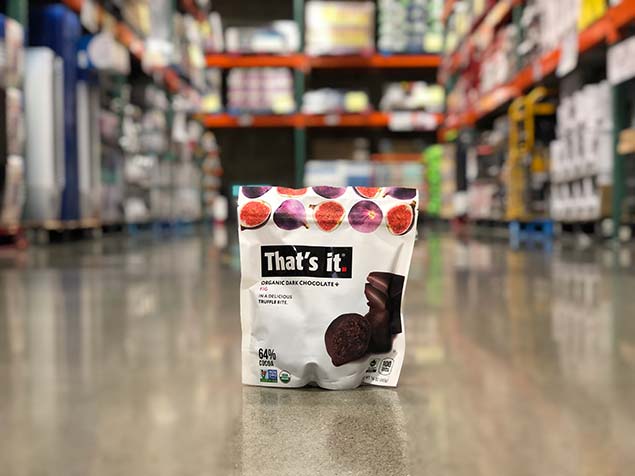 There's a new product in Costco stores and we couldn't wait to give it a try. The That's it. Organic Dark Chocolate Fig Truffle Bites are now in most stores in LA, San Diego, Bay Area, Colorado, Texas, Arizona, and a few other locations sprinkled in. We have a list below of all current locations. Thankfully That's It was able to provide us with a bag to try. They consist of only two ingredients, fig and dark chocolate. We love how they're Paleo Friendly, Fair Trade Certified, Non-GMO, Kosher, Organic, Gluten-Free, and Allergen Friendly! It's hard to fit a product into all those categories and That's it not only managed to do that but to make an amazing delicious product in the process. What's also really nice about the truffles is that they're only 22 calories and 3g of sugar per truffle. We have to say, for such a healthy version of a dessert we are quite impressed.
We began our review process quite impressed on our first bite. The texture with the fig is just right, with a little bit of crunchiness yet still very smooth. With the That's it Organic Dark Chocolate Fig Truffles using 64% cacao dark chocolate you satisfy the chocolate craving without having it be overly sweet. This also allows you to eat more due to the low volume of sugar. On the other hand, the truffles have a long finish to them (is that only a wine term?), which keeps you satisfied much longer compared to most truffles.
Another benefit to the That's it Organic Dark Chocolate Fig Truffle Bites is that you get 5 grams of fiber, 2mg of iron, 357mg of potassium, and a dose of antioxidants in every serving. For those chocolate aficionados, we wanted to mention the quality of ingredient here. We think the chocolate is very high quality from a taste perspective. We also love that it's socially responsible (certified fair trade) and perfectly balanced – not too bitter and not too sweet. In the end, we love the guilt free feeling we have after consuming a few of these for dessert and look forward to having them in our lives regularly. Leave a comment if you've tried them as well!
List of Costco Locations currently carrying them
Arizona: Avondale, Cave Creek, Chandler, Gilbert, SE Gilbert, Glendale, Mesa, Paradise Valley, N Phoenix, Prescott, Scottsdale, Tempe, Thomas Road, Tucson, NW Tucson, SW Tucson
California: Carlsbad, Carmel Mountain, Chico, Chula Vista, Danville, El Centro, La Mesa, Lake Elsinore, All Los Angeles Region stores, Mission Valley, Morena, Poway, Rancho Del Rey, SE San Diego, San Francisco, San Marcos, Santee, Sunnyvale, Temecula, Vista
Colorado: Arvada, Aurora, E Colorado Springs, W Colorado Springs, Gypsum, SW Denver, Douglas County, Parker, Sheridan, Superior, Thornton, Timnath, Westminster Co
Kansas: Wichita
Louisiana: Baton Rouge, Lafayette, New Orleans
Nevada: Centennial, Henderson, SW Henderson, Summerlin
New Mexico: Albuquerque, NW Albuquerque, SW Albuquerque
Oklahoma: Tulsa
Texas: Arlington, Austin, S Austin, Bunker Hill, Cedar Park, Dallas, Duncanville, El Paso, Fort Worth, N Fort Worth, Frisco, Galleria, Humble, W Katy, Lewisville, Lubbock, McKinney, Pearland, Pflugerville, Pharr, E Plano, W Plano, Rockwall, NW San Antonio, Sugar Land, Sonterra Park, Selma, Southlake, Webster, Willowbrook, Woodlands
Utah: St. George