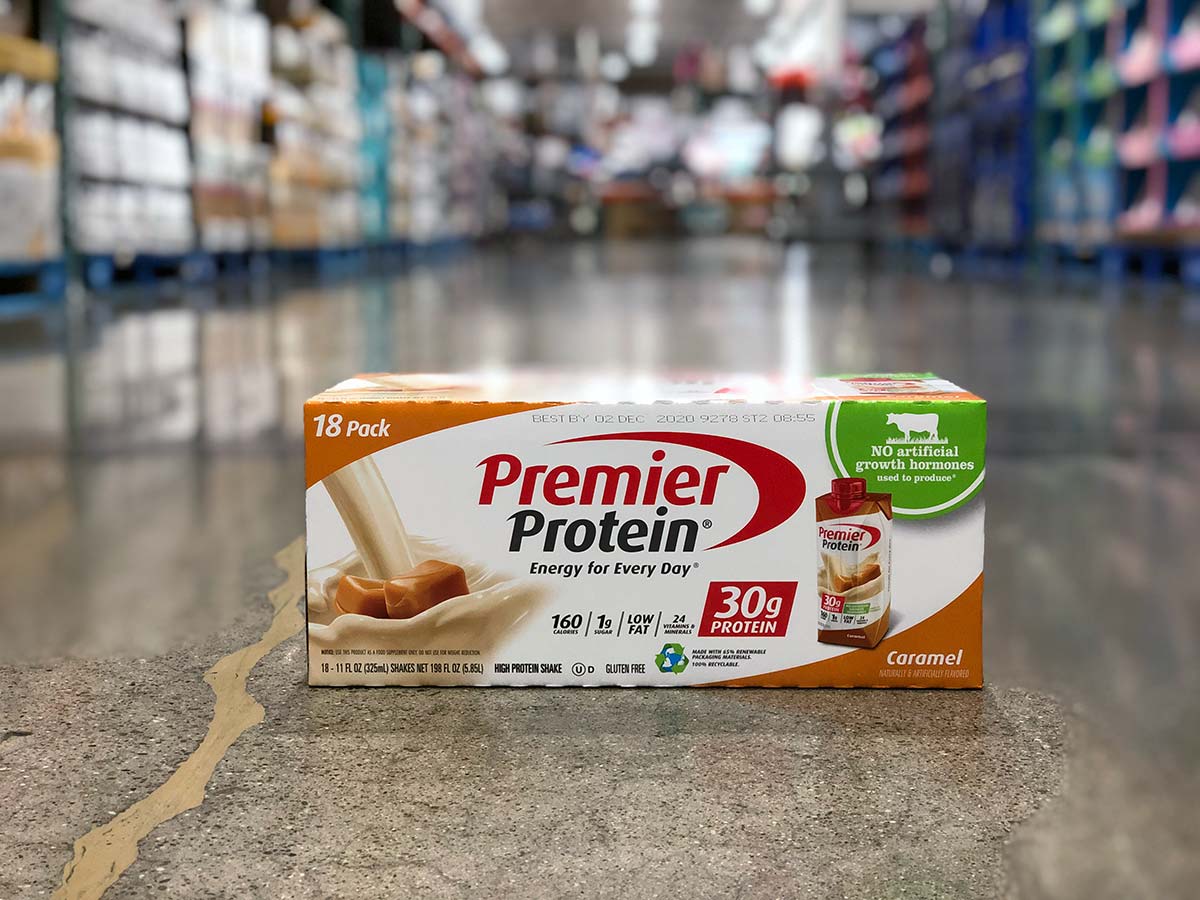 Costco members favorite protein shake, Premier Protein®, is bringing a new flavor to all Costco stores. Caramel has been a very popular flavor of theirs for years and it's coming to Costco warehouses. Premier Protein has been in Costco for over 10 years now and for good reason. Their product is loved by Costco members, as is evidenced by the almost 10,000 5-star reviews on Costco.com. Thankfully they were nice enough to ship us a box of the new Caramel flavor in advance for us to try. We'll review the product in detail but the quick answer is that it's great. The caramel has a perfect creaminess to it that is very satisfying.
Our Premier Protein Caramel review began in the most basic way. We threw some in the refrigerator and waited for them to get cold. You don't need to refrigerate them, but we figured we'd like them better that way. When ready, we cracked open the 11oz shake and began drinking. They go down very easily as they are sweet and delicious, and by the end of the ready-to-drink shake we were feeling quite full. Premier Protein says they can be used to help keep you going when you can't sit down to a meal, and we can see why. Since you don't need to refrigerate them and they're ready to drink it's easy to bring them along to have following a workout, when you need a quick something at the office, or you're rushing off to work/school in the morning. They're also good for balancing out your protein intake throughout the day. Most Americans eat their protein during dinner, but often have significantly less during breakfast and lunch. Now, you can easily balance that out so your body can absorb it throughout the day.
We like using Premier Protein as a coffee creamer, getting that protein, sweetness and creaminess into our coffee without using sugary sweeteners. If you read all of the online reviews there are lots of people that do this and once we got the idea we were hooked. We left some in our desk at work, popped the pod in the Keurig®, brewed our coffee, poured in the Premier Protein and shortly after enjoyed a delicious cup of caramel macchiato coffee.