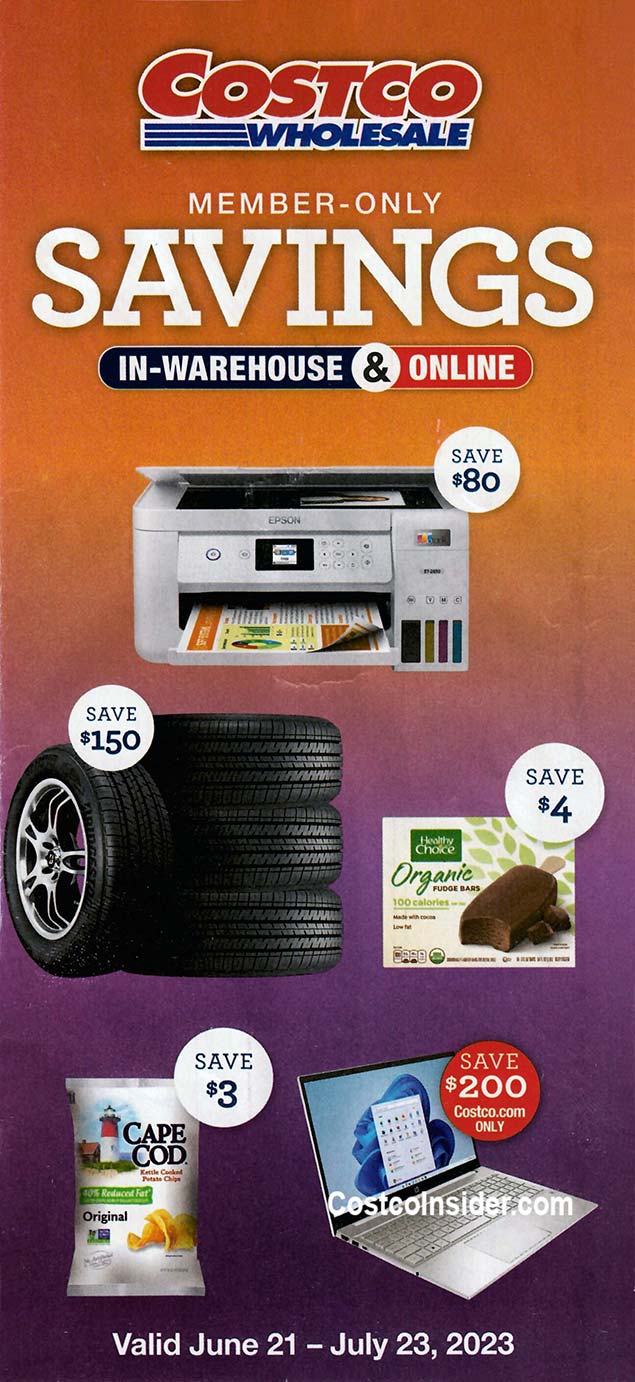 Hot off the presses is the upcoming Costco July 2023 Coupon Book! The July 2023 Costco coupons will run from June 21st through July 23rd. To display the coupons on the page just click the link above and you'll be taken right to them. The Costco June 2023 Hot Buys Coupons just started as well and will fill most of the gap until the July coupon book starts. If you want to get notified as soon as we release the upcoming Costco August 2023 Coupon Book then make sure to sign up for our email list, follow us on Instagram and Like us on Facebook!
There are some great deals in the Costco July 2023 Coupon Book! The first one that caught our attention was the Sheila G's Chocolate Chip Brownie Brittle at Buy One Get One Free! The Cape Cod Reduced Fat Kettle Cooked Potato Chips are delicious and a steal at $3 off for a 30oz bag. These are great for summer barbecues and summer picnics. We will personally stock up on the Aidells Chicken & Apple Sausage at $4.30 off, which doesn't go on sale that often. This months tire coupon is back to Bridgestone at $150 off a set of 4.
If you tried clicking the link above and it's still not working you can also click this link to go directly to the first page of the slideshow for the July 2023 Costco Coupon Book. Which sales stand out to you this month as being great deals? Leave a comment and let us know!
Here's a few of the deals in the Costco July 2023 Coupon Book:
Orgain Organic Protein & Superfoods Protein Powder $8 off
Neutrogena Beach Defense SPF 60+ Sunscreen Spray $4.50 off
Häagen-Dazs Vanilla Milk Chocolate Almond Ice Cream Bars $3.50 off
Monster Energy Drink $7.30 off
Cape Cod Reduced Fat Kettle Cooked Potato Chips $3 off
Huggies Pull-Ups Plus $9 off
Gerry Polo $12.99 – $3 off = $9.99
Hurley Tee 2-pack $17.99 – $4 off = $13.99
Osteo Bi-Flex Joint Health $6 off
Neutrogena Makeup Remover Towelettes $5 off
Dove Body Wash $4.50 off
Biotrue Multi-Purpose Solution, Ocuvite Adult 50+ or PreserVision AREDS 2 Formula $3 – $5 off
Refresh Eye Drops $4.50 off
Cetaphil Moisturizing Lotion, Moisturizing Cream or Gentle Skin Cleanser $5.50 off