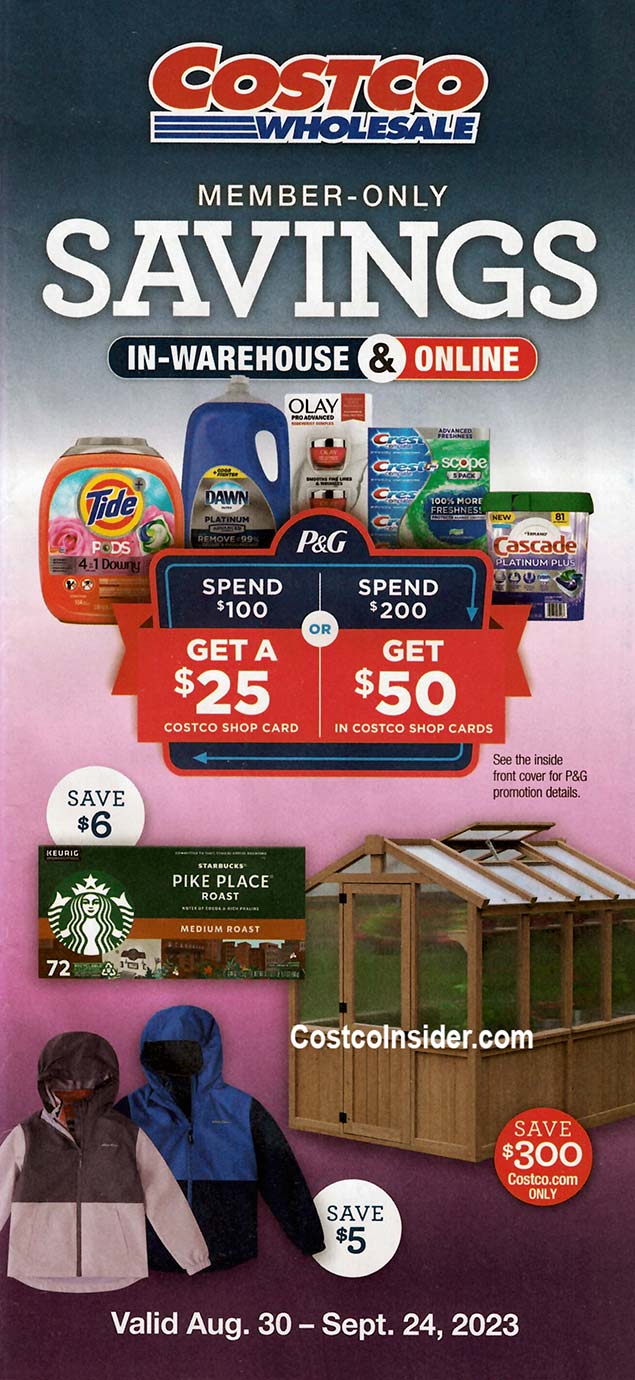 We're excited to bring you an early preview of the upcoming Costco September 2023 Coupon Book. The September 2023 Costco coupons run from August 30th through September 24th. To reveal the coupons simply click the link above and you'll be taken right to them. The yearly P&G Costco Shop Card Promo is also running during this time and starts early on August 28th. We also have August 2023 Hot Buys Coupons that are running from August 26th through September 4th. Don't forget the Costco August 2023 Coupon Book is still valid through August 27th too. If you want to get notified as soon as we release the upcoming Costco October 2023 Coupon Book then make sure to sign up for our email list, follow us on Instagram and Like us on Facebook!
We are definitely excited about some of the Costco September 2023 Coupon Book deals! First of all, the big deal this month is the P&G Costco Shop Card. If you spend $100 on select P&G (Procter and Gamble) products you can get a $25 Costco Shop Card back. This includes every day items such as Bounty paper towels, Charmin toilet tissue, Dawn soap, Cascade dishwasher tablets, Tide pods and more. If you could stock up on just a couple of these you'll get to $100 in no time. You also don't need to do it all in one trip. You have the whole month to reach the spend requirement. New this year, you can also spend $200 and double your cash back. You can get more info at Costco.com/PG. This months tire coupon has switched back to Michelin, with $100 off a set of 4 tires over $900 or $50 off a set of 4 tires less than $900. Installation is now included too, which is new.
If the link above didn't work for you you can also click this link to go directly to the first page of the slideshow for the September 2023 Costco Coupon Book. What do you think of this months coupons? What are you buying while it's on sale? Leave a comment and let us know!
Here's a few of the deals in the Costco September 2023 Coupon Book:
P&G Spend $100 Get $25 or Spend $200 Get $50 Shop Card
Realgood Foods Creamy Poblano Chicken Enchiladas $4.50 off
Keurig K-Supreme Plus Special Edition Single Serve Coffee Maker $139.99 – $40 off = $99.99
KODA Multi-Directional LED Shop Light $29.99 – $6 off = $23.99
Kirkland Signature Motor Oil $8 off
Pure Protein Bars $7 off
Kodiak Power Cakes Flapjack & Waffle Mix $4 off
Country Archer Grass-Fed Beef Sticks Mini $4.30 off
PopCorners Popped-Corn Snack $3.50 off