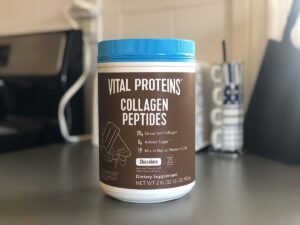 We'd be lying if we said that the last year hasn't been a stressful one. We've taken to exploring new additions to our health routines to balance things out, so when Vital Proteins reached out to offer us a sample of their newest Costco-exclusive offering, we knew we had to write up a Vital Proteins chocolate collagen peptides powder review for our loyal readers.
What's collagen? It's one of those things that vitally important but easily ignored. Collagen is the most abundant protein in your body and a basic component of your bones, hair, nails and tissue. It's known to promote joint health and also offers aesthetic benefits for your skin, providing structure while improving hydration and elasticity. All in all, regular intake can foster healthier looking skin and the smoothing out of the lines and wrinkles that creep in with age. Long-term, collagen can help relieve joint pain and prevent bone loss**.
This Vital Proteins collagen supplement comes in a cleanly designed tub with a bright baby blue top and matching scoop, and is safety sealed from the inside. Cracking that open wafts up a dusting of delicately sweet chocolate powder that serves as a preview of what's to come. You can take it plain, mixed in water, or add it to just about anything that pairs with chocolate. It's easiest to directly mix it in with hot liquids, but you can use a blender or a blender bottle with cold or room temperature liquids. It's as easy to prepare as any other supplement you've tried. Each serving gives you 20g of collagen.
Our first test was with coffee. The recommended two scoops might feel like a lot at first glance, but it mixes in quickly and easily. The chocolate flavoring turns your morning Joe into a bit of a mocha adventure, and though we liked this we already started thinking of all the different things we could add this to. We love blending it into chocolate smoothies and milkshakes when we're feeling a bit lavish or shaking it into single serving bottles of chocolate milk when we're on the go.
Aside from the supplement's obvious benefits and the ease of use, what's impressed us most with this product is that it's so simply made and fits so well with a range of different diets. The formula is paleo- and keto-friendly, dairy free and gluten free, and contains no sugar. In fact, there are only five ingredients in the powder, with the collagen peptides coming from grass-fed, pasture raised cows. Stevia adds sweetness and natural cocoa powder brings flavor, while a pinch of sea salt balances everything out.
We've tried Vital Proteins' unflavored powder before ($29.99 at Costco), but since we got the chocolate version in our family has been digging into both with a bit more regularity. Though we'll say without hesitation that the chocolate flavor makes for a much easier sell with our younger ones.
In terms of results, we think the collagen has really perked up our skin and particularly our hair. It doesn't happen overnight, but after a few months of consistent collagen use we've found that our hair remains naturally shiny and healthy, even as it gets longer and longer. There are noticeably fewer split ends and less general damage. We're also noticing that our skin is less prone to acne breakouts. Personally, this wasn't something we needed to address, but our teenage daughter swears by it, and that's as good as it gets in our house in terms of endorsements. The powder has quickly moved into a prominent spot on our kitchen counter.
Vital Proteins Chocolate Collagen Peptides Powder is now available in-store nationwide as an exclusive product for Costco shoppers ($29.99 for 24oz) and is also available on the Costco website as well ($32.99). Look for it in the health and beauty section near other protein supplements and personal care items.
If you're looking for more information about Vital Proteins collagen, check out this great video on how it's made:
**These statements have not been evaluated by the Food and Drug Administration. This product does not intend to diagnose, treat, cure, or prevent any disease.