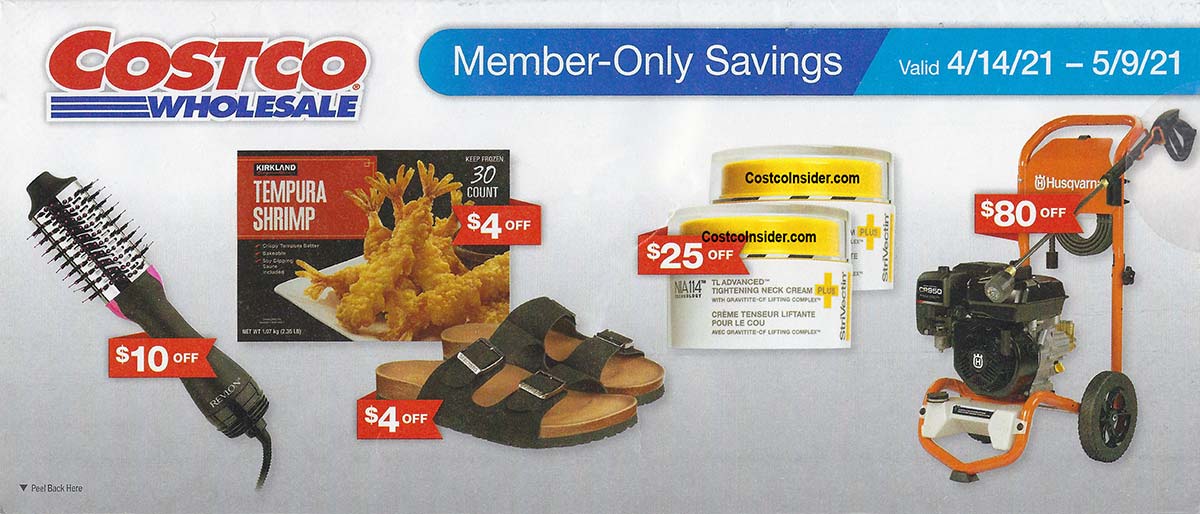 We're excited to release the upcoming Costco April 2021 Coupon Book. The dates of this months coupons are April 14th through May 9th. To display the coupons all you need to do is click the link right above this and you'll be taken right to them. If you click on any coupon image you'll also be able to enlarge it and see a slideshow. There is 10 days between the March 2021 Coupon Book and the April 2021 Coupon Book. That gap is filled nicely by the April 2021 Hot Buys coupons which run from April 2nd to April 11th. This is a huge coupon book at 26 pages long! Special thanks to Costco97 for helping us with this months coupons! If you haven't checked out their website yet they notify you when Costco items go on clearance. If you want to see an early preview of the May 2021 Coupon Book make sure to sign up for our email list, follow us on Instagram and Like us on Facebook.
We were quite surprised by some of the new items found in the April 2021 Costco Coupon Book. The one that piqued our interest the most was the new Cheez-It Snap'd Double Cheese Cheesy Baked Snacks, which are $2 off. The Blink 5 Camera Security System is pretty new to Costco too, at $50 off. We haven't seen the Sunforce 35′ Solar String Lights at $29.99 after $10 off coupon. We've recently used the Culturelle Digestive Daily Probiotics and the Culturelle Kids Daily Probiotic Chewables, so nice to see those at $6 off. We'll definitely be picking up a bag (or bags!) of the PopCorners Popped-Corn Snack Sweet & Salty Kettle Corn at $1.80 off. The tire coupon for this month is Michelin with the typical $110 off up to $699 spent or $150 off $700 spent or more.
If you're still reading and can't find the link to display the coupons there's a few things to check. The easiest thing to do is click this link to go directly to Page 1 of the April 2021 Costco Coupon Book slideshow. If you want to see all coupons on the same page, then first you need to make sure you're on the post page titled "Costco April 2021 Coupon Book". Then, once on that page you need to click the link in the first sentence which is titled "Costco April 2021 Coupon Book". Now that you've seen the sneak preview of the coupon book, which items are you going to wait to pick up on sale? What do you think of the huge monthly Costco coupon book? More deals than normal that entice you?