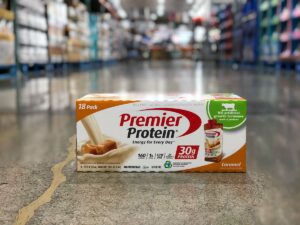 Costco members favorite protein shake, Premier Protein®, is bringing a new flavor to all Costco stores. Caramel has been a very popular flavor of theirs for years and it's coming to Costco warehouses. Premier Protein has been in Costco for over 10 years now and for good reason. Their product is loved by Costco members, as is evidenced by the almost 10,000 5-star reviews on Costco.com. Thankfully they were nice enough to ship us a box of the new Caramel flavor in advance for us to try. We'll review the product in detail but the quick answer is that it's great. The caramel has a perfect creaminess to it that is very satisfying.
Our Premier Protein Caramel review began in the most basic way. We threw some in the refrigerator and waited for them to get cold. You don't need to refrigerate them, but we figured we'd like them better that way. When ready, we cracked open the 11oz shake and began drinking. They go down very easily as they are sweet and delicious, and by the end of the ready-to-drink shake we were feeling quite full. Premier Protein says they can be used to help keep you going when you can't sit down to a meal, and we can see why. Since you don't need to refrigerate them and they're ready to drink it's easy to bring them along to have following a workout, when you need a quick something at the office, or you're rushing off to work/school in the morning. They're also good for balancing out your protein intake throughout the day. Most Americans eat their protein during dinner, but often have significantly less during breakfast and lunch. Now, you can easily balance that out so your body can absorb it throughout the day.
We like using Premier Protein as a coffee creamer, getting that protein, sweetness and creaminess into our coffee without using sugary sweeteners. If you read all of the online reviews there are lots of people that do this and once we got the idea we were hooked. We left some in our desk at work, popped the pod in the Keurig®, brewed our coffee, poured in the Premier Protein and shortly after enjoyed a delicious cup of caramel macchiato coffee.
The nutrition facts are another thing that make Premier Protein shine. 30g of protein per shake, 160 calories, 1g of sugar, low fat and more. Keto friendly. It has 24 vitamins and minerals, unlike some other ready to drink protein shakes which don't add vitamins and minerals. There are also no artificial growth hormones used in the ingredients.

Premier Protein's mission statement says, "Great tasting nutrition within everyone's reach," and we couldn't agree more. Besides the great taste and nutrition that we mentioned earlier, the price is very economical as well. There are four flavors in Costco warehouses — Caramel, Vanilla, Chocolate, and Peaches and Cream. On
Costco.com
you can also get Strawberries & Cream, Bananas & Cream, Cookies & Cream, and Cafe Latte. If we had to pick our second favorite flavor behind Caramel it would have to be Cafe Latte. We really love that we can bring a shake with us and get both the protein we need after a workout and the caffeine needed to finish the work day.
As we researched Premier Protein we came away impressed about a few other things. First of all, the fan following is pretty large. People have come up with recipes that use Premier Protein to not only enhance their coffee but also cookies, waffles, pancakes, cocktails, and more. You can see a long list of recipes on their website, PremierProtein.com. We were shocked by the stories of people using it to help meet their health and fitness goals. Some claim it helped them lose up to 100lbs, through a combination of diet and exercise. If you're doing Weight Watchers® it is only 2 points. It's great for older folks that aren't getting the protein they need to keep muscle on. Also great for younger folks too that still need that ever important protein to grow stronger.
Premier Protein Caramel shakes will be in warehouses for demos in January. If you can't wait that long, or it's been a long time since you last tried Premier Protein we encourage you to give it another try and see what you think of the new flavor. With Costco's return policy it's definitely worth the risk . With the new year coming up soon it's a great time to get your health and fitness goals back to where you want them.
Weight Watchers and Keurig are registered marks of their respective owners. Thanks to Premier Nutrition for sponsoring this copy.