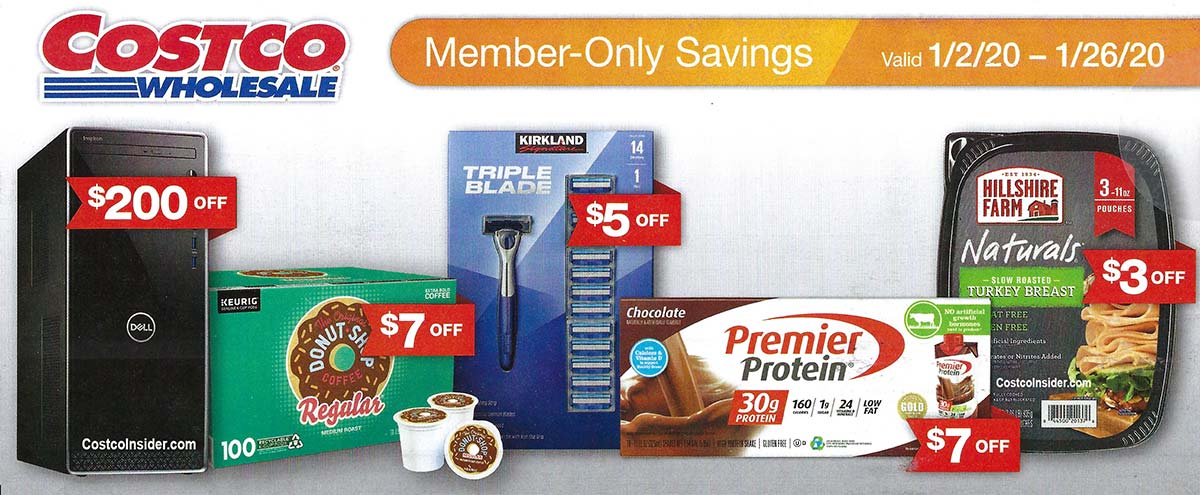 The early sneak preview of the January 2020 Costco Coupon Book is here! The January 2020 Costco coupons are valid from January 2nd through January 26th. Clicking the link above will reveal the coupons so you can scroll through them. Clicking the page image will allow you to enlarge them as well. Keep in mind the Super Bowl TV Deals (Big Game Savings Book) start on January 12th as well. The January Costco Coupon Book is a standard size at 23 pages long. If you want to be notified as soon as we release the next coupon book make sure to sign up for our email list, Like us on Facebook or Follow us on Instagram.
The January 2020 Costco coupon book has quite a variety of items. There's definitely a theme of New Years health goals. There are several pieces of workout equipment as well as many health foods and supplements. We're very excited about the Premier Protein shakes being $7 off. We just reviewed Premier Protein and it's a crazy good deal at $19.99 for 18 shakes. If you didn't hear, caramel flavor is back in stores and it's delicious. We haven't seen the Cosco 3-in-1 Convertible Hand Truck on sale before, so now is a great time to pick one up if you're in the market. We're also looking forward to trying The Good Bean Organic Sea Salt Chickpeas. The Costco tire sale is back to Michelin this month at $110 off.
If you are having trouble opening the coupon pages there are two things you need to do. First, you have to be on the Costco January 2020 Coupon Book page. Once on that page then click the link in the first sentence which is labeled January 2020 Costco Coupon Book. If you're still having trouble after doing those steps then click this link to go directly to page 1. Which sale items stand out to you? Anything you've never tried before which you're going to pick up for the first time?