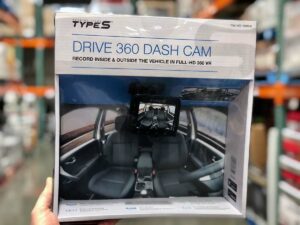 We were excited to get a chance to review the Type S DRIVE 360 Dash Cam recently. We've always wondered what the advantages of having a dash cam in the car were and now we get to share our findings with you. Also a big shoutout to Type S for sending us a unit to review! The great thing is that it's very affordable at only $129.99. You can find it in all Costco warehouses and usually Costco.com however due to it's popularity it's currently sold out online.
When dash cams first came out they pointed forward and gave a similar view to that of the driver. Now, with the advancements in camera lenses such as the Type S DRIVE 360 Dash Cam lens you can see both forward and in the cabin. There are many reasons you might want this. If you're an Uber or Lyft driver it's nice to have a recording of what happened in your car so you can settle disputes. Also, when you're parked it's very helpful to not only have recording of in front of you, but also where most damage occurs in a parking lot (to the sides of the car via shopping carts, car doors, and more). TYPE S even includes an optional 12V hardwire fuse box cable for the camera to receive constant power when the vehicle is parked and turned off for Park and Record mode. Dash cams are also great for when you're in an accident and you're both claiming innocence. When it's your word against theirs it's always nice to have a video to resolve the dispute quickly.
As we unboxed the Type S DRIVE 360 Dash Cam for review we quickly noticed how easy it was to follow the instructions provided. We could tell the manufacturers attention to detail was going to provide a great experience. If you read other online reviews on this dash cam you'll see another common theme is how easy it is to use the product, and we couldn't agree more. We then had to decide which of the 7 viewing modes to go with and after testing them all we decided on the 360 view. We also love that you can do a timelapse video on a long road trip. We tried to do that once with a cell phone on a long drive and it was both tiring to the passenger that had to hold the phone and the video ended up quite bouncy. Instead, the DRIVE 360 Dash Cam is mounted to the window so you don't have to hold it and it's a lot more stable than an arm.
There's also a phone app that pairs with the Type S DRIVE 360 Dash Cam. It was easy to connect via Wifi to the Dash Cam and download the video I wanted to look at. Older dash cams would require you to take out the memory card, find a computer that you could plug it in to, and then copy the files off the memory card to view them. The Type S camera makes this all a much easier and faster process. There are also many other cool features in the app that we won't get into now. The only thing this dash cam is missing are some of the very advanced features you get with a much more expensive dash cam. That might include built-in Amazon Alexa or more cameras built into it. However, we don't think those features are worth spending 3x as much money on to get yourself a reliable and easy to use dash cam.
If you're looking to get a dash cam and not break the bank we highly recommend the Type S DRIVE 360 Dash Cam. The best part is that it's on sale right now for $30 off, regularly $159.99, which makes it only $129.99 through December 24th. That means you only have a few more days to get the perfect Christmas gift for your parent, child, or other family member. We've already used our dash cam to go back and look at footage to see who dinged our car door. All we have to do is submit that footage to our insurance company and let them track that person down. We hope you love it as much as we do!