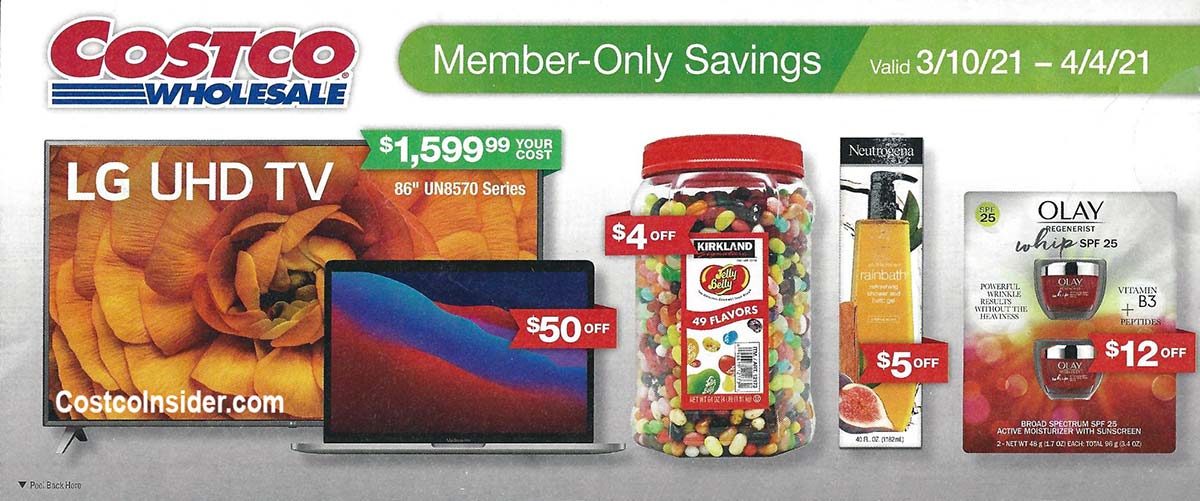 It's been a long wait but it's finally time for the release of the Costco March 2021 Coupon Book. This months coupons will run from March 10th through April 4th. To reveal the coupons simply click the link right above and you'll be taken directly to them. You'll also be able to enlarge them if you want to read the fine details. Once again there is a 1.5 week gap between the February 2021 Coupon Book and the March 2021 Coupon Book. However, the March 2021 Hot Buys coupons fill that gap nicely and also have some great Kirkland Signature items on sale! This is a longer Costco coupon book at 23 pages. If you want to see an early preview of the April 2021 Coupon Book make sure to sign up for our email list, follow us on Instagram and Like us on Facebook.
There are a few items that caught our attention in the March 2021 Costco Coupon Book. First of all, we recently did a review of the Febreze Fabric Refresher Variety Pack and now it's on sale for $2 off! As you'll read in our review, there is a brand new Ocean scent in this pack that has notes of Hinoki, Ginger, and Waterlily and is fantastic. Another item that we noticed right away is the Oral-B iO Series 7C toothbrush set. We personally use this every day and love it. At $50 off that makes it $249 for the 2 brush set. We'll be stocking up on the Kirkland Signature Organic Breakfast Blend K-Cups, which are only $29.99 after $7 off. If you do that math that comes out to $0.25 per k-cup, which is about the lowest you'll find anywhere for a K-Cup, let alone an organic one! The tire coupon has switched back to Bridgestone and is $150 off a set of 4.
For those of you who can't seem to get the coupons to display we have a few links you can try to get it to work. One option is to click this link to go directly to the first page of the coupon book slideshow. Otherwise, you need to make sure you're on the post page "Costco March 2021 Coupon Book". Then, click the link in the very first sentence, which is titled "Costco March 2021 Coupon Book". So, now that you've seen all the coupons, what do you think of this months Costco Coupons? Anything you'll be anxiously waiting to buy on sale?
Page 1
Spring Hill Parkside 4-piece Queen Bedroom Set $2199.99 – $500 off = $1699.99
Indigo Bay Leather Power Reclining Sofa $1199.99
Indigo Bay Leather Power Reclining Loveseat $1099.99
Thomasville Callan 9-piece Dining Set $1299.99
Neptune Floor Lamp $99.99 – $20 = $79.99
Tuscan Office Collection $400 – $700 off
Zurich 7'10" x 10′ Area Rug $279.99 – $80 = $199.99
Page 2
Scotts Turf Builder Weed & Feed or Bonus S $10 off
Scotts EZ Seed $10 off
Whitney Farms Organic Planting Soil $1.50 off
Page 3
Fila Ladies' Sandal $16.99
Fila Ladies' Crewneck with Pockets $14.99 – $3 off = $11.99
Fila Ladies' Jogger $12.99 – $3 = $9.99
Fila Ladies' Cotton High-Rise Tight $12.99 – $3 = $9.99
Page 4
Neutrogena Ultra Sheer Dry-Touch Sunscreen SPF 55 $4 off
Neutrogena Makeup Remover Towelettes $5 off
Neutrogena Rainbath Original Scent Shower and Bath Gel $5 off
Page 5
Flonase Allergy Relief $11 off
Flonase Sensimist $12 off
Advil 200mg, 360ct $3.70 off
Breathe Right Tan and/or Clear Extra Strength Nasal Strips $4.50 off
Page 6
Zyrtec Tablets 10mg, 120ct $8 off
Zyrtec Liquid Gels 10mg, 65ct $7 off
Claritin Tablets 10mg, 105ct $8 off
Claritin Children's Chewables 5mg, 72ct $6 off
Page 7
PediaSure OptiiGRO PLUS Kids' Shakes $8 off
Huggies Pull-Ups Plus For Girls or Boys $7.50 off
Page 8
LG UN8570 Series – 4K UHD LED LCD TV 75″ $899.99
LG UN8570 Series – 4K UHD LED LCD TV 86″ $1599.99
Klipsch ProMedia 2.1 THX Computer Speakers $50 off
Klipsch R-12SW Reference Powered Subwoofer $80 off
Samsung HWQ67CT 7.1 Channel Home Theater System $150 off
T-Mobile Samsung Galaxy S21 5G $599.99
Samsung Q60T Series – 4K UHD QLED LCD TV $1699.99