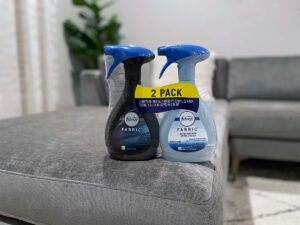 If you're a little like us, you've been spending a lot more time around the house than ever before, so as soon as we saw this on the shelves at our local Costco we knew we needed to review Febreze's new ocean-scented fabric spray 2-pack for you, our loyal reader. Thankfully Febreze offered to send us a sample pack to test out and review!
We've seen Febreze sprays in all types before, but the Ocean scented version of this product looks to be newly launched, and Costco is the only place you can get this in a wallet-friendly two-pack right now. Along with the Ocean scent you also get a bottle of Febreze Fabric Extra Strength Spray, both of which are 27 ounces.
We brought it home and took to it quickly as a handy quick fix solution. Just twist open the nozzle of the sleek blue-and-black bottle and give your smelly targets a quick mist until they're slightly damp. As it dries it sucks away all those foul odors that have been building up, eliminating them completely.
The Ocean scent has fresh notes of ginger, water lily and hinoki, a sacred Japanese wood known for its lemony aroma. It's a delicate, clean bouquet that's at once reassuringly familiar and tinged with a bit of exotic flavor.

The spray is specially formulated for use on the fabrics you find all through the house, and Febreze promotes it as a great supplement to your usual cleaning routine. We've found it great for spot cleaning everything from big, less regularly cleaned items like couches, drapes and carpets to smaller items like cushion covers and throw blankets. If something even looks like it smells a bit off you can quickly grab it and spray.
Febreze recommends applying weekly, but there's nothing to keep you from using it more frequently. We find the spray's scent easily stays for a few days after each application, but the results vary a bit depending on how much you use and what you're applying it to.
At our house, we love to use the spray on sports equipment, especially on items that don't easily go in the laundry like backpacks, football pads and the insides of smelly shoes (be careful using it on leather though). Our partner plays hockey and we've long had to hide that huge bag of smells in a closet…this really helps stem the tide and keep the worst of it at bay. We've recommended it to all the other players on his team with great results.
We also like to keep a bottle of this tucked away under our desk. Video chats have become a staple of our work life, and so have the two or three "nicer" pieces of clothing that we keep at our workstation to keep us looking moderately presentable on those last-minute calls. We do admit to sometimes letting these go unwashed for a little longer than we should, so having some Febreze handy really helps carry our nostrils through another Zoom session. (And don't forget to spray your office chair down while you're at it!)
It's not yet listed on the Costco website, but other online reviewers have raved about it as we have. Pet owners especially seem to love it, while others compared its scent to a body mist — a fitting comparison now that the thought has been put into our heads. There were also some tips to keep a bottle in the car, which we'll do as soon as we stock up again.
All in all, we can't recommend this product highly enough. Especially at Costco, who are coming through with an almost unbelievable $8.49 price tag for the two-pack — we've been seeing this going at other stores for $6 or more for just one. Febreze is rolling these out nationwide in the next little while, so head in as soon as it's available near you and grab a couple to get yourself primed for spring cleaning season.