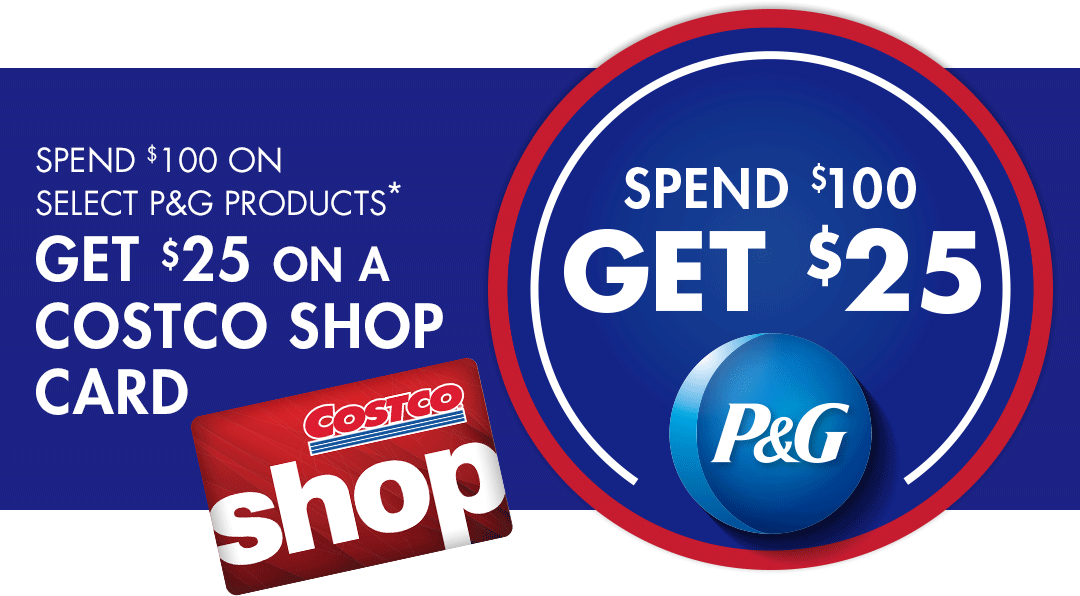 The Procter & Gamble promotion is back at Costco starting today! The promo dates are September 2nd through September 27th. When you purchase $100 of select P&G products (after discounts and before taxes) at US Costco locations or online you'll earn a $25 Costco Shop Card. Purchases can be broken up into multiple shopping trips online or in the warehouse, making the promotion very achievable!
As you'll see below, we counted 27 different P&G items that are currently on sale in the September coupon book. So not only are you getting a great deal on these items but then you're saving even more by getting an additional $25 back on top of it. If all it takes is grabbing an extra bundle of toilet paper or paper towels to meet the $100 spending requirement then we'd say that's a great investment.
At first glance you might think spending $100 on P&G products over a month might seem like a lot. Turns out after doing some analysis it's not that hard to achieve at all! Between all the items that are eligible (70+) and the bulk amounts Costco sells you'll hit the $100 in no time, likely without even trying. Could you stock up on some Gillette shaving cartridges? That's about $45 right there. What about Tide Laundry detergent? That's another $30+. How about toilet paper or paper towels? Those are roughly $25 each. The Crest 3D Whitestrips are $12 off which still makes them around $30 after coupon. There are plenty of other categories that P&G covers as well and we'll break those down later for you.
To get the deal you simply do these steps:
Buy $100 of select P&G products
Submit a copy of your receipt(s) at www.GetPGoffer.com
Get a $25 Costco Shop Card
You might be thinking, "This sounds too good to be true, what's the catch?" The only catch we see is that there are a few exclusions, such as all P&G items over $75. This would include Braun products, SK-II skin products, and some Oral-B electric toothbrush packages. Other than that this looks like a real straightforward promotion.
There's a couple other interesting deal notes you might want to know. First, if you qualify twice or more you can get a max of 2x $25 Shop Cards. Secondly, this is valid on purchases in Costco warehouses, Costco.com, CostcoBusinessDelivery.com and even Instacart! Lastly, you have to submit your receipts by 10/30/20.
We're definitely going to stock up on some our household items to get our free $25 Costco Shop Card. We love the Dawn Ultra Liquid Dish and Hand Soap, so we're going to grab a couple bottles. We also use the Crest Complete Extra Whitening Toothpaste, so might as well grab another box. With winter fast approaching (and the start of cold and flu season), now is as great of a time as ever to pick up DayQuil and NyQuil to be prepared. Also, buying deodorant at Costco is always a great value, so we'll stock up there too. Hopefully we'll be able to find some Charmin toilet paper as well. What household staples are you going to pick up to reach the $100 qualifier?
Eligible P&G items currently on sale in the September Coupon Book:
Tide PODS Spring Meadow HE Laundry Detergent 168ct $10 off
Bounce Dryer Sheets 2/160ct $10 off
Febreze Air Effects Variety Pack 4ct $2 off
Febreze Fabric Refresher Extra Strength + Ocean $2 off
Mr. Clean Magic Eraser Variety Pack $3 off
Tide Ultra Concentrated with Downy April Fresh HE Liquid Laundry Detergent $4 off
Downy Unstopables and/or Fresh Protect April Fresh In-Wash Scent Booster Beads $3 off
Downy Infusions Calm Fabric Softener $2 off
Swiffer Sweeper Wet Mopping Cloths $3.20 off
Febreze Car Air Freshener Vent Clips $2 off
Head & Shoulders 2-in-1 Complete Scalp Care $3.50 off
Crest Complete Extra Whitening + Scope Advanced Toothpaste $4 off
Cascade Platinum ActionPacs Dishwasher Detergent $5 off
Dawn Powerwash Fresh Scent Dish Cleaner $2 off
Oral-B Cross Action Advanced Toothbrushes $5 off
Gillette Advanced Clear Gel Antiperspirant 5/3.8oz $4 off
Secret Ultimate Protection Antiperspirant 4/2.6oz $4 off
Vicks NyQuil Severe Liquid Original and/or Berry 3/12 fl oz $4 off
Vicks DayQuil 48ct NyQuil 24ct Severe LiquiCaps Combo Pack $4 off
Crest 3D Whitestrips Professional Effects $12 off
Oral-B Glide Advanced Floss $4 off
Olay Regenerist Retinol 24 Moisturizer $12 off
Olay Complete Sensitive Plus Moisturizer $5 off
Olay Total Effects Moisturizer $10 off
Olay Ultra Moisture Plus Body Wash $4 off
The participating P&G brands are:
Align

Always

Bounce

Bounty

Cascade

Charmin

Crest

Downy

Downy Unstopables

Febreze

Gain

Gillette

Head & Shoulders

Metamucil

Mr. Clean

Olay

Old Spice

Oral B (except as noted below)

Pantene

Pepto-Bismol

Prilosec

Secret

Swiffer

Tampax

Venus

Vicks
Selection varies by location. Excludes: all P&G items over $75, Braun, SK-II, Oral-B 2000, and Oral-B 6000.
What if I have more questions about the P&G promotion?
The FAQ on the official website answers all your questions. There is also a contact form if you still can't find what you're looking for.
What P&G products have you reviewed that we might want to learn more about?
Great question! We have reviewed the following P&G products:
What if I forgot to save my receipt?!
You can go to the Costco membership desk in your warehouse and get a copy of your receipt.
Is it $100 including tax? Is it before coupon price or after coupon price?
The $100 total does not include tax and it is the after coupon price.