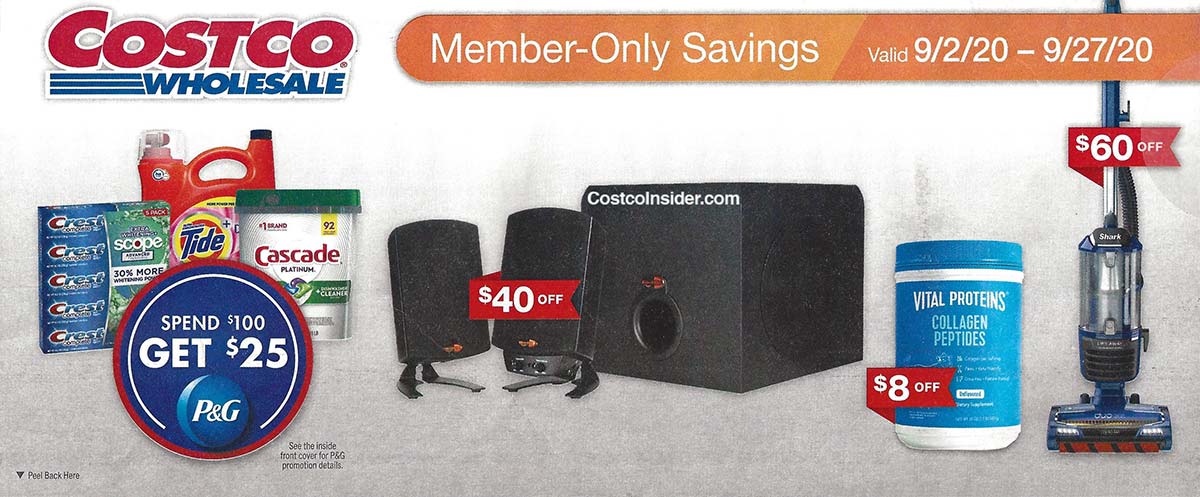 Once again Costco Insider is the first to bring you the Costco September 2020 Coupon Book. This months Costco coupons will be valid from September 2nd through September 27th. To see the early preview just click the link above, which will then reveal all the coupons and allow you to see a slideshow of the enlarged images if you'd like. This time there are only three days between the end of the August coupon book and the start of the September coupon book. Clocking in at 25 pages long this is a good size booklet. If you want to be notified as soon as we release the next coupon book early then sign up for our email list, Like us on Facebook and Follow us on Instagram.
We should probably call the September 2020 Costco Coupon Book the Procter and Gamble coupon book. The first 5 pages are all Procter and Gamble coupons. The P&G promo states that if you spend $100 on select P&G products you'll get a $25 Costco Shop Card. Purchases must be made between 9/2/20 and 9/27/20 and don't have to be all in the same shopping trip. We have written a detailed review of the promo so you can learn more about it and find some tricks to reach the spending requirement. One item that is on sale that we reviewed previously is the Tide Ultra Concentrated Free & Gentle HE Liquid Laundry Detergent at $5 off. Vital Proteins Collagen Peptides do not go on sale that often, so we recommend picking that up at $8 off as well. Another item on our recommend list is the ecobee Smart Thermostat, which we reviewed a while back and are still loving our review sample. We haven't seen the Nestle Spring Water before, so we're pretty interested in trying that out while it's on sale. The Costco tire coupon is back to Michelin and ranges from $110 off to $150 off.
Since some have trouble getting the coupons to show we like to give a few instructions to help you out. The first thing is to make sure you're on the Costco September 2020 Coupon Book page. Once on that page you have to click the link in the first sentence, titled "Costco September 2020 Coupon Book". If that is not working for some reason you can always click here to go directly to the first page of the coupon book. We hope you enjoy the early preview and are able to plan your upcoming shopping trips better. Which items are you going to wait to grab when they are on sale? Are you going to see if you can reach $100 in P&G products bought?