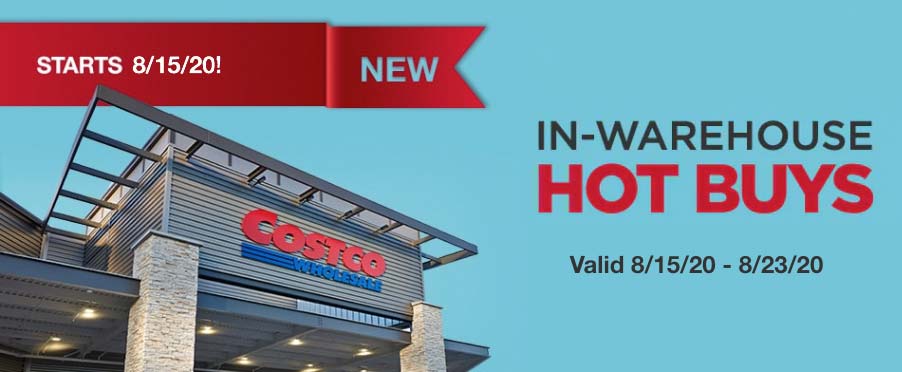 More Costco August 2020 Hot Buys coupons just came out and we're pretty excited about it. In what we're calling the August 2020 Hot Buys Part 2 there are 19 items on sale for the next 8 days. The coupons started on August 15th and go through August 23rd. They completely overlap with the August 2020 Coupon Book, which runs through August 30th. It's pretty unusual for Costco to put out Hot Buys coupons twice in the same month, but we can't complain, we love more Costco deals! If you want to be notified as soon as we release the September 2020 Costco coupon book make sure to sign up for our email list, Like us on Facebook or Follow us on Instagram.
As is standard in the Hot Buys coupon books, there's a lot of Kirkland Signature items. This time 8 out of the 19 sale items are Kirkland Signature. Basically, the Hot Buys coupons are added incentive to go in to the store. Costco often has unadvertised sale items and the Hot Buys coupons are just another way to tell you about them. We're pretty excited about the Good Bean Organic Sea Salt Chickpeas. If you like corn nuts these are a healthier version with the same type of crunch you'll love. Since you can't sample them right now it's a good time to buy when they're on sale and only $3.99 for a whole bag. $60 off the Genie garage door opener is a huge discount, and if you bought it recently you can now get a price adjustment! We have been meaning to stock up on the Kirkland Signature trash bags, so we'll definitely be taking advantage of the $3 off coupon.
Do any of these sale items interest you? If so, which ones?
August 2020 Hot Buys Coupons Part 2
U15 Farmed White Shrimp $9.99/lb
Choice Beef Bulgogi $4 off per package
Gourmet Chocolate Chunk Cookies $1.50 off
Smucker's Uncrustables Peanut Butter & Grape Jelly or Peanut Butter & Strawberry Sandwich $2.30 off
Good Bean Organic Sea Salt Chickpeas $2 off
Kirkland Signature Organic Animal Crackers $2.50 off
Kirkland Signature 50 gal Outdoor Bag $6 off
Kirkland Signature 13 gal Flex-Tech Kitchen Bags, Unscented or Fresh Scent $3 off
Kirkland Signature Organic Seaweed Snack $2 off
Kleenex Anti-Viral Facial Tissue $4.50 off
Kleenex Trusted Care Facial Tissue, 2-Ply $4.50 off
Kleenex Ultra Soft Facial Tissue, 3-Ply $4.50 off
Kirkland Signature Sofa Pet Bed $10 off
Charisma 400 Thread Count 6-Piece Sheet Set $10-15 off
Rowenta Pro Steam Iron $10 off
Nautica Benchley Chenille Throw $5 off
Ful Rig Deluxe 30″ Rolling Duffel $15 off
DHC Deep Cleansing Oil with Bonus Travel Size $27.99
Genie 1.25HP Smart Garage Door Opener $60 off