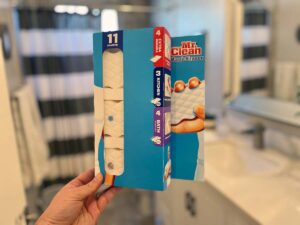 After so many months cooped up at home, there's admittedly now a little extra grime built up in some corners of our home. We've done our best keeping tidy, but honestly, it's hard to keep up with all the little stains that elbow their way in. That's why we were thankful when Mr. Clean called us up and offered us an 11-count variety pack of their Magic Erasers to test out for this review.
We'd been hearing about this product for a while now from friends and family, about how it was a revolutionary new thing. We thought it was all hyperbole. And then we tried it.
Taking these out of the box, they really just look like regular sponges. They're white with wavy edges, nothing too out of the ordinary. But once you start using them you can tell immediately that they've been somehow supercharged. Grime in the microwave and fridge? An easy scrape off. Stains on the counter? A quick wipe and it's gone. You can even use it outside on patio furniture or your car rims.
It's really hard to overstate how effective these Magic Erasers are. They don't just make it easier to clean out areas that usually require a little elbow grease. They literally wipe away messes that we once thought impossible to remove, like the permanent marker Picassos that our youngest has been slaving over. Or the stains on our slow cooker that we literally thought had been burnt in.
While we'd only ever heard about the regular Magic Erasers, this variety pack actually comes with three varieties of sponges: extra durable, kitchen and bath. The extra durable version improves on the original by adding a layer of Durafoam, making each unit four times stronger. You can use this pretty much anywhere—this is the general-purpose option and the one we reach for most often.
The kitchen variety comes with the grease fighting power of Dawn, and works especially well on things like ovens, sinks, countertops and other places where grease gets in. The bath option comes infused with lavender-scented Febreze and is formulated for attacking dirty washroom areas such as shower glass, grout, tiles, tubs and sinks. It also works well to remove soap scum from hard water and rust stains.
Best of all, these are non-toxic and entirely safe to keep around the house. You don't need to use gloves or chemicals to use them, just add a bit of water and start scrubbing. It really does feel like magic.
In short, there's an option for every household mess, new or old. There are a few more delicate items we'd hold off using this on, like your fancy dishes and the exterior of your car, but generally speaking, if you see it in your home you can probably clean it with a Magic Eraser.
The variety packs are available now countrywide at Costco for $9.99 or you can order them online from Costco.com right now for $11.59.