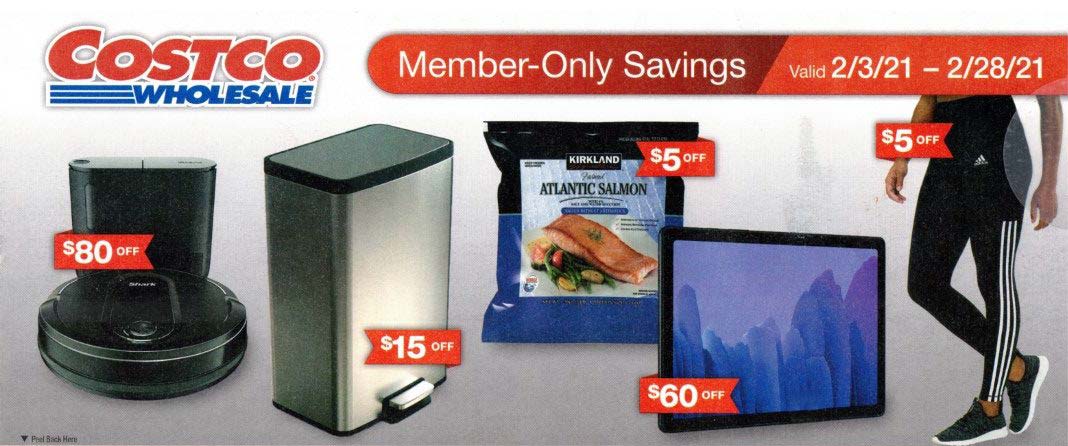 After much anticipation, the Costco February 2021 Coupon Book is here! The dates for this month's coupons are February 3rd through February 28th. Click the link above and the coupon book will be revealed. You'll then be able to click the images to enlarge them, zoom in on them, and go through a slideshow if you'd like. In total there are 19 pages in this coupon book, which we'd say is on the smaller side. Unlike many of the monthly Costco coupon books, there is always a 1.5 week gap between the January Coupon Book and the February Coupon Book. Part of that is due to two other Costco coupon handouts overlapping during the same time. There's the Super Bowl 2021 Ad with lots of TV deals as well as the January 2021 Organic Foods sale flyer. There's also the January 2021 Hot Buys Coupons that go from January 23rd – January 31st. If you want to see an early preview of the March 2021 Coupon Book make sure to sign up for our email list, follow us on Instagram and Like us on Facebook.
For a first time in a while we're actually pretty excited about the February 2021 Costco Coupon Book. We are big fans of the Robert Irvine's Fit Crunch Chocolate Peanut Butter Whey Protein Bars, so we'll definitely stock up at $5 off. We also love the That's It Mini Fruit Bars Variety Pack and will be stocking up at $4 off. We've always wanted to try the Bubbies Mochi Ice Cream, so the $3 off a box is the push we need to give it a try. It's also perfect timing for the Kirkland Signature Kitchen Trash Bags, so we'll be glad to grab some at $3.30 off. Lastly, it's nice to have the tire coupon back this month. Michelin tires are $150 off a set of 4.
We've also posted a list of all the deals in the February 2021 Costco Coupon Book below. If you're still reading and haven't been able to display the coupon book you need to do two steps. First, go to the post page, which is titled Costco February 2021 Coupon Book. Secondly, once on the right page, click the link in the very first sentence, which is labeled "Costco February 2021 Coupon Book". If you've tried that and still can't get it to display then you can click this link go directly to the first page of the coupon book slideshow. So, now that you've looked over all the deals, which ones are you going to be buying when they're on sale?
Page 1
Mohawk Water-Resistant Laminate Wood Flooring $35.99 – $8 off = $27.99
Mohawk Waterproof Rigid Vinyl Flooring $44.99 – $10 off = $34.99
Page 2
NatureMade CholestOff Plus 210ct $6 off
Kirkland Signature Vitamin E 500ct $3 off
Qunol Mega CoQ10 Ubiquinol $7 off
Weider Red Yeast Rice Plus $4 off
Page 3
Crest 3D Whitestrips $12 off
Gillette ProGlide Cartridge Refills $10 off
Head & Shoulders 2-in-1 Complete Scalp Care $3.50 off
Align Daily Probiotic Supplement $11 off
Page 4
Orgain Organic Plant Protein Powder $8 off
Orgain Grass Fed and/or Plant Based Protein Shakes $6 off
Page 5
Cosequin Maximum Strength Joint Health Supplement for Dogs $10 off
Cosamin DS Joint Health Capsules $10 off
Degree Men's UltraClear Black & White Antiperspirant $4 off
Dove Womens' Advanced Care 100 Colors Clear Finish Antiperspirant $4 off
Keurig Brewed K-Cup Pods 100ct $42.99 – $8 off = $34.99
Sensible Portions Sea Salt Garden Veggie Straws $2 off
Page 6
ThermoFlask Stainless Steel Water Bottles $22.99 – $5 off = $17.99
Starbucks Pike Place Medium Roast and/or French Roast K-Cup Pods $36.99 – $7 off = $29.99
Dyson V11 Animal+ Cordless Stick Vacuum $100 off
Adidas Ladies' 7/8 3-Stripe Tight $19.99 – $5 off = $14.99
Champion Ladies' Fleece Logo Hoodie $14.99
Weatherproof Vintage Ladies' Rain Slicker $19.99 – $5 off = $14.99
Champion Men's French Terry Short $12.99 – $3 off = $9.99
Champion Men's Crewneck Sweatshirt $16.99 – $4 off = $12.99
Page 7
Dell Inspiron 23.8″ 1080p Touchscreen All-in-One $849.99 – $200 off = $649.99
Lenovo IdeaPad 5 15.6″ 1080p Touchscreen Laptop $749.99 – $100 off = $649.99
Microsoft Surface Pro 7 Bundle $350 off
Apple Watch Series 6 $35 off
Samsung Galaxy Active2 Smartwatch $70 off
Samsung Galaxy Tab A7 10.4″ Gray Tablet $259.99 – $60 off = $199.99
SanDisk Extreme 1TB Portable Solid State Drive $139.99 – $20 off = $119.99
Samsonite Carbon Elite 2-piece Hardside Spinner Set $159.99 – $60 off = $99.99
Page 8
Shark IQ Robotic Self-Emptying Vacuum $80 off
Shark DuoClean Lift-Away Upright Vacuum with Self-Cleaning Brushroll $259.99 – $60 off = $199.99
Philips Sonicare PerfectClean Toothbrush $149.99 – $30 off = $119.99
Philips Sonicare Premium Brush Heads $49.99 – $10 off = $39.99
LC Platinum Pillows Jumbo $19.99 – $5 off = $14.99
LC Platinum Pillows King $26.99 – $7 off = $19.99
Sealy Mount Auburn Firm Queen Mattress $549.99 – $120 off = $429.99
Waterpik PowerPulse Shower Head $39.99 – $10 off = $29.99
Kohler Stainless Steel 47 Liter Step Trash Bin $15 off
Page 9
Home Zone LED Security Light $39.99 – $10 off = $29.99
Outdoor LED Coach Light $49.99 – $15 = $34.99
Feit Electric LED Smart Flood Light with HD Camera $129.99 – $30 off = $99.99
Duracell Alkaline Batteries $3 off
Michelin Tires $70 off any set + $80 additional member savings = $150 off
Colgate Optic White Renewal Toothpaste $16.99 – $4 off = $12.99
Oral-B Glide Advanced Gloss $4 off
Gillette Mach3 Turbo Razor Cartridges $10 off
Page 10
Huggies Plus Diapers $9 off
Always Ultra Thin Advanced Long and/or Overnight Pads $4 off
Olay Ultra Moisture Plus Body Wash $4 off
Mott's Fruit Flavored Snacks $3 off
That's It Mini Fruit Bars Variety Pack $4 off
Robert Irvine's Fit Crunch Chocolate Peanut Butter Whey Protein Bars $5 off
Lorissa's Kitchen Organic Steak Strips $4.20 off
Angie's BoomChickaPop Sweet & Salty Kettle Corn $2.10 off
Page 11
Godiva Dark Chocolate Ganache Hearts $2.60 off
SunChips Variety Pack $4 off
Gourmet Nut Power Up Mega Omega Trail Mix $2.30 off
BarkTHINS Dark Chocolate Almond & Sea Salt $3 off
Cape Cod Reduced Fat Kettle Cooked Potato Chips $2.30 off
Nabisco belVita Cinnamon Brown Sugar Biscuits $3.80 off
Bertolli Organic Pasta Sauce $3 off
Snapdragon Vietnamese Pho Bowls $3 off
General Mills Cinnamon Toast Crunch Cereal $2.10 off
Kodiak Power Cakes Flapjack & Waffle Mix $3.50 off
Page 12
SunnyD Tangy Original with Sport Cap $5 off
Milkadamia Unsweetened Macadamia Milk $3.50 off
Nature's Path Organic Pumpkin Seed + Flax Granola $3 off
Ocean Spray Craisins $4 off
Materne GoGo SqueeZ Organic Applesauce Variety Pack $4.50 off
Starbucks French Roast Whole Bean Coffee $5 off
Kirkland Signature 13 Gallon Flex-Tech and/or Fresh Scent Kitchen Bags $3.30 off
Ziploc Storage Variety Pack $3 off
OxiClean Max Efficiency Versatile Stain Remover $5.30 off
Downy Unstopables Scent Beads $3.50 off
Page 13
Tide Ultra Concentrated + Downy HE Liquid Laundry Detergent $4 off
Buy Tide PODS Spring Meadow and Bounce Dryer Sheets Get $10 off total purchase
Tide HE Powder Laundry Detergent $6 off
Gain HE Liquid Laundry Detergent $3.60 off
Kirkland Signature Ultra Clean Fresh Scent and/or Free & Clear Liquid Laundry Detergent $3.20 off
Cascade Platinum ActionPacs Dishwasher Detergent $5 off
Cascade Advanced Power Gel Dishwasher Detergent $2.50 off
Page 14
Nylabone Natural NUBZ Edible Dog Chews $5 off
Scoop Away Cat Litter $3.30 off
BAI Cocofusion Variety Pack $4.50 off
S. Pellegrino Sparkling Mineral Water $4.50 off
Liberte Organic Yogurt Variety Pack $4.40 off
KeVita Organic Pineapple Peach Kombucha $4 off
Bubbies or My/Mo Strawberry, Green Tea & Mango Mochi Ice Cream $3 off
Oikos Triple Zero Greek Yogurn Variety Pack $4 off
Page 15
SeaPak Garlic Butter Shrimp $3 off
Kirkland Signature Farmed Atlantic Salmon $5 off
CJ Bibigo Chicken & Vegetable Steamed Dumplings $4.50 off
Blount King Crab and Corn Chowder $3 off
Amylu Paleo Chicken Breakfast Sausage Links $3 off
Kirkland Signature Chewable Vitamin C 500mg, 500ct $3 off
Kirkland Signature Mature Multivitamin 400ct $3 off
Kirkland Signature Calcium Gummies 500mg, 2/120ct $3 off
Natrol Melatonin Gummies 5mg, 180ct $3 off
Wipe 'N Clear Lens Wipes 3/75ct $3 off
Kirkland Signature Multi-purpose Disinfecting Solution 3/16oz $3 off
Kirkland Signature Moisture Eyes 5/15mL $3 off
Bayer Low Dose Aspirin 81mg, 400ct $3 off
Kirkland Signature AllerClear or Aller-Tec 10mg, 365ct $3 off
Ricola Original Natural Herb Cough Drops 2/130ct $3 off
Nature Made Super C Immune Complex 900mg, 200ct $3 off
Page 16
Salonpas Pain Relieving Patch 140ct $3.50 off
Salonpas 4% Lidocaine Patch 15ct $3.50 off
Citracal Calcium Citrate + D 280ct $3.50 off
Nature's Bounty Vitamin D3 125mcg, 400ct $4 off
Nature's Bounty Quick Dissolve Vitamin B-12 300ct $4 off
One A Day Men's and/or Women's 50+ Multivitamin 300ct $4 off
Kirkland Signature Wild Alaskan Fish Oil 1400mg, 230ct $4 off
Nature Made Fish Oil 1200mg, 2/200ct $4 off
Nature Made Magnesium Citrate 250mg, 180ct $4 off
trunature CoQ10 100mg, 250ct $4 off
youtheory Ashwagandha 150ct $4 off
AmLactin Moisturizing Lotion 20oz $4 off
NeilMed Sinus Rinse Kit with 2 bottles + 250 salt packets + NasaMist travel size $4 off
Delsym 12 Hour Cough Relief 2/5 fl oz $4 off
Prilosec OTC 3/14ct $5 off
Kirkland Signature Aller-Flo 5/120 Sprays $5 off
Kirkland Signature Krill Oil 500mg, 160ct $5 off
Estroven Complete 84ct $5 off
Claritin RediTabs 10mg, 70ct $6 off
Mucinex Maximum Strength and/or Maximum Strength DM 48ct $6 off
Mucinex All In One Fast-Max Day/Night 3/6 fl oz $6 off
Kirkland Signature Aller-Fex 180mg, 180ct $7 off
Kirkland Signature Energy Shot and/or Extra Strength Energy Shot 48ct $7 off
Qunol Liquid Turmeric 100mg, 30.4 fl oz $7 off
Buy One Pair of prescription eyeglasses and get $40 off each additional pair of prescription eyeglasses
Page 17
Lenovo IdeaPad 3 15.6″ Touch Laptop $549.99 – $100 off = $449.99
MSI GE75 17.3″ 1080p 144Hz Gaming Laptop $1,399.99 – $250 off = $1,149.99
Austin 4-piece Top Grain Leather Living Room Set $3,499.99 – $700 off = $2,799.99
Bio Bidet USPA 6800 Luxury Bidet Seat $299.99 – $100 off = $199.99
Page 18
Bighorn 18.46 cu. ft. Executive Safe $749.99 – $200 off = $549.99
OVE Decors Dylan Bath Vanities $100 – $400 off
Select Samsung Appliances $400 – $500 off
Osaki OS-3D Hiro LT Massage Chair $3,899.99 – $1,300 off = $2,599.99
Page 19
Nature's Bounty Optimal Solutions Hair, Skin & Nails 230ct $4 off
Nature's Bounty Fish Oil 130ct $5 off
Nature's Bounty Sleep3 Melatonin 10mg, 120ct $4 off
Osteo Bi-Flex Triple Strength 200ct $5 off