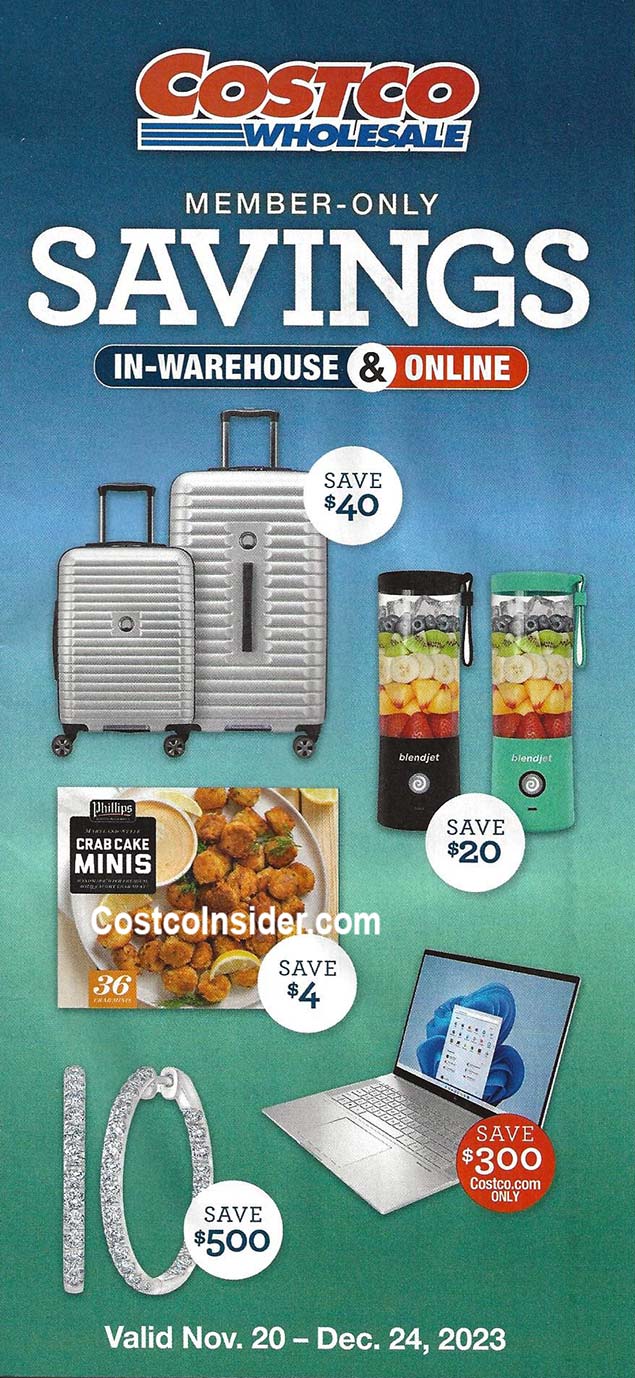 It's hard to imagine but the upcoming Costco December 2023 Coupon Book has dropped! These Costco coupons will run from November 20th through December 24th. In order to display the coupons you need to click the link above and then you'll be taken right to them. The first thing to note is that these coupons will be valid during Black Friday. Secondly, there is no gap between the November 2023 Coupon Book and this one. Lastly, the Black Friday 2023 Ad also overlaps with this coupon book. If you want to get notified as soon as we release the upcoming Costco December Holiday Deals then make sure to sign up for our email list, follow us on Instagram and Like us on Facebook!
The Costco December 2023 Coupon Book is competing with a lot of other coupon books/deals. Therefore, we feel like the deals in it aren't quite as strong as the rest of the year. Nonetheless, there's still some deals worth mentioning. We reviewed the CJ bibigo Beef Bulgogi Mandu in the past and enjoyed them quite a bit. At $3.90 off that's a great deal for a very filling meal. Secondly, our kids love the CJ Foods bibigo Cooked Sticky White Rice Bowls, so for $3 off we will be stocking up. There's also some Phillips Crab Cake Minis for $4 off. Overall, you could say this coupon book focuses on appetizers for holiday parties among other things such as Christmas gifts. The tire coupon is Bridgestone again and is $60 off a purchase of $899.99 or less and $110 off a purchase of 4 tires for $900 or more.
If you're still reading and the link above didn't work for you then you can also click this link to go directly to the first page of the slideshow for the December 2023 Costco Coupon Book. So, what do you think of this months coupon book? Do you agree with our sentiments? Leave a comment and let us know!
All the Costco Holiday 2023 Coupons
November 2023 Costco Coupon Book (Oct 25th – Nov 19th)
Black Friday 2023 Ad (Oct 30th – Nov 27th)
November 2023 Hot Buys Coupons (Nov 11th – Nov 19th)
December 2023 Costco Coupon Book (Nov 20th – Dec 24th)
Costco Holiday Handout 2023 (Dec 8th – Dec 24th)

Here's a few of the deals in the Costco December 2023 Coupon Book:
Phillips Crab Cake Minis $4 off
Columbus Reduced Sodium Sliced Italian Dry Salame $4 off
Giovanni Rana Maine Lobster Ravioli $4.20 off
Huggies Pull-Ups Plus for Boys or Girls $9 off
Sensible Portions Sea Salt Garden Veggie Straws $2.80 off
Healthy Warrior Grains & Seeds Oatmeal $4.50 off
CJ Foods bibigo Cooked Sticky White Rice Bowls $3 off