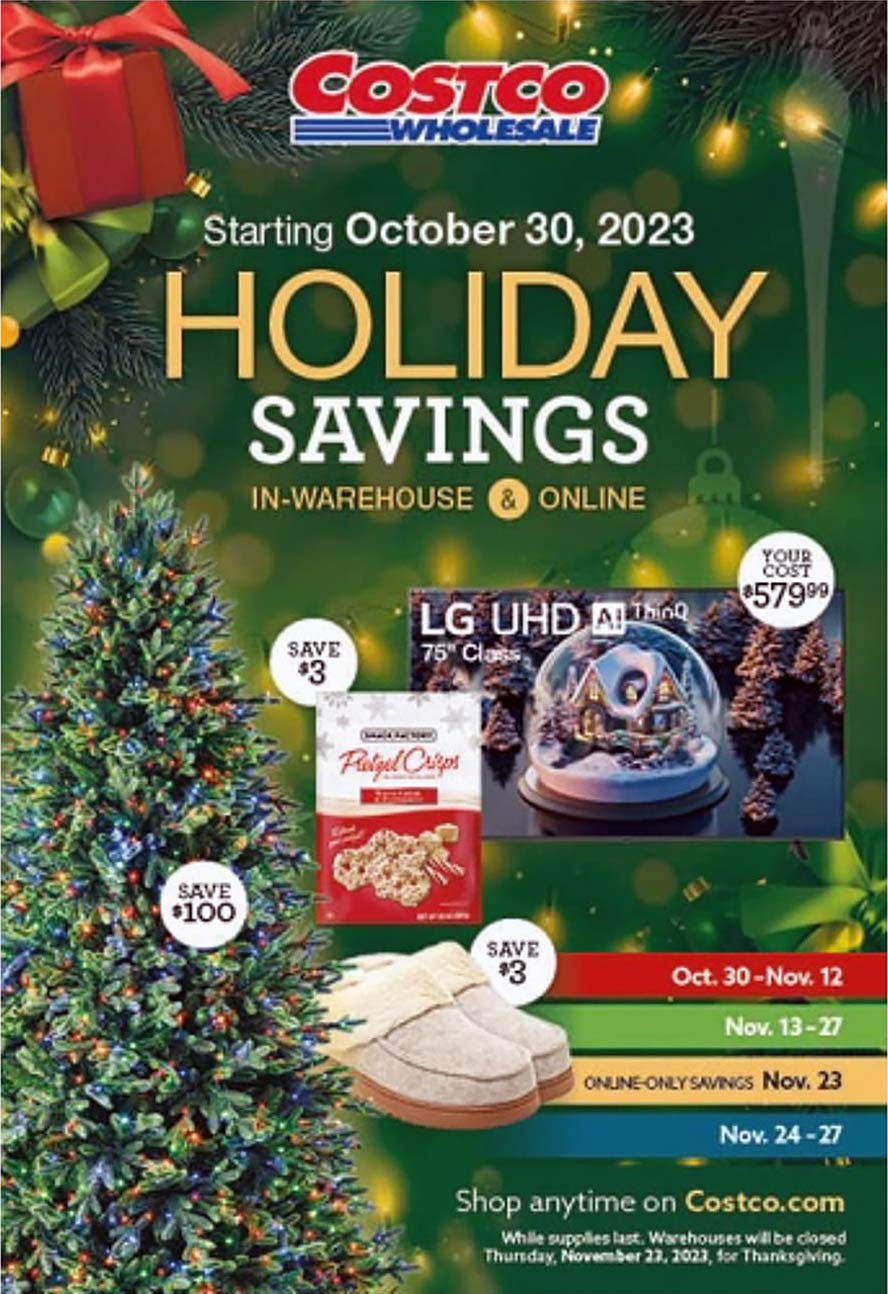 Hot off the presses is the leaked Costco Black Friday 2023 Ad Scan! As expected, it's nice and large at 30 pages long, which is a lot of deals! To reveal the ad pages simply click the link above, which will display them and take you to them. Costco calls this the Holiday Savings Book, but we call it the Black Friday Ad, as it covers both Black Friday and Cyber Monday. The deals run from October 30th to November 27th. Don't miss out on the deals in the November 2023 Coupon Book too, which runs through November 19th. If you want to be notified as soon as we release the newest coupons make sure to sign up for our email list, Like us on Facebook or Follow us on Instagram.
There are so many great deals in the Costco Black Friday Ad to mention! First of all, the Bose QuietComfort 45 SE Noise Cancelling Headphones Bundle is a steal! It's regularly $300 but is $120 off, making it $180 after coupon. The Rao's Marinara Sauce is always great and is $2.90 off. There's some Thanksgiving cooking deals such as the Kirkland Signature Parchment Paper which is $3 off and the Reynolds Wrap Heavy Duty Aluminum Foil which is $5.30 off. There's a ton of TV's, some being a great buy, and plenty of Christmas gifts. Lastly, this is the only time the Christmas trees will be on sale, and it's a great discount too. Costco always runs out of Christmas trees, so at $100 off we highly recommend picking one up if you're in the market for one.
If you're still reading and the link above didn't work you can also click here to go directly to the Costco Black Friday 2023 Ad slideshow. Which items are you going to pick up during this extra special Costco Coupon Book? Leave a comment and let everyone know what the deals are!
All the Costco Holiday 2023 Coupons
November 2023 Costco Coupon Book (Oct 25th – Nov 19th)
Black Friday 2023 Ad (Oct 30th – Nov 27th)
November 2023 Hot Buys Coupons (Nov 11th – Nov 19th)
December 2023 Costco Coupon Book (Nov 20th – Dec 24th)
Costco Holiday Handout 2023 (Dec 8th – Dec 24th)
Costco Black Friday 2023 Hours
Costco is closed on Thanksgiving Day.
On Black Friday the stores officially open at 9am. We expect some locations to actually open their doors as early as 8am, although it's not advertised as such.
Costco Black Friday Thanksgiving cookbook
Costco used to hand out a free Costco cookbook on Black Friday. Unfortunately they no longer do that.
Costco Black Friday price adjustments
Costco typically will not do price adjustments on products that are on sale in the Black Friday ad. We do not see any language this year that confirms that in the ad.
Black Friday 2023 Deals
Snack Factory White Creme & Peppermint Pretzel Crisps $3 off
LG 75″ class – UQ8000 Series – 4K UHD LED LCD TV $579
Sanders Sea Salt Caramels Dark or Milk Chocolate $3.30 off
7.5′ Artificial Pre-Lit Micro LED Christmas Tree $479.99 – $100 off = $379.99
Kirkland Signature Parchment Paper $3 off
Reynolds Wrap Heavy Duty Aluminum Foil $5.30 off
Ninja Woodfire Electric Outdoor Grill & Smoker $289.99 – $50 off = $239.99
Bose QuietComfort 45 SE Noise Cancelling Headphones Bundle $299.99 – $120 off = $179.99
and more…