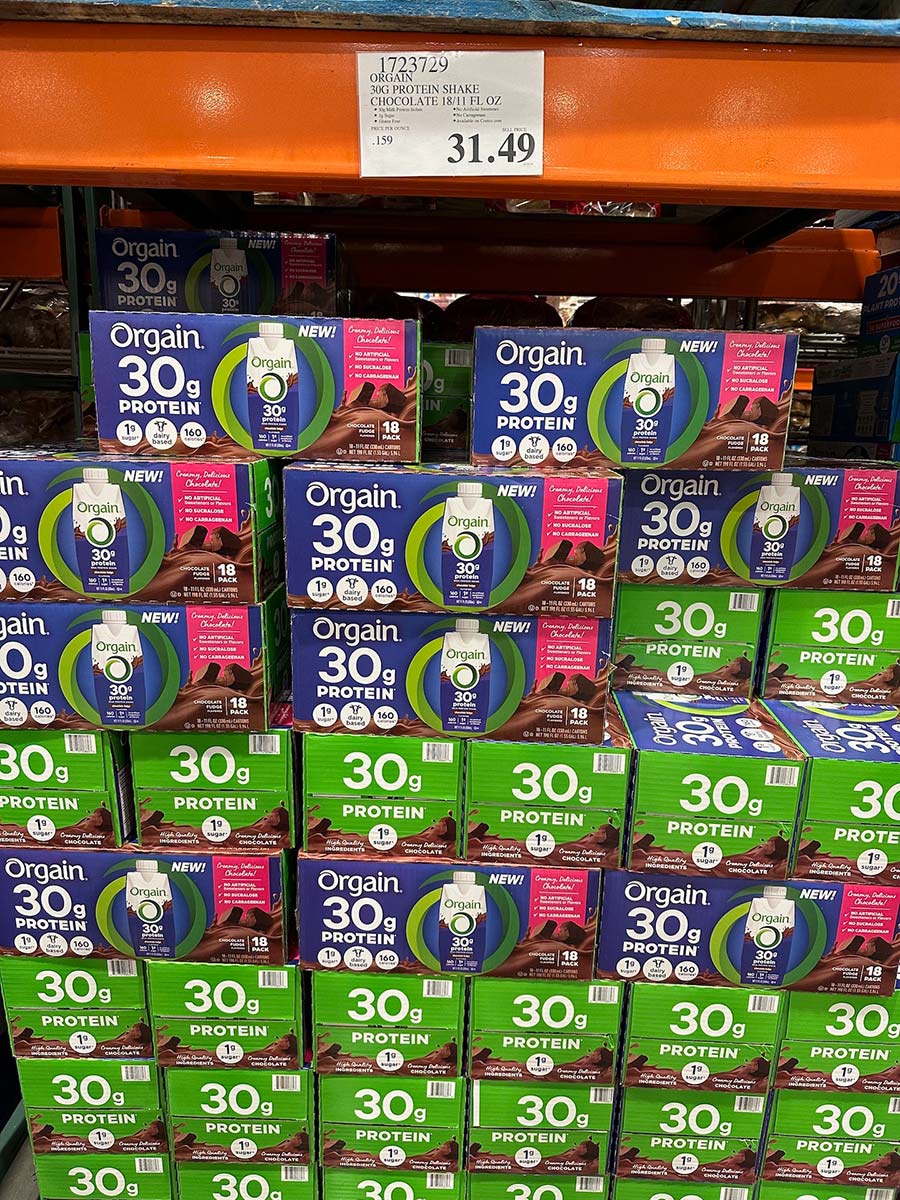 In the ever-expanding world of protein shakes and nutritional supplements, finding a product that delivers on both taste and nutrition can be a challenge. Luckily for us, Costco has come to the rescue with a fantastic deal on the Orgain 30g Ready to Drink Protein Shake and we knew we had to bring you a review! If you're in search of a protein-packed and delicious beverage that won't break the bank, this could be the answer you've been waiting for and it's currently priced at a generous $6.50 off its retail price of $31.49!
The Power of 30g Protein
Protein is an essential macronutrient that plays a pivotal role in our overall health, aiding in muscle recovery, immune function, and more. With Orgain's 30g Ready to Drink Protein Shake, you get a whopping 30 grams of high-quality protein per serving. Plus, it has 6g of naturally occurring BCAAs. This is perfect for athletes, fitness enthusiasts, or anyone looking to increase their daily protein intake to support their active lifestyle.
A Formulation You Can Trust
One of the standout features of Orgain's protein shake is its formulation. With 1g of sugar and a mere 160 calories per serving, it's a guilt-free option that won't derail your nutritional goals. Plus, it features milk protein isolate, which offers several health benefits.
Milk protein isolate is a high-quality milk protein source that is run through an advanced filtration processes to 'isolate' and reduce carbohydrates and sugar (lactose). This combination is ideal for sustained energy, muscle recovery, and satiety. Additionally, milk protein isolate is rich in essential amino acids, making it a complete protein source that supports muscle growth and repair.
No Nasty Additives
At the top of our list of things we love about Orgain is the commitment to clean, high-quality ingredients. Each delicious sip has no artificial flavors or sweeteners like sucralose and no carrageenan. This means you can enjoy the delicious taste without worrying about hidden artificial additives As someone who does their best to steer clear of artificial ingredients – this is a major WIN for me when it comes to these 30g Shakes!
Delicious Flavors to Satisfy Your Cravings
Orgain 30g Ready to Drink Protein Shake is available in two mouthwatering flavors: Chocolate Fudge and Fruity Cereal. The chocolate flavor offers a rich, velvety taste that satisfies your chocolate cravings (without the guilt)! The Fruity Cereal flavor brings a nostalgic and fruity sweetness that takes you back to your childhood cereal days. Both options are delicious, but if we were forced to choose a number one – it would probably be the Chocolate!
Costco: Your Ideal Shopping Destination
We all know Costco is renowned for offering high-quality products at competitive prices, and this offer is no exception. With a generous $6.50 off the retail price now, 10/16 through 10/29, this makes each 30g shake just $1.39 (each case includes 18 11.5oz cartons)! When you compare that price to your average fast food meal of $7, Orgain's shakes are the perfect cost effective, on-the-go option!
Versatile Usage: From Sip to Sweet Treats
Orgain's protein shake is not just for sipping; it's a versatile ingredient that can elevate your culinary creations. You can use it as a liquid replacement in recipes to add an extra punch of protein and flavor. Try it in your morning smoothie, mix it into your pancake batter, or use it as a liquid replacement for your favorite bakery treat. We used the Chocolate flavor in a brownie mix for a protein packed treat and it was heavenly (highly recommend)!
As you can tell, we are huge fans of Orgain's 30g Ready to Drink Protein Shake! A nutritional powerhouse shake with a great price tag to match! Head to your nearest Costco and take advantage of this incredible offer while it lasts!