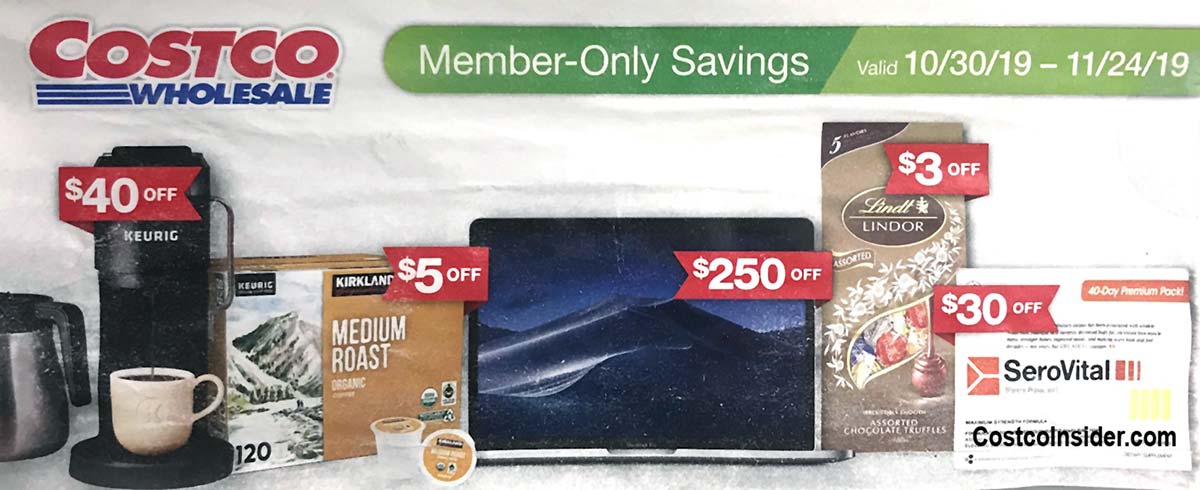 Seeing the new November 2019 Costco Coupon Book definitely gets us excited for shopping for the holidays. The November 2019 Costco coupons will run from October 30th through November 24th. Clicking the link above will bring you to all the Costco coupons as well as allow you to zoom in on them. This coupon book will overlap with the very large Costco Black Friday ad but it ends before Black Friday (November 29th). The December 2019 Costco Coupon Book will begin the day after the November coupons end. This months Costco ad is 22 pages long. If you want to be notified as soon as we release the new coupon book make sure to sign up for our email list, Like us on Facebook or Follow us on Instagram.
Like we said earlier, we're quite excited after looking through the November 2019 Costco coupon book. It's a great time to be in the market for a new TV and new appliances! The very high quality Samsung QLED TV's are on sale and if you follow TV prices closely you'll know that these are the lowest prices you'll see until the new models come out in April. There are also multiple pages of appliance deals, including Samsung, LG, and Whirlpool brands. We really like the Kids blanket sleepers at $4 off. We bought the pair at full price and are very happy with them. The tire deal is back to Bridgestone and is $110 off.
If you can't get the link to work for the November 2019 Costco coupons you need to make sure of two things. First, confirm you're on the Costco November 2019 Coupon Book page. Secondly, once on that page you need to click the link in the first sentence, which is labeled November 2019 Costco Coupon Book. If that isn't working for you you can also browse directly to page 1 here. Are you as excited as we are about the holiday deals coming soon?
All the Costco Holiday Coupons
November 2019 Costco Coupon Book (Oct 30th – Nov 24th)
Black Friday 2019 Ad (Nov 7th – Dec 2nd)
December 2019 Costco Coupon Book (Nov 25th – Dec 24th)
December 2019 Holiday Handout (Dec 13th – Dec 24th)