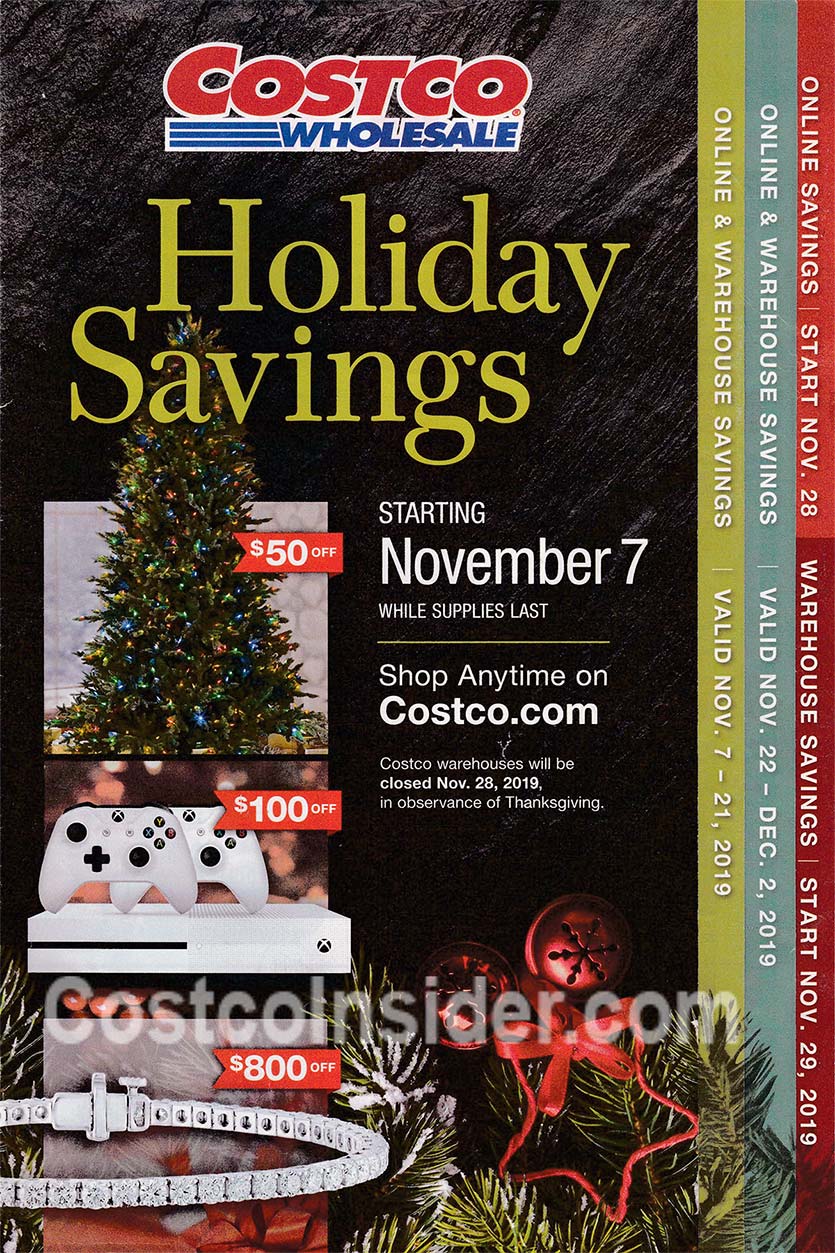 The Costco Black Friday 2019 Ad is now available to view! It's quite long at 31 pages, but encompasses 5 different date windows. Clicking the link above when on the post page will allow you to view and enlarge the ad scan pages. The Costco Black Friday Ad is broken up into 3 different color coded sections. The first section is the green section and is valid from November 7th through the 21st. The second section is blue and is valid from November 22nd through December 2nd, so it includes Black Friday. The third section is the red section and runs from November 29th through December 2nd. There is also a page of Thanksgiving day deals (November 28th) and a page for Cyber Monday deals (December 2nd). Also keep in mind the Costco November 2019 Coupon Book will also be running during this time, as it is valid from October 30th through November 24th. Lastly, the December 2019 Costco Coupon Book will be valid during Black Friday as well, since it will start November 25th. If you want to be notified as soon as we release the newest coupons make sure to sign up for our email list, Like us on Facebook or Follow us on Instagram.
The Costco Black Friday ad is actually called the Holiday Savings handout. One reason for that is that it runs for almost a month long, during multiple shopping holidays. Much like last year there are a ton of great computer and TV deals. For example there are 5 different MacBook laptop deals in the Black Friday ad. We also counted 27 different Costco TV's for sale, which doesn't even include all the Samsung QLED TV's on sale in the November 2019 Coupon Book. There's a handful of holiday food items and cooking utensils to make the perfect Thanksgiving meal. We also don't recall the 7.5′ pre-lit Christmas tree being on sale before, so that is a great deal and we highly recommend Costco artificial Christmas trees.
If you're having trouble opening the coupon book you want to follow these steps. First, make sure you're on the Costco Black Friday 2019 Ad page. Then, click the link in the very first sentence. If that is not working for you you can also go directly to page 1 here. Which Black Friday deals stand out to you as being must grabs?
All the Costco Holiday Coupons
November 2019 Costco Coupon Book (Oct 30th – Nov 24th)
Black Friday 2019 Ad (Nov 7th – Dec 2nd)
December 2019 Costco Coupon Book (Nov 25th – Dec 24th)
December 2019 Holiday Handout (Dec 13th – Dec 24th)
Costco Black Friday 2019 Hours
Costco is closed on Thanksgiving Day.
On Black Friday the stores officially open at 9am. We expect some locations to actually open their doors as early as 8am, although it's not advertised as such.
Costco Black Friday Thanksgiving cookbook
Costco used to hand out a free Costco cookbook on Black Friday. Unfortunately they no longer do that.