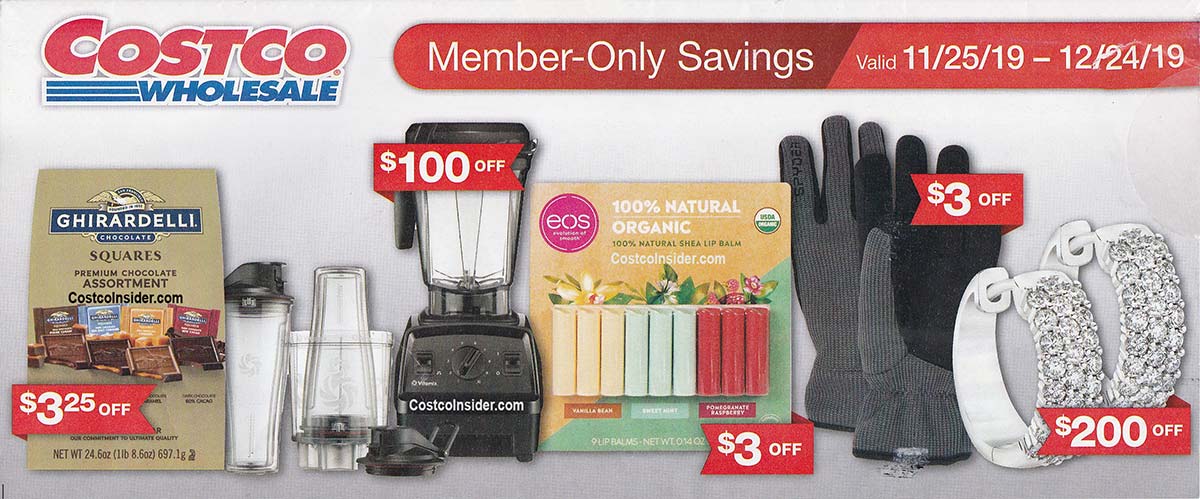 The deals keep on coming in the December 2019 Costco Coupon Book! The December 2019 Costco coupons are valid from November 25th through December 24th. When you click the link above you'll reveal all the coupons and be able to enlarge them by clicking on them. This coupon book will be valid during Black Friday, so if you're planning on doing some Christmas gift shopping that day make sure to keep that in mind! The December 2019 Coupon Book starts the day after the November 2019 Coupon Book ends, with no gap between them. The Costco Black Friday Ad is also valid during this time, running from November 7th through December 2nd. Also don't forget there will be a Holiday Handout flyer during December, which will start December 13th. If you want to be notified as soon as we release the new coupon book make sure to sign up for our email list, Like us on Facebook or Follow us on Instagram.
The December 2019 Costco coupon book is definitely focused on the holidays and items that would make good Christmas gifts. For gifts there are beauty products, laptops, and more. There are some good kitchen gadgets on sale such as the Instant Pot for $64.99 and Vitamix blender for $299. One again there are some Samsung QLEDs for a great price in the booklet. The T3 Hair Dryer and Curling Iron are also on sale this month. The tire sale is Bridgestone again at $110 off.
For those still trying to find the link to reveal the coupons there are two things to check. First of all, make sure you're on the Costco December 2019 Coupon Book page. Secondly, you want to click the link in the very first sentence, which is labeled December 2019 Costco Coupon Book. If that doesn't work for you then you can also navigate directly to page 1 here. What do you think of this months coupons? With so many items on sale at the same time it's going to be hard to keep track of all the deals!
All the Costco Holiday Coupons
November 2019 Costco Coupon Book (Oct 30th – Nov 24th)
Black Friday 2019 Ad (Nov 7th – Dec 2nd)
December 2019 Costco Coupon Book (Nov 25th – Dec 24th)
December 2019 Holiday Handout (Dec 13th – Dec 24th)