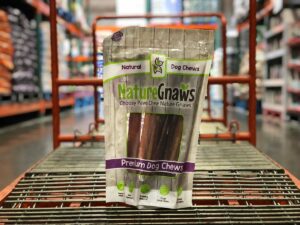 Costco is now carrying a new dog treat in select locations, the highly rated Nature Gnaws Premium Bully Sticks. If you are lucky enough to have them in your store you should definitely give them a try. For many years rawhide was the goto dog chew treat but many concerns have popped up that have everyone turning to bully sticks now. Rawhide can easily break off or splinter off and get caught in the throat or digestion system. That can also leave the rawhide with a sharp edge, cutting up or irritating the dog internally. There has also been contamination issues in the past, which are resolved with all-natural treats such as Nature Gnaws Bully Sticks. Lastly, they are digested much better by the dog than rawhide is.
There are many reasons to pick up Nature Gnaws Bully Sticks if you see them in your store. They're made from single-ingredient 100% all-natural Grass Fed Beef, cleaned with water and baked in ovens. They're also great for dental health as they scrape off plaque while your pet is chewing on them. We love how safe they are compared to many other treats which can get contaminated or are not as naturally healthy for your dog. The bully stick is a great training reward and long lasting entertainment as well.
The Nature Gnaws brand is available in 48 Costco stores in the Northwest region. We've listed the states below which carry the product. They're a much better deal in Costco than you can get on Amazon, but if your Costco doesn't carry it you may want to order a pack from Amazon and give them a try. On Amazon they're $5/stick whereas at Costco you can get a 12 pack for $35.99, which comes out to only $3 per bully stick. The 12-inch bully stick is Nature Gnaws most popular product and we're excited to see it in Costco stores now. If you haven't tried them yet you're missing out on making your pup smile from ear to ear!
Nature Gnaws Bully Stick Costco locations
Alaska
Idaho
Montana
Oregon
Utah
Washington (Sumner)