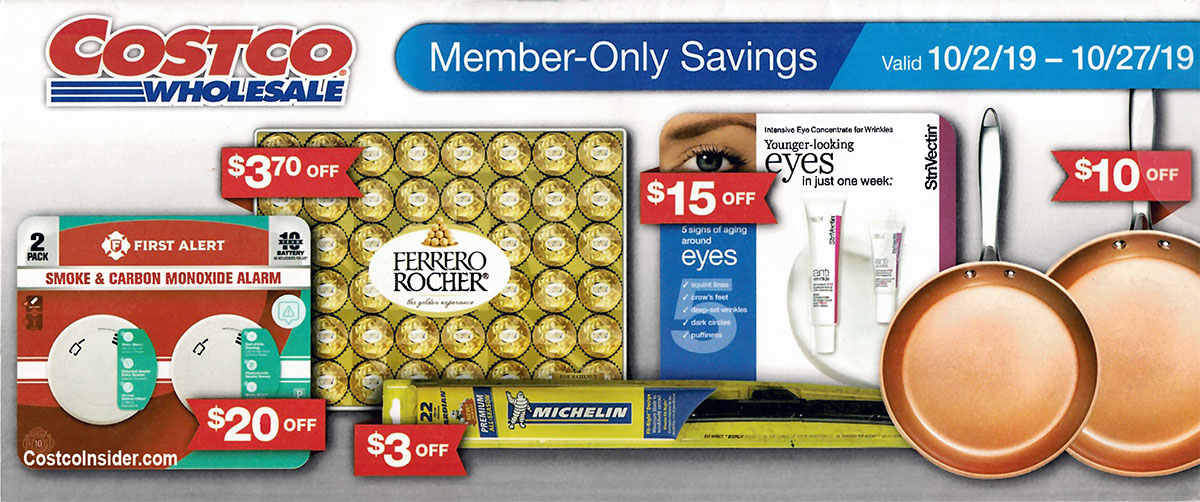 We're excited to give you an early look at the October 2019 Costco coupon book! Valid dates of the October 2019 Costco coupons are October 2nd through October 27th. When you click on the link above you'll reveal all the Costco coupons and clicking on them will zoom in on them. With the September 2019 coupon book ending on September 29th this gives only three days where there are no coupons. When looking at the October 2019 ad it is a little smaller than usual at 23 pages. If you'd like to see the dates of future Costco coupon books make sure to check out the Upcoming Costco Coupon Books page as well. If you want to be notified as soon as we release the new coupon book make sure to sign up for our email list, Like us on Facebook or Follow us on Instagram.
We've gone through the October 2019 Costco coupon book and like to give a few deals special shout-outs. First of all the Ferrero Rocher chocolates are on sale at $3.70 off. There's also a couple of Halloween candy packs that are either $4.70 or $4.50 off. We're excited about the La Croix Red Winter Variety Pack, which includes Cran-Raspberry, Berry, and Tangerine flavors, at $1.60 off per pack. The tire coupon is a little different this month. It's Michelin again at $110 off, but if you spend $700+ you get $150 off. We've never seen this type of tire deal before at Costco but we're happy to see it in October!
If you're looking for the October 2019 Costco coupons and can't figure out how to make them appear you should check two things. First, make sure you're on the Costco October 2019 Coupon Book page. Secondly, when on that page you need to click the link in the very first sentence, which is labeled October 2019 Costco coupon book. If that doesn't work for you can also browse page by page by navigating directly to page 1 here. What do you think of the coupons this month? Is there anything that makes you want to run to the store right now?