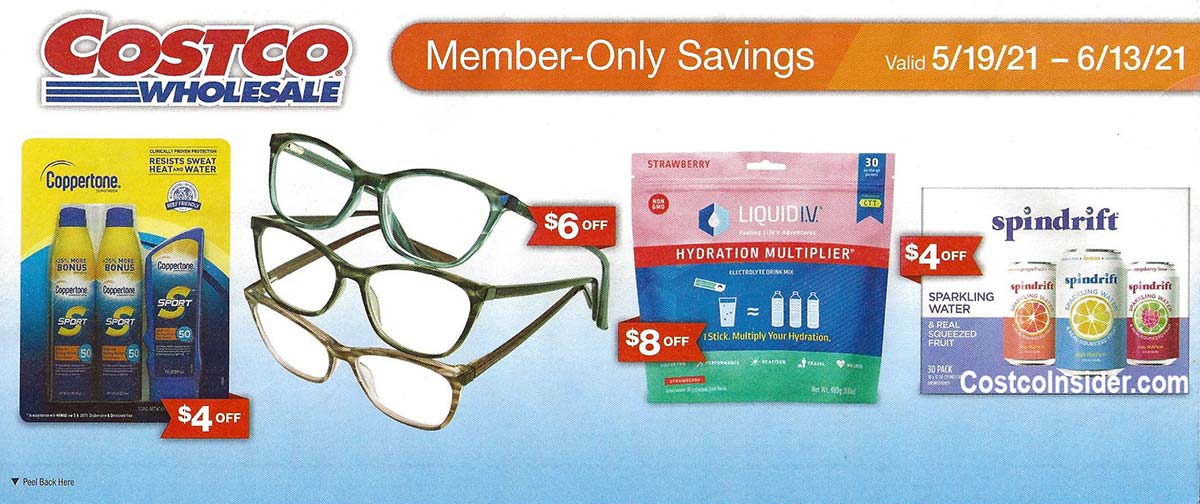 The Costco May and June 2021 Coupon Book is here! This months Costco coupons run from May 19th through June 13th. In order to reveal the coupons you must click the link above, which will take you right to them so you can browse through them and enlarge if you'd like. Much like the last couple months there is 10 days between the April 2021 Coupon Book and the May 2021 Coupon Book. Between these coupon books is the May 2021 Hot Buys Coupons, which started today! Then, the July 2021 Coupon Book will follow on June 23rd. If you want to see an early preview of the July 2021 Coupon Book make sure to sign up for our email list, follow us on Instagram and Like us on Facebook.
There's one deal that really caught our eye in the May 2021 Coupon Book. Last time this item was on sale in the coupon book was a year ago! We're referring to the delicious Ensure Nutritional Shakes of course. Both the Original (comes in Vanilla and Chocolate flavors) and the Plus Vanilla flavor are $8 off. If you didn't know, they provide complete, balanced nutrition, as well as supporting the natural production of collagen. Ensure also has key nutrients that support immune, bone and muscle health. Another deal that stands out to us is the Mr. Clean Magic Eraser Variety Pack at $3 off. We did a detailed review and testing a couple months ago and came away quite impressed. The Costco Optical eyeglasses deal of $40 off each additional pair of prescription eyeglasses is the best eyeglasses deal you'll find all year. We're very intrigued to try the BAI Lemonade Variety Pack as we've always enjoyed BAI but haven't tried this pack before. The Costco tire deal is Michelin this month, with $110 off up to $699 and $150 off $700+.
If you can't find the link to display the coupons you can also click this link to go directly to Page 1 of the May 2021 Costco Coupon Book slideshow. So, now that you've seen all the deals in the Costco coupon book, which ones stand out as must buys for you this month? Anything that you're interested in but need to research a little more first?