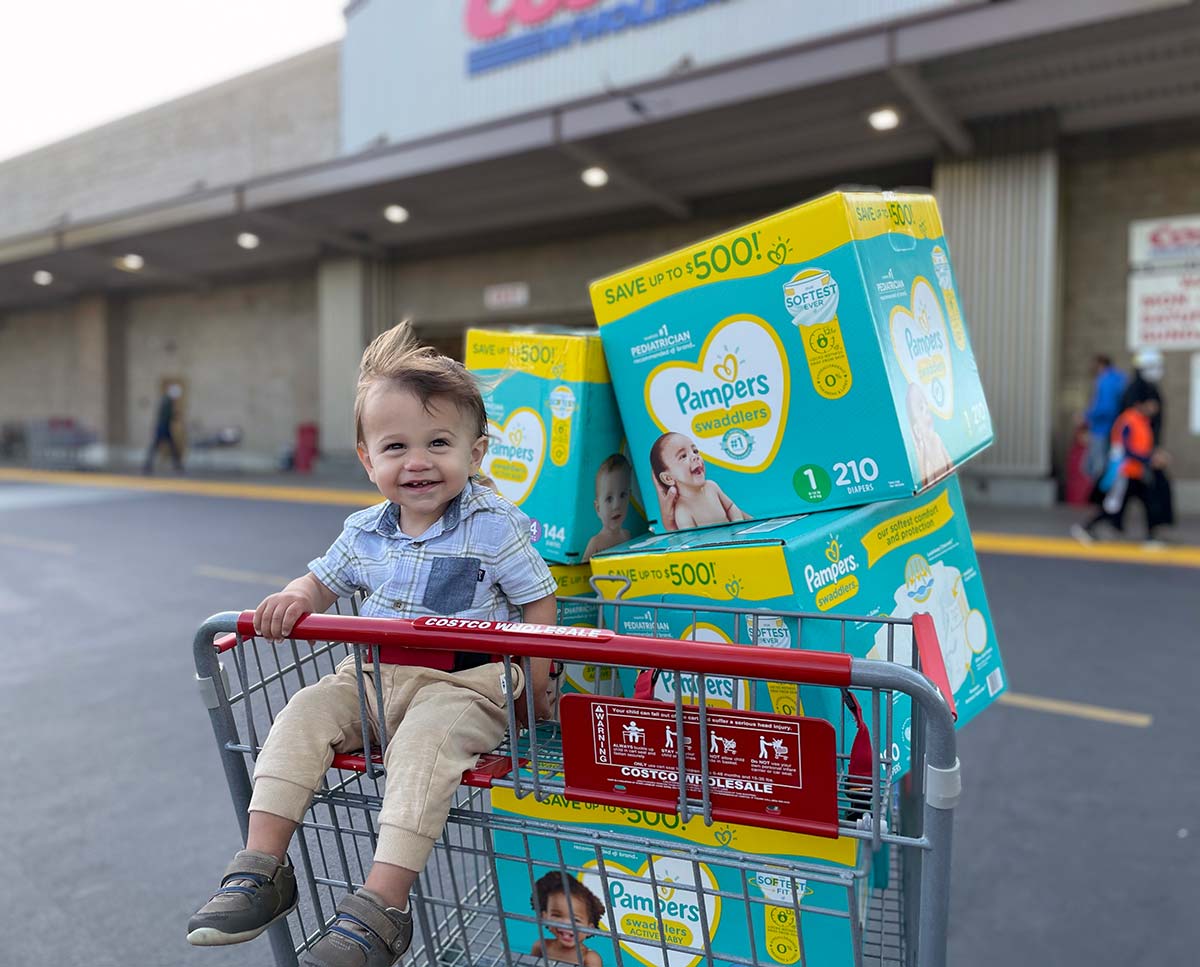 Any parent out there knows that Pampers is a brand that can be trusted. It's been around for many years, and Pampers is the #1 pediatrician recommended brand. So when they offered us a bunch of diapers to sample, we were thrilled! We also knew that because of how many new parents turn to Costco for their needs, a Pampers Swaddlers review was a must.
Why 'Swaddlers'? Well if you're anything like the parents we have talked to, you want diapers that can be trusted. Trusted to get your little ones through the night without soaked pajamas in the morning. Trusted to withstand road trips, play dates, busy schedules, and blow outs. And maybe most importantly, trusted to be gentle and soft on your baby's delicate skin.
That's what you get with Pampers Swaddlers. Sizes are 1-6 are now in select Costco warehouses – and may not be available in all locations. And while Pampers Swaddlers are available in other retailers, we all know that buying in bulk at Costco is the way to go. So get excited! They are coming your way!
And who would've thought we'd be asked to review diapers! But we know the reality that any experienced parent out there has a good blow-out story from when their baby's diaper just didn't do what it promised to do. Or maybe it's not blow outs, but every morning you find your child has been sleeping in soaked clothes because the diaper couldn't hold enough liquid. Diapers are a really big deal in your life stage with littles, and we know that buying Pampers Swaddlers will help take one more worry off your plate. And not only that, but buying them from Costco helps you buy more for less money, and with less frequent trips to the store. All major things to consider when you have children.
We first put the product to the test with a five month old. He had very sensitive skin, so we were concerned with how this product would hold up compared to other diaper brands. Here is what we found: whether it was multiple changes in a day because of his tummy struggles, or a change after his 8-hour nighttime stretch, he didn't have any red marks from the diaper or leaks out the sides. His skin was dry, soft, easy to wipe clean, and not irritated. We were really impressed.
We then put the product to the test with a 14 month old. He was sleeping 13 hour stretches at night, 3 hours during the day for his nap, and running around throughout the day with lots of energy. So not only did his parents need good coverage for long stretches of time without him waking up soaked, but they also needed good coverage for a kid that moves like crazy whether running in the yard, jumping on the dog, or doing gymnastics classes at the local gym. The results? Exactly what we had hoped. Pampers Swaddlers stayed snug on his skin without irritating it, and he wasn't waking up with wet pajamas from soaking through.
We know Pampers has both parents and kids in mind, and that they've been thinking through the latest technology to help make life with littles just a little easier.
With Pampers Swaddlers you don't need to compromise on price, comfort, or quality. They are an all-in-one diaper you can trust. The last thing parents need is to worry about the dependability of their baby's diaper. And Pampers knows that. So get ready, they are coming to Costco and to YOU soon! We are stoked.