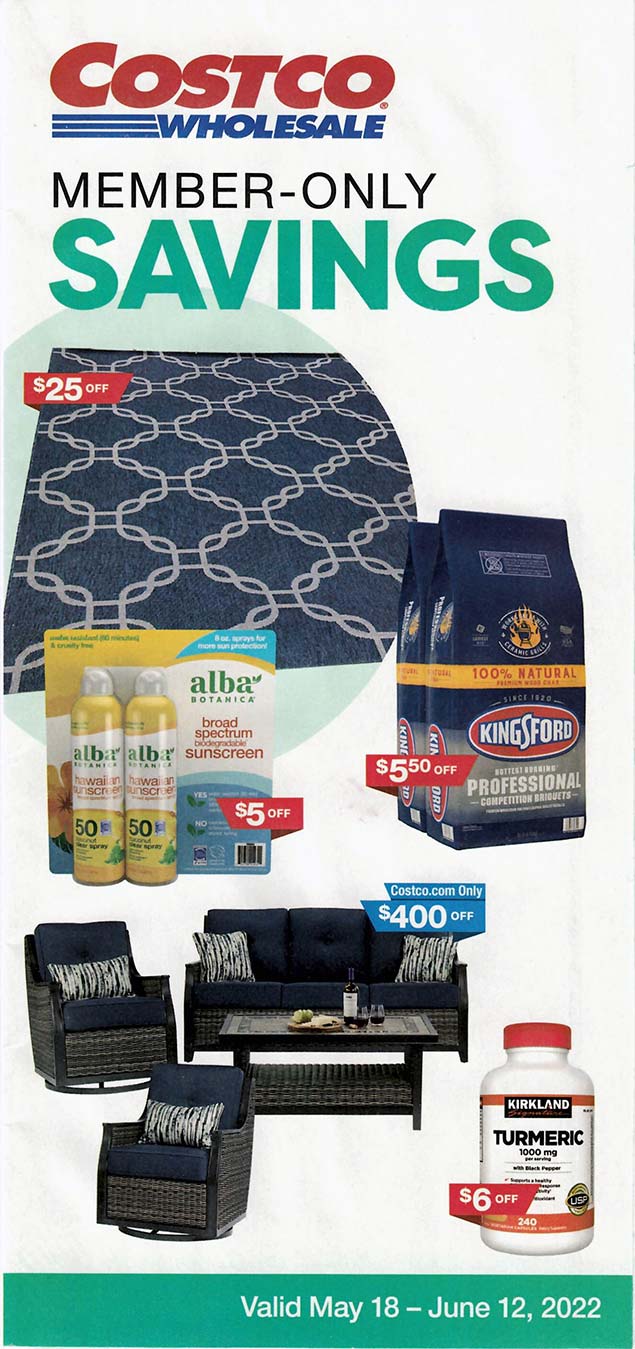 Hot off the presses is the Costco May and June 2022 Coupon Book! This coupon book is like all others, but it is the one time of the year that it equally spans two months, hence the name. This months coupons are valid from May 18th to June 12th. When you click the link above it will reveal the coupons and take you right to them, where you can tap on them to enlarge them. Also keep in mind the May 2022 Hot Buys Coupons just started and fill the gap between the April Coupon Book and the May/June Coupon Book, running from May 7th through May 15th. If you want to get notified as soon as we release the July 2022 Coupon Book then make sure to sign up for our email list, follow us on Instagram and Like us on Facebook!
The May and June 2022 Costco Coupon Book really centers around summer in our eyes. Right on the front page you have sunscreen, charcoal for bbqing, outdoor rugs, and outdoor patio furniture. The best buy this month is definitely the Stryve Hickory Air-Dried Beef Biltong jerky. At $4 off that's over a 30% discount! We love that there's 0g of total sugar, it's keto friendly, and has no MSG or nitrates. Another popular item is the Melona Frozen Dessert Bars at $3.50 off. We have yet to try them but with all the positive reviews we are quickly considering. Our favorite Kori Pure Antarctic Krill Oil is on sale for $5 off. We are big fans of the Alba Botanica Sunscreen, so we'll pick up the 2pk at $5 off. The Mobil 1 Synthetic Motor Oil isn't on sale that often, so it's a great deal at $29.99 for a 6qt case. The Kinder's Organic Mild BBQ Sauce is our go-to bbq sauce, so we'll stock up on that at $2 off. We hear great things about the Stryve Hickory Air-Dried Beef Biltong, so we might pick it up at $4 off and give it a try. The Mr. Clean Magic Eraser pack is a good buy too at $3 off. The tire coupon is back to Michelin at $150 off any set of 4 tires.
If you're still reading and can't get the coupons to show up then you can click this link to go directly to the first page of the slideshow for the May 2022 Costco Coupon Book. So, what are your thoughts on this months Costco coupons? What items are you going to buy? Leave a comment and let us know!
Stryve Hickory Air-Dried Beef Biltong $4 off
Alba Botanica Hawaiian Sunscreen 2pk $5 off
Mohawk Home Waterproof Laminate Wood Flooring $8 off
Duracell Batteries AA or AAA $3 off
Mr. Clean Magic Eraser 11ct $3 off
Head & Shoulders 2in1 Complete Scalp Care $3.50 off
Nylabone Broth Bones Natural Edible Dog Chews $6 off
Philips Sonicare 2-handle pack $299.99 – $100 off = $199.99
Mobil 1 Synthetic Motor Oil 6qt $39.99 – $10 off = $29.99
Michelin set of 4 tires $150 off
BFGoodrich set of 4 tires $110 off
Biofreeze Pain Reliever 6oz pack $4 off
Clorox 2 for Colors $4 off
Feit Electric 48′ LED Filament String Light Set $10 off
OFF! Deep Woods Insect Repellent $6 off
VitaFusion Women's Multi or MultiVites $3 off
L'il Critters Gummy Vites $3 off
Nature Made Super B-Complex $4 off
Kirkland Signature Krill Oil 500mg $5 off
Prilosec OTC $5 off
Trunature Advanced Strength Cinsulin $4 off
Depend Protection Plus Ultimate Underwear $10.50 off
Focus Factor $5 off