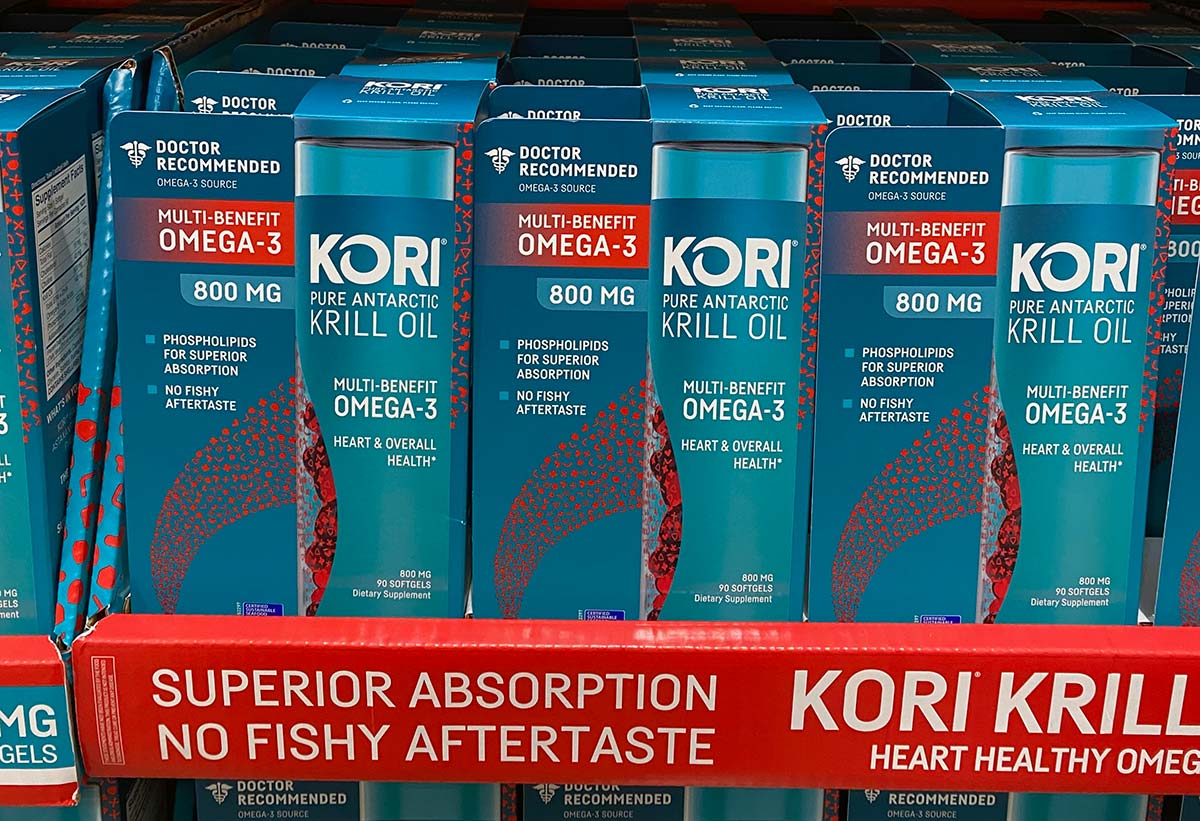 EDIT 1/18/2022: Now available at Costco's nationwide and in a new 800mg package!
We love finding new products in Costco and today we're reviewing Kori Pure Antarctic Krill Oil. It's now available nationwide, in an 800Mg, 90 count, and it fits perfectly into those New Years health goals. If you've never heard of krill oil it's essentially a better version of fish oil. It supports heart and overall health (immune, brain, joint, eye and skin too). Thanks to the Kori Krill Oil brand for providing a sample to test out! We've all heard that omega-3 fish oil has many health benefits, but yet many people stay away from it. That's where Kori Krill Oil comes in to make up for the main reasons people have stopped taking fish oil.
The number one complaint of fish oil is the fishy aftertaste and burps. Fortunately with Kori Krill Oil you can avoid all that. Krill oil delivers Omega-3s in their most natural form- with phospholipids, which makes the Omega-3s easier to digest, and supports superior absorption in our bodies. Normal fish oil loses the phospholipids during processing and only retain triglycerides. The triglycerides is what can cause the fishy burps. Another health benefit of krill oil vs fish oil is that it krill oil contains Choline. Choline is an essential nutrient that supports brain and nervous system health. Lastly, krill oil has the antioxidant Astaxanthin. This antioxidant is what gives salmon and krill their red coloring. As you can see there are a lot of reasons to switch to krill oil over fish oil.
It turns out the majority of Americans do not get the recommended amount of Omega-3's per week.
Why do I want to increase my Omega-3 intake?
Supports Heart and Overall Health
Heart Health: supportive but not conclusive research shows that consumption of EPA & DHA Omega-3 fatty acids may reduce the risk of coronary heart disease*
Helps maintain healthy blood pressure*
Supports healthy triglycerides levels*
*In already normal range
Why choose Kori Krill Oil?
Superior absorption, more nutrients, and no fishy aftertaste
Made in the USA with wild caught Antarctic Krill
Certified Sustainable
Non-GMO krill oil
$23.99 for 90 count-more value at Costco compared to the competition
Kori is 3rd party tested, and from the #1 supplier of krill oil in the world- so you can trust its quality!
Krill Oil is clinically proven to raise Omega-3 levels
We're very excited to start taking Kori Krill Oil daily. Anything we can do to increase our health in an easy way is vital these days.
You can find Kori Krill Oil in Costco stores nationwide. When comparing Kori Krill Oil Omega-3 at Costco to other krill brands you can find there, you'll see how great of a deal Kori is. 
We are big believers after doing the research and giving Kori Krill Oil a try. We look forward to seeing how it continues to improve our health. So far we've experienced zero fishy burps. What do you think, are you going to give it a try?
Find Kori Krill Oil in the Vitamin/Supplement section at Costco.