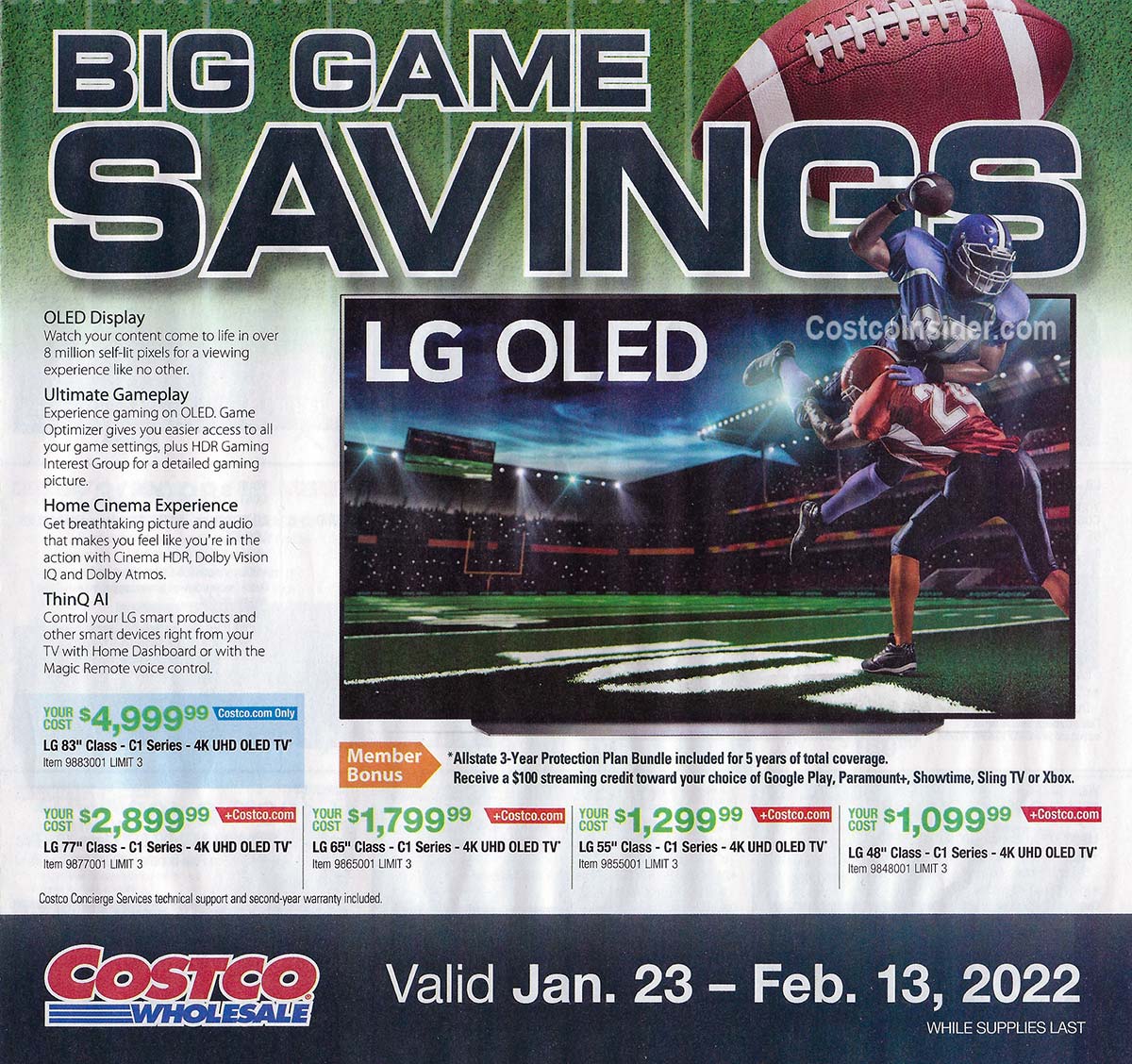 The upcoming Costco Super Bowl TV Deals 2022 are here! If you're debating whether to buy a new TV, this is definitely one of the best times of the year to do it! To check out all the Super Bowl deals simply click the link above to display all the pages. This years deals run from January 23rd through February 13th, which is the day of the Super Bowl. Costco calls this coupon book the Big Game Savings flyer, likely due to trademark issues. We are counting 20 TV deals in this Costco flyer, along with soundbars, computer monitors, appliances, and laptops. These deals will overlap with the February 2022 Costco Coupon Book as well. If you want to see an early preview of the February 2022 Coupon Book make sure to sign up for our email list, follow us on Instagram and Like us on Facebook.
There are some great sales in the Costco Super Bowl handout. There are two main reasons for that. First of all, people often like to upgrade their TV to watch the Super Bowl on the latest and greatest TV. Secondly, the 2022 model TV's typically get released in April, so this is one of the last major holidays where retailers can advertise sales for them. Comparing pricing from last year, TV prices continue to drop year after year, while also improving the technology. For example, last year the LG 65″ C Series OLED was on sale for $1949. This year they are listed at $1799, which is $150 less this year for an even better TV! The 55″ TV is $50 less than last year and we're seeing the 77″ is $350 less than last year. Unlike last year, all the major brands that Costco carries are represented in the sale, including LG, Samsung, Sony and Hisense.
If you're still reading this and having trouble revealing the pages, you can click here to go directly to page 1 of the coupon book. Costco Insider community, leave a comment below and tell us what you think is the best deal!
LG 83" Class-C1 Series – 4K UHD OLED TV $4,999.99
LG 77" Class-C1 Series – 4K UHD OLED TV $2,899.99
LG 65" Class-C1 Series – 4K UHD OLED TV $1,799.99
LG 55" Class-C1 Series – 4K UHD OLED TV $1,299.99
LG 48" Class-C1 Series – 4K UHD OLED TV $1,099.99
Samsung 75" Class- QN850 Series – 8K UHD NEO QLED LCD TVs $3,299.99
Samsung 85" Class- QN850 Series – 8K UHD NEO QLED LCD TVs $4,199.99
Samsung QN85 Series – 4K UHD NEO QLED LCD TVs $1,099.99-$2,999.99
Samsung 75" Class – Q7 Series – 4K UHD QLED LCD TV $1,499.99
LG 65" Class – NANO85 Series – 4K UHD LED LCD TVs, $849.99
LG 75" Class – NANO85 Series – 4K UHD LED LCD TVs, $1.249.99
Samsung 55" Class – Q6 Series – 4K UHD QLED LCD TV $699.99
LG 75" Class – UN9070 Series – 4K UHD LED LCD TV $899.99
LG OLED – A1 Series – 4K UHD OLED TVs $799.99-$2,499.99
Sony 77" Class – A80CJ Series – 4K UHD OLED TV $2,999.99
Sony 65" Class X90 AND/OR 85" Class X91 TVs $1,199.99-$2,199.99
HISENSE 55" Class – U6GR5 Series – 4K ULED LCD TV $449.99
LG 55" Class – UP7670 Series – 4K UHD LED LCD TV $449.99
LG 65" Class – UN9000 Series – 4K UHD LED LCD TV $649.99
LG 86" Class -UN9070 Series – 4K UHD LED LCD TV $1,399.99
LG 35" Class Ultrawide Curved WQHD HDR10 Monitor, $100 off, $399.99
MSI Optix 27" Class FHD IPS Gaming Monitor, $30 off, $169.99
MSI GE76 17.3" 1080p 144 Hz Gaming Laptop, $200 off, $1,299.99
Lenovo Flex 15.6" 1080p Touchscreen 2-in-1 Laptop, $150 off, $849.99
Samsung Galaxy 10.4" Tab S6 Lite 64GB. – Oxford Gray, $90 off, $289.99
Klipsch Wireless Subwoofer, $50 off, $229.99
Klipsch The Fives Speakers, $100 off, $499.99
Klipsch Reference Cinema System 5.1.4 with Dolby ATMOS, $150 off, $699.99
VIZIO M51a-H6 36" 5.1 Channel Home Theater Sound System, $50 off, $249.99
VIZIO V21-H8 36" 2.1 Channel Soundbar with Wireless Subwoofer, $30 off, $129.99
Samsung HW-Q59CT 5.1 Channel Soundbar with Acoustic Beam, $130 off, $249.99
Select Samsung 3-Door and 4-Door French Door Refrigerators, $300-600 off
CyberPower Surge Protector Bundle, $7 off, $32.99