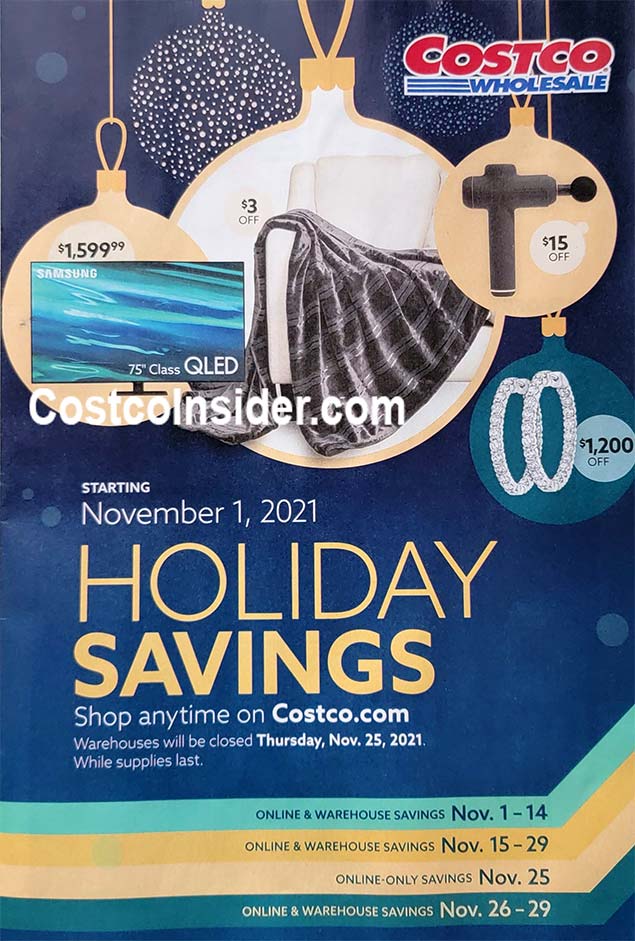 Here's the leaked Costco Black Friday 2021 Ad Scan for you! As usual, it's nice and big at 31 pages long, including 4 different sets of deal dates that it's valid during. To reveal the ad, simply click the link above and it will take you right to them and allow you to click on them and enlarge them. Costco typically calls this ad the Holiday Savings flyer however it has lots of special deals during Black Friday and Cyber Monday. The first section is light green and includes online and warehouse savings that run from November 1st through November 14th. The second section is yellow and also includes online and warehouse savings that are valid from November 15th through November 29th. The third section is light yellow and is on Thanksgiving Day (November 25th) and since Costco is closed that day, it is online-only savings. Lastly, in the dark green section there are online and warehouse savings from November 26th (Black Friday) through November 29th (Cyber Monday). There are also some great LG OLED deals and many other items on sale in the November 2021 Coupon Book which runs through November 21st. The December 2021 Coupon Book will also be valid during Black Friday with a start date of November 24th. If you want to be notified as soon as we release the newest coupons make sure to sign up for our email list, Like us on Facebook or Follow us on Instagram.
The Costco Black Friday ad has more deals than any other Costco coupon book all year long. It spans a whole month and covers multiple shopping holidays. It's got items that will cover Thanksgiving dinner, such as Reynolds Wrap Aluminum Foil at $4.30 off. There's also one of the top 3 must buy Costco items — Kerrygold Pure Irish Butter at $3.60 off. If you've never tried it you are really doing yourself a disservice. There are also items that make great Christmas gifts. For example, the Sharper Image Power Percussion Massager at $15 off, or the Dearfoams Men's Slippers at $9.99 after $2.50 off. Others include jewelry or a Singing Machine Karaoke Pedestal! Another item we spied in this Black Friday ad is the Häagen-Dazs Peppermint Bark Ice Cream Cookie Squares at $3.50 off. We've heard nothing but good reviews on them and people were very excited when they showed back up in stores recently.
If you're still reading and not able to get the Black Friday ad to load you can go directly to the Costco Black Friday 2021 Ad slideshow by clicking here. So, which deals stand out to you as must gets? What are your overall thoughts on this Black Friday, keeping in mind the recent supply chain issues and inflation?
All the Costco Holiday Coupons
November 2021 Costco Coupon Book (Oct 27th – Nov 21st)
Black Friday 2021 Ad (Nov 1st – Nov 29th)
November 2021 Hot Buys Coupons (Nov 13th – Nov 21st)
December 2021 Costco Coupon Book (Nov 22nd – Dec 24th)
Costco Holiday Handout 2021 (Dec 10th – Dec 24th)
Costco Black Friday 2021 Hours
Costco is closed on Thanksgiving Day.
On Black Friday the stores officially open at 9am. We expect some locations to actually open their doors as early as 8am, although it's not advertised as such.
Costco Black Friday Thanksgiving cookbook
Costco used to hand out a free Costco cookbook on Black Friday. Unfortunately they no longer do that.
Costco Black Friday price adjustments
Costco typically will not do price adjustments on products that are on sale in the Black Friday ad. We do not see any language this year that confirms that in the ad.
All Black Friday 2021 Deals
Snack Factory White Chocolate Peppermint Pretzel Chips, $2 off
Edward Marc Coconut Almonds with Dark Chocolate, $4 off
Sanders Dark or Milk Chocolate Sea Salt Caramels, $3 off
E&C's Heavenly Hunks Organic Oatmeal Dark Chocolate Cookies, $3 off
Innofoods Organic Coconut Keto Clusters, $3.20 off
Simply Cheetos White Cheddar Puffs, $1.60 off
Epicurean Specialty Truffle Parmesan Black Garlic Seasoning, $2.80 off
Fresh Gourmet Crispy Onions, $2 off
Del Monte Cut Green Beans and/or Whole Kernel Corn, $2 off
Cuisine Adventures French Onion Soup, $2.70 off
Sabartasso's Gluten-Free Four-Cheese Pizza, $4 off
Kirkland Signature Beef Lasagna, $4 off
Overandback 6-piece Bowls with Lids set, $3 off
Suja Immunity Wellness Shots, $4 off
KitchenAid 6 qt Professional Series Bowl-Lift Stand Mixer, $100 off
Atomi Smart Color-Changing LED Pathway Lights Starter Kit, $50 off
Kwikset Halo Touch Smart Wi-Fi Lock with Matching Lever, $40 off
Feit Electric LED Smart Floodlight with HD Camera, $50 off
Sur La Table 13 qt Air Fryer, $40 off
Conair Reflections LED Lighted Vanity Mirror, $10 off
Cangshan 12-Piece L Series Knife Set, $30 off
Rachio 3 Smart Sprinklers Controller, 12-Zone, $50 off
BC Clothing Men's Fleece-Lined Sweatshirt, $4 off
Buffalo Ladies' Super Soft Hoodie, $5 off
Nautica Ladies' Puffer Jacket, $6 off
Hotel Grand 20" x 28" Feather & Down Jumbo Pillows, $4 off
Urban Star Men's Jean, $3 off
Skechers Ladies' GOWALK Tight, $4 off
Jona Michelle Special Occasion Dress, $4 off
Round Brilliant 2.0 ctw VS2 Clarity, G Color Diamond Platinum Band, $500 off
14kt Two-Tone Gold Marquise Earrings, $40 off
Round Brilliant 1.00 ctw VS2 Clarity, I Color Diamond Platinum Eternity Band, $350 off
Round Brilliant, 1.00 ctw VS2 Clarity, I Color Diamond 14kt White Gold Heart-Shape Necklace, $200 off
Keira Leather Power Recliner with Power Headrest, $200 off
Firman 2900W Inverter Generator, $150 off
Phillips Hue 9' Bluetooth and Zigbee Light Strip Bundle, $15 off
Kirkland Signature AAA and/or AA Batteries, $4 off
Duracell 550 Lumens Flashlights, $5 off
Bio Bidet USPA 6800 Luxury Bidet Seat, $100 off
Dell Inspiron 13.3" FHD+ Laptop, $200 off
Lenovo IdeaPad 5i 15.6" 1080p Touchscreen Laptop, $200 off
Razer PC Gaming Accessory Bundle, $30 off
LG 27" Class FHD IPS FreeSync Monitor, $40 off
Dell Inspiron15.6" 1080p TouchScreen Laptop, $150 off
Apple iPad Air 256GB, $70 off
HP 14" 1080p Laptop, $120 off
Roland 88-Key Digital Piano, $100 off
Samsung 85" Class – Q7 Series – 4K UHD QLED LCD TV, $2,199.99
Samsung 32" Class 4K Curved Monitor, $70 off
LG 65" Class – UP7670 Series – 4K UHD LED LCD TV, $599.99
Samsung HW-Q59CT 5.1 Channel Soundbar with Acoustic Beam, $140 off
Samsung HW-A58C/ZA 5.1 Channel Soundbar, $130 off
LG gram 17" Laptop, $350 off
LG gram 15.6" 1080p Laptop, $250 off
Ghirardelli Squares Peppermint Bark Collection, $3.25 off
Haagen-Daaz Peppermint Bark Ice Cream Cookie Squares, $3.50 off
Vanity Fair 3-Ply Entertain Napkins, $2.90 off
Amylu Cranberry & Jalapeño Antibiotic-Free Chicken Meatballs, $4 off
David's Cookie Butter Pecan Meltaways, $2.30 off
Waterloo Sparkling Water, $2 off
Kirkland Signature Evaporated Milk, $3 off
Kerry gold Salted and/or Unsalted Pure Irish Butter, $3.60 off
Savanna Orchards Honey Roasted Nut Mix, $2.95 off
Sonoma Creamery Pepper Jack Crisps, $3 off
Royal Asia Coconut Shrimp, $3.70 off
Columbus Salame Trio, $3 off
Carr's Table Water Cracker Selection, $4 off
Stacy's Organic Simply Naked Pita Chips, $2 off
Minh Mini Chicken Egg Rolls, $3.50 off
Citterio 18-Month-Aged Prosciutto di Parma, $3 off
King Cheese Spiralta Minis, $4.50 off
Sharper Image Power Precision Massager, $15 off
Gourmia 7 qt Digital Air Fryer, $10 off
Cuisinart Elite 12-Cup Die-Cast Food Processor, $50 off
Town & Country Kitchen Towels, $4 off
Ninja Foodi 6.5 qt MultiCooker Pro, $30 off
Cuisinart Immersion Blender with Storage Case, $12 off
Poo-Pouri Toilet Spray, $4.50 off
Reynolds Wrap Aluminum Foil Heavy Duty Rolls, $4.30 off
Dearfoams Men's Slipper, $2.50 off
Conair Sonic Facial Brush, $10 off
Round Brilliant 4.00 ctw VS2 Clarity, I Color Diamond 14kt White Gold Inside Outside Hoop Earrings, $1,200 off
14kt 3mm Gold Bangle, $50 off
Wet Brush Disney Hair Brush set, $4 off
Waterpik Evolution and Nano Water Flosser Combo Pack, $25 off
Freshwater 8-9mm Pearl 14kt Yellow Gold Earrings, $50 off
Round Brilliant 3.00 ctw VS2 Clarity, G Color Diamond Cluster 14kt White Gold Tennis Bracelet, $500 off
Beautyrest 12" Silver BRS900 Medium Queen Mattress, $150 off
Vaultek LifePod Weatherproof Lockbox, $20 off
Samsung Galaxy 10.4" Tab S6 Lite 64GB – Oxford Gray, $100 off
Monty Leather Chair, $200 off
SimpliSafe 10-Piece Home Security Kit with HD Camera, $70 off
Nest Smart Thermostat with Additional Temperature Sensor, $70 off
Netgear Orbi Whole Home Mesh Wi-Fi 6, $150 off
Seagate Backup Plus Hub 8TB Desktop Hard Drive, $50 off
T-Mobile Samsung Galaxy S20 FE 5G 128GB, $499.99
Netgear Nighthawk AX6 AXA300 Wi-Fi 6 Router, $70 off
TP-Link Tri-Band 12-Stream AX11000 Wi-Fi 6 Router, $50 off
ION Pathfinder 280 All-Weather Speaker with Premium Wide-Angle Sound, $40 off
Singing Machine Wi-Fi Karaoke Pedestal with 7" Touchscreen, $25 off
Bose Noise Cancelling Headphones 700 with Premium Charging Case, $80 off
Samsung 12.2" Touchscreen 2-in-1 Chromebook Bundle, $250 off
HP 15.6" Touchscreen Laptop, $100 off
Fitbit Luxe Activity Tracker, $50 off
Bose QuietComfort Earbuds, $60 off
Samsung Galaxy Book Go 14" 1080p Laptop, $100 off
Apple MacBook Air, $100 off
Fitbit Versa 2 Smartwatch, $60 off
Sony X90 Series 4K UHD LED LCD TVs, 65" Class, $1,199.99
Sony X90 Series 4K UHD LED LCD TVs, 75" Class, $1,599.99
Sony 85" Class – X91 Series – 4K UHD LED LCD TV, $2,199.99
HP 17.3" Touchscreen Laptop, $100 off
Sands Simplicity TV Wall Mounts, $20-40 off
Hisense 55" Class – U6GR Series – 4K UHD LED LCD TV, $479.99
HP 14" 1080p Chromebook Bundle, $120 off
VIZIO V51-H6 36" 5.1 Channel Home Theater Soundbar System, $30 off
Verizon Samsung Galaxy S21 Ultra 5G 128GB, $749.99
Samsung Galaxy Buds Pro, $50 off
Samsung Galaxy Tab A7 Lite 8.7" Tablet 32GB, $40 off
Samsung Galaxy Book Pro 15.6" 1080p Laptop, $300 off
Samsung 21.8 cu cu. Ft. French Door Black Stainless Steel Refrigerator with Ice Maker and Adjustable Shelves, $999.99
Samsung Galaxy Tab A7 10.4" Tablet 64GB, $100 off
Samsung Galaxy Watch 4, $50 off
Samsung 65" Class – QN9 Series – 4K UHD NEO QLED LCD TV, $1,699.99
Samsung – The Frame Series – 4K QLED LCD TVs, $799.99-2,199.99
Samsung – QN850 Series – 8K QLED LCD TVs, $2,499.99-4,299.99
Samsung 65" Class – Q8DA Series – 4K UHD QLED LCD TV, $1,199.99
Samsung 75" Class – QN85 Series – 4K UHD NEO QLED LCD TV, $2,099.99
Samsung 82" Class – Q6DT Series – 4K UHD QLED LCD TV, $1,499.99
Samsung 75" Class, Q88A Series – 4K UHD QLED LCD TV, $1,599.99
LG UN90 Series – 4K UHD QLED LCD TV, 65" Class, $699.99
LG UN90 Series – 4K UHD LED LCD TV, 75" Class, $979.99
LG – NANO85 Series – 4K UHD LED LCD TVs, 65" Class, $949.99
LG – NANO85 Series – 4K UHD LED LCD TVs, 75" Class, $1,399.99
LG UltraGear 32" Class QHD Gaming Monitor, $50 off
LG gram 15.6" 1080p Laptop
LG 32" Class QHD IPS Monitor, $50 off
Select LG French 4-Door Refrigerators with Craft Ice, $700-800 off
Lenovo IdeaPad 5 Pro 14" 2.2k FHD Touchscreen Laptop, $200 off
Apple AirPods Max, $50 off
Apple Mac Mini, $70 off
Dell Inspiron 15.6" 1080p Touchscreen Laptop, $150 off
Lenovo IdeaPad Slim 7i Pro 14" QHD+ Touchscreen Laptop, $300 off
Apple iPad Pro 12.9", $50 off
Samsung 55" Class – Q6 Series – 4K UHD QLED LCD TV, $699.99
Epson EcoTank 3760SE Printer, $70 off
Atomi 36' Smart String Light, $20 off
SafeRacks Overhead Garage Storage Rack and Accessories Kit, $60 off
Sirio Niko 10-Piece Modular Seating Set, $700 off
Samsung 7700 Series 5.5 cu. Ft. Deep Fill Washer with CleanGuard and 7.4 cu. Ft. Capacity Steam Sanitize + Sensor Dryer with CleanGuard, $700 off
LG Styler Wi-Fi Enabled Steam Clothing Care System, $550 off
Greenworks 000 PSi Electric Pressure Washer, $50 off
Sunvilla Indigo 7-Piece Woven Fire Dining Set
LG 86" Class – NANO85 Series – 4K UHD LED LCD TV, $1,999.99
HP Pavilion 15.6" 1080p Touchscreen Laptop, $150 off
Gloria Vanderbilt Ladies' Amanda Stretch Denim Jean, $7 off
MSI Prestige 14" 1080p Laptop, $300 off
Voyager Men's Full-Zip Hoodie, $6 off
Panasonic Microwave, $30 off
Samsung 32" Class FHD Curved Monitor, $50 off
Conair Turbo Extreme Handheld Steamer, $15 off
HP 17.3" Touchscreen Laptop, $100 off
Samsung 32" Class FHD SMART Monitor, $40 off
Samsung 27" Class FHD Curved Monitor, $30 off
Dell Inspiron 27" 1080p Touchscreen All-in-One Desktop, $200 off
Life Comfort 60" x 70" Velvet Plush Throw, $3 off
Kirkland Signature Milk Chocolate Almonds, $3 off
Petite Cuisine Mozzarella Sticks, $5 off
Artisan Rolls, $1 off
Gallerie by Aura 10.3" Digital Photo Frame with Wi-Fi, $30 off
Kirkland Signature Organic Tortilla Chips, $1 off
Whole Vacuum-Packed Boneless Pork Loin, $8 off
NutriBullet Blender Combo, $30 off
Revlon One-Step Volumizer and Hair Dryer, $15 off
Dyson V10 Animal+ Cordless Stick Vacuum, $100 off
Keurig K-Cup Pods Crafted Classics Collection, $7 off
Vornado Whole Room Heater, $35 off
Jachs Men's Shirt Jacket, $10 off
Maxim Lighting 6-Speed Satin Nickel Fandelight, $300 off
Cricut Maker Bundle, $40 off
Philips Sonicare DiamondClean Connected Series Rechargeable Toothbrush, $150 off
Vornado Vintage Whole Room Heater, $25 off
Mon Chateau 60" x 70" Luxe Faux Fur Throw, $10 off
Simply Modern 12 Hybrid Gel Memory Foam Mattress, $100 off
Round Brilliant 1.00 ctw VS2 Clarity, I Color Diamond 14kt White Gold Earring & Necklace Set, $300 off
14kt Earrings $60 OFF Tri-Color Gold Hoop and/or $100 off Gold or White Gold Diamond-Cut Teardrop
Google Wifi AC1200 Smart Mesh Wi-Fi, 4 pk, $50 off
Round Brilliant 1.00 ctw VS2 Clarity, G Color Diamond 14kt White Gold Band, $300 off
Google Nest Wifi Router AC2200 Smart Mesh Wi-Fi Router, 4 pk, $100 off
SanDisk NVMe 1TB Extreme Portable SSD, $40 off
Skullcandy Grind Fuel True Wireless Earbuds, $30 off
Blink Whole Home Security Bundle, $90 off
Ring Stick Up Camera, $30 off
SanDisk NVMe Extreme Portable SSD, $40 off 2TB and/or $70 off 4 TB
Arlo Pro 4 XL Spotlight 3-Camera Security Bundle, $150 off
Ring Floodlight Cam Wired Pro with Stick Up cam Battery, $60 off
Ring Alarm 10-Piece Kit, $100 off
VIZIO M51a-H6 36" 5.1 Channel Home Theater Sound System, $110 off
ECOXGEAR EcoEdge Plus Waterproof Bluetooth Speaker, $10 off
LG 55" Class – A1 Series – 4K UHD QLED TV, $1,099.99
MSI Optix 27" Class FHD IPS Gaming Monitor, $30 off
Scosche Extendo Universal Mounting System 2 pk and/or Scosche Pro Charge4 Magnetic Wireless Charging Mount, $10 off
LG 65" Class – A1 Series – 4K UHD QLED TV, $1,499.99
Lorex 4K Ultra HD 8-Channel DVR Security System with 6 4K Active Deterrence Cameras, $120 off
MSI GE76 17.3" 1080p 144Hz Gaming Laptop, $300 off
LG gram 17" Laptop, $400 off
Beats Studio Buds True Wireless Noise Cancelling Earbuds, $50 off
HP ENVY 13.3" 1080p Touchscreen Laptop, $350 off
Wine Enthusiast 155-Bottle Wine Cellar with VinoView Shelving, $700 off
Roku Ultra 4K Streaming Media Player & Roku Streaming Stick+, $30 off
Microsoft Surface Pro 7+ Bundle, $100 off
Fitbit Charge 5, $50 off
LG 77" Class – A1 Series – 4K UHD QLED TV, $2,499.99
LG 55" Class – NANO85 Series – 4K UHD LED LCD TV, $799.99
Round Brilliant 2.00 ctw VS2 Clarity, I Color Diamond Platinum Halo Ring, $2,000 off
Dell XPS 13 OLED Touchscreen Laptop, $400 off
LG Top Control 44dBA Dishwashers with QuadWash and Dynamic Dry, $150-350 off
Samsung 5 cu. Ft. Extra-Large Capacity Front Load Washer and 7.5 cu. Ft. Front Load Dryer in Brushed Black, $600 off
Samsung Front Control Slide-In Ranges with Smart Dial and Air Fry, $400-600 off
Samsung 28 cu. Ft. Full Depth Family Hub Refrigerator in Stainless Steel, $700 off