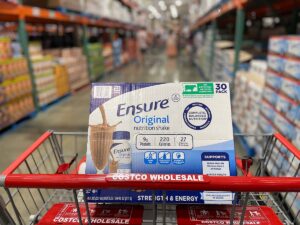 You've made a list and checked it twice, but did you remember to add "stick to a healthy routine" this year? With a bit of simple planning and mindfulness, your health can stay a priority and you can end the year feeling just as good as starting a new healthy year ahead.
Adding Ensure Original to your routine provides complete and balanced nutrition for everyday wellness. And in the first two weeks of November (11/1/21 – 11/14/21), you can get $5 off Ensure Original 8 fl. oz, 30-pack at Costco stores nationwide. Whether you are a Vanilla or Chocolate lover, Ensure shakes are designed to support strength and energy from a specialized nutrition blend:
50% more vitamins C & D* that support immune system health
high-quality protein to support muscle health
vitamin D and calcium for bone health
omega-3 alpha-linolenic acid (ALA) to support heart health
We're a big fan of the Milk Chocolate flavor and we're personally obsessed with this Mint Chocolate Protein Shake this holiday season. It's perfect for a snack, extra protein lift or better yet, have it for breakfast. You only need three ingredients, and it has 27 vitamins and minerals – now that's our kind of recipe.
But even straight from the bottle, Ensure ready-to-drink shakes are perfect for tossing in your bag or taking with you in the car so you can avoid those other on-the-go options with less protein and micronutrients. Plus Ensure is gluten-free and suitable for those with lactose intolerance.
Also, don't forget to check out all the delicious recipes with the nutrition benefits of Ensure. Perfect for indulging in some of the holiday foods you love, while getting the nutrients you need. And since it's $5 off at Costco right now, we highly recommend picking up a box and giving it a try.
*Contains 68mg (25% more of the DV) vs 45mg of vitamin C and 8mcg (15% more of the DV) vs 5mcg of vitamin D in previous formulation
* Vitamin C also supports healthy collagen production