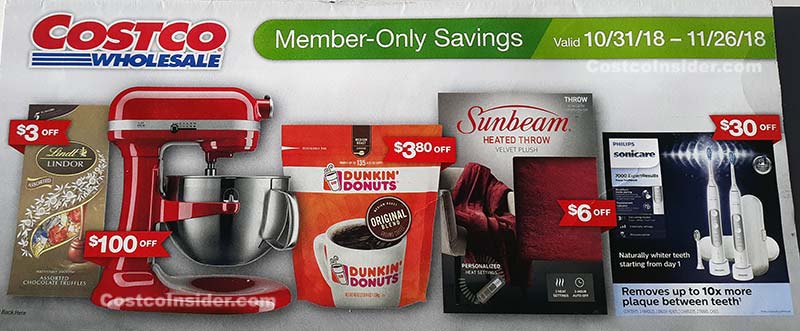 Today we bring you an extra early look at the Costco November 2018 Coupon Book. The November 2018 Costco coupons run from October 31st through November 26th. To reveal the pages just click the link above, which will allow you to see all the pages and enlarge them if you'd like. The Costco Black Friday 2018 Ad will also run during a lot of the time that the November 2018 Coupon Book does, so make sure to check that out too! The December 2018 Coupon Book will be starting the day after the November 2018 Coupon Book ends. If you want to see a list of all the upcoming coupon books including the Black Friday ad dates make sure to take a look at our Upcoming November 2018 Coupon Book post. There are 22 pages of deals in this months coupon book. If you want to get an email as soon as we post the latest coupons you can sign up for our email list, Like us on Facebook or Instagram!
The November 2018 Costco Coupon Book is generally the start of the holiday shopping deals. Black Friday is always known for having great television deals and it starts with the November coupons, which encompass Black Friday. There are many of the newest Samsung QLED TV's at the lowest prices they've ever been. The 82″ and 75″ are $500 off, the 65″ is $400 off and the 55″ is $100 off. Another unique thing in this coupon book is two pages of appliance deals. There are also several massage chairs by Osaki, which we don't remember seeing before. The tire deal has switched back to Bridgestone and is $70 off.
If you've gotten this far and still haven't found the coupon pages then you need to click the link in the first sentence when on the November 2018 Coupon Book page to open them. Also remember there are two more coupon books coming out in November for Black Friday.