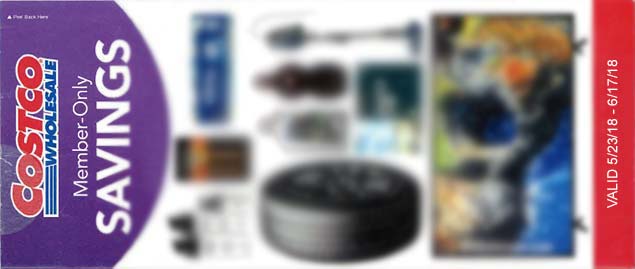 We're very excited for the release of the Costco November 2018 Coupon Book. It starts October 31st and runs through November 26th. Overall it will be a very busy month with the two Black Friday coupon books in addition to the November coupon book. The coupon book will run through Black Friday too, so you know there will be some good deals. If you look at the November 2017 Coupon Book you'll see many of the same items that will be on sale in the upcoming November Costco coupon book. We'll highlight a few of the deals that will be back below.
One item we are fans of that is coming on sale again in the Costco November 2018 Coupon Book is the Lindt Lindor Assorted Chocolate Truffles. It's a 50 ct assorted variety and they have various delicious fillings in them. In the November 2017 Coupon Book they were $3 off, so you can expect something very similar this year. Another item that will be on instant rebate is the Boursin Cheese Variety Pack, which was $2.70 off. Lastly, Nabisco Ritz Crackers will be on sale again. The box was $2.10 off last year.
There are many great deals to be had at Costco the rest of the year, so we've compiled a list of the dates of all the upcoming Costco coupons. Make sure to sign up for our mailing list to get a notification as soon as we post the upcoming Costco coupon book. You can also Like us on Facebook to get notified right away!
Dates on upcoming Costco coupon deals:
October 2018 Costco Coupon Book | October 3rd – October 28th
November 2018 Costco Coupon Book | October 31st – November 26th
Black Friday Costco Savings Book | November 6th – November 15th
Black Friday Costco Savings Book Part 2 | November 16th – November 26th
December 2018 Costco Coupon Book | November 27th – December 24th
December 2018 Holiday Handout | December 14th – December 24th