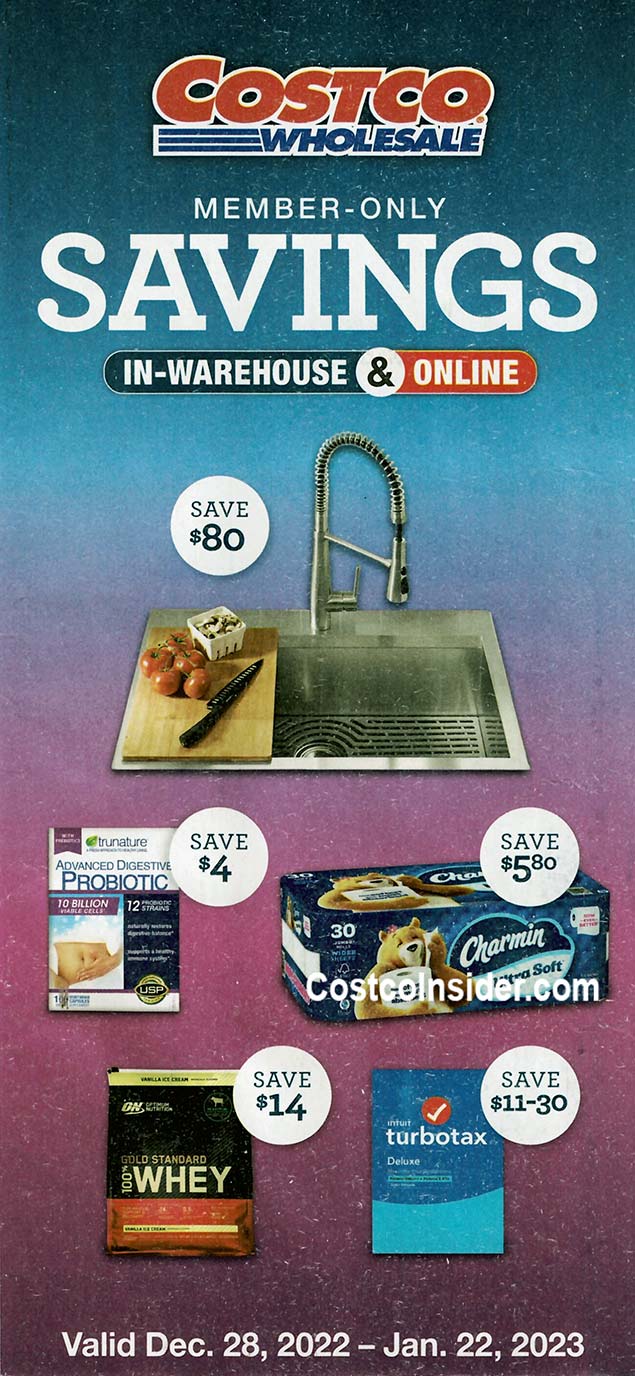 Today we bring you the upcoming Costco January 2023 Coupon Book. This months Costco coupons will be valid from December 28th through January 22nd. To reveal the coupons on the page you need to click the link above, which will take you right to them. Right off the bat we notice a huge change in this months coupon book — The cover is a rainbow of bright colors instead of the typical white background with a colored bar. Keep a look out for the Super Bowl TV Deals Flyer too during January, which will start on January 22nd. If you want to get notified as soon as we release the upcoming Costco Super Bowl TV Deals Flyer then make sure to sign up for our email list, follow us on Instagram and Like us on Facebook!
We're loving the Costco January 2023 Coupon Book and the New Year New You vibe. To get our health back on track in the New Year we're very excited about the Orgain Protein Powder and Protein Shakes on sale! The Orgain Protein + Superfoods Protein Powder in both Vanilla Bean and Creamy Chocolate Fudge is on sale for $8 off. The Orgain Clean Grass-Fed Protein Shake in Creamy Chocolate Fudge and the Orgain Plant-based Protein Shake in Creamy Chocolate are both on sale for $7 off. We love Orgain because it's smooth and creamy with a fantastic taste, not to mention their commitment to cleaner ingredients and higher standards with NO artificial colors or sweeteners! The Kodiak Power Cakes Flapjack & Waffle Mix are very popular with Costco members, so if you haven't tried them now is a great time at $3.80 off. We'll be stocking up on Kirkland Signature Organic K-Cup Pods at $6 off too. This months tire coupon is back to Michelin, at the usual $150 off a set of 4 tires.
If you're still reading and not able to get the link above to work then you can also click this link to go directly to the first page of the slideshow for the January 2023 Costco Coupon Book. What items are you going to buy while they're on sale this month? Leave a comment and let us know!
Here's a few of the deals in the Costco January 2023 Coupon Book:
Orgain Organic Protein + Superfoods Protein Powder $8 off
Orgain Clean Grass-Fed Protein Shake $7 off
Orgain Plant-based Protein Shake $7 off
Charmin Ultra Soft Bath Tissue $5.80 off
Kohler All-In-One Sink Kit $379.99 – $80 off = $299.99
Kodiak Power Cakes Flapjack & Waffle Mix $3.80 off
Michelin Set of 4 Tires $150 off
Realgood Foods Chicken Enchiladas $3.50 off
Keto Pint Sea Salt Caramel Ice Cream Bars $4 off
Kirkland Signature Organic K-Cup Pods (120ct) $36.99 – $6 off = $30.99