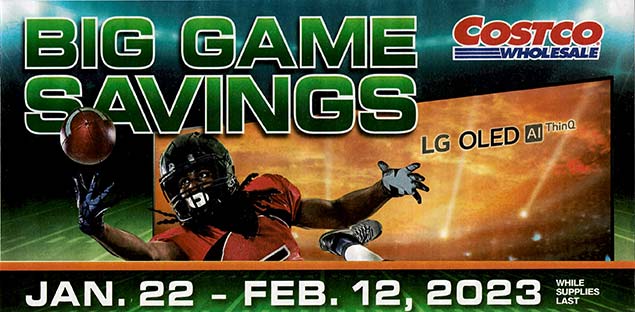 We just released the upcoming Costco Super Bowl TV Deals 2023! We love the Big Game Savings ad because it's a great time of the year to get a new TV. To see all the Super Bowl deals just click the link above and it will take you right to the ad. This years sale runs from January 22nd through February 12th, which is the day of the Super Bowl. The flyer says Big Game Savings instead of Super Bowl likely due to trademark issues. This year we count a whopping 25 TV deals in this Costco flyer, which is a record! These deals also will overlap with the February 2023 Costco Coupon Book. If you want to see an early preview of the February 2023 Coupon Book make sure to sign up for our email list, follow us on Instagram and Like us on Facebook.
There are some great sales in the upcoming Costco Super Bowl handout. One reason people tend to buy a new TV now is to get a bigger and better TV to watch the most watched TV broadcast of the year, which is the Super Bowl. Secondly, the 2023 model TV's typically get released in April of every year, so this is one of the last chances for retailers to mark them down before the new models come in. Brands included in this sale include LG, Sony, HiSense, and Samsung. Every year we compare the price on the LG C Series 65″ OLED and the price continues to drop while the technology and brightness continues to improve! Here are the last few years:
2021 – $1,949
2022 – $1,799
2023 – $1,699
If you've got this far and can't get the coupon pages to display you can also click here to go directly to page 1 of the coupon book. Please leave a comment below and tell us what you think is the best deal!