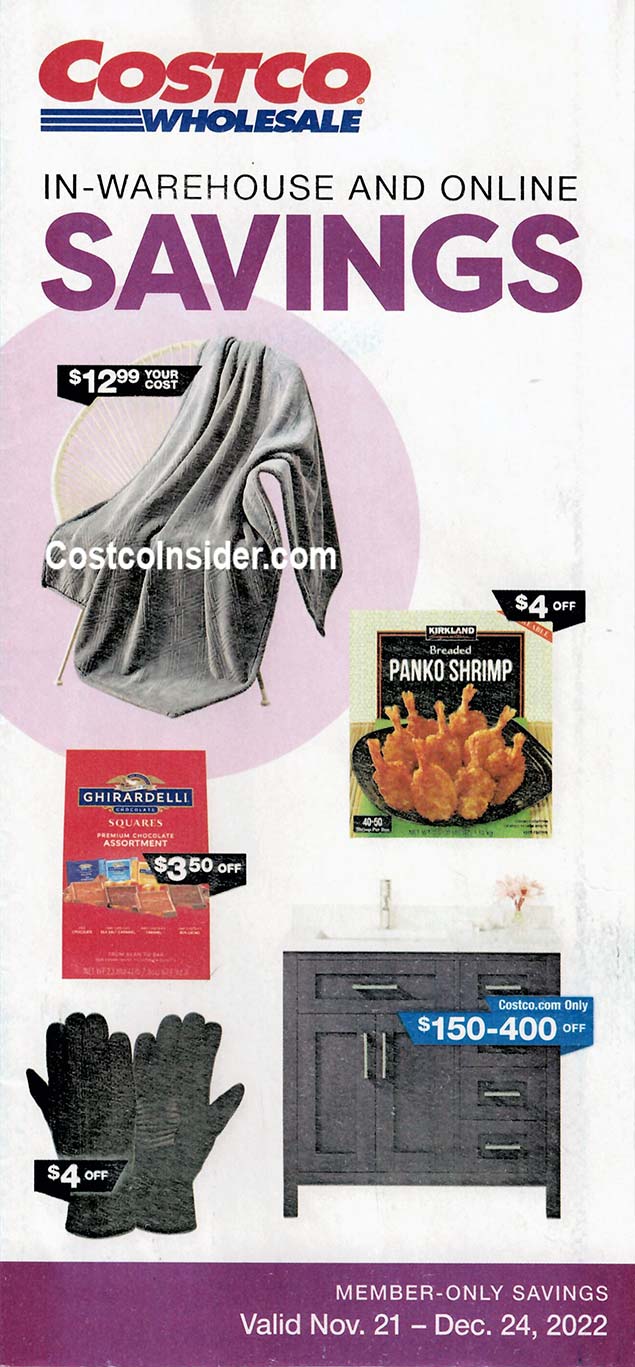 As Costco members we love this time of year and part of that is due to the just released Costco December 2022 Coupon Book. Yes, that's right, another set of coupons and these run from November 21st through December 24th. In order to show the coupons on the page you need to click the link above, which will bring you right to them. Although we call it the December coupon book, it does encompass the end of November, and therefore Black Friday and Cyber Monday. It overlaps with the Costco Black Friday Ad, which includes 30 pages of more deals! If you want to get notified as soon as we release the upcoming Costco December 2022 Holiday Handout Flyer then make sure to sign up for our email list, follow us on Instagram and Like us on Facebook!
Typically the Costco December 2022 Coupon Book would focus on Christmas gifts and other holiday necessities. For example, the first two pages have toothbrushes, shavers, straightening irons, and air fryers! There's luggage and a fair amount of laptop computers. The Koda Outdoor LED Wall Lantern is super nice and a great deal at only $44.99 after $15 off! There's lots of holiday party snacks, such as the Blue Diamond Garlic, Herb & Olive Oil Gourmet Almonds at $3.30 off and the Chex Mix Traditional 40oz bag aat $2.50 off. The tire coupon is Bridgestone again this month, at $150 off a set of 4 tires.
If the link above isn't working for you then you can also click this link to go directly to the first page of the slideshow for the December 2022 Costco Coupon Book. We've heard some mixed opinions on this coupon book, what is your take?? Leave a comment and let us know!
All the Costco Holiday 2022 Coupons
November 2022 Costco Coupon Book (Oct 26th – Nov 20th)
Black Friday 2022 Ad (Oct 31st – Nov 28th)
November 2022 Hot Buys Coupons (Nov 11th – Nov 20th)
December 2022 Costco Coupon Book (Nov 21st – Dec 24th)
Costco Holiday Handout 2022 (Dec 9th – Dec 24th)
Here's a few of the deals in the Costco December 2022 Coupon Book:
Philips Optimal Clean Rechargeable Toothbrush 2pk $30 off
Dyson Pure Hot + Cool HP4A Purifying Heater + Fan $130 off
Koda Outdoor LED Wall Lantern $59.99 – $15 off = $44.99
Braun Series 9 Sport Shaver with Clean & Charge System $40 off
Ninja Foodi 9-in-1 Digital Air Fry Toaster Oven $179.99 – $40 off = $139.99
Apple MacBook Air (M1 chip) $949.99 – $150 off = $799.99
Bridgestone Set of 4 Tires $150 off
Sensible Portions Garden Veggie Straws $3 off
Kinder's Organic Teriyaki Marinade & Sauce $2 off
CJ Foods bibigo Savory Chicken & Vegetable Potstickers $3.20 off