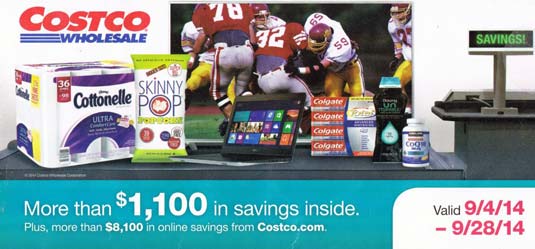 On September 4th the September 2014 Costco Coupon Book will begin. If you'd like to look at the coupons early before they start and see what you want to wait to buy or plan your next trip ahead of time you can now do so. By clicking the link above you can view, download, or print the coupon book out. The August coupon book is still valid through Sunday August 31st. The new September coupons will run from Thursday September 4th through Sunday September 28th. As is the new norm, no in-store items require the coupon book (besides photo center). If you want to be the first one to find out when we post the latest coupon book please subscribe to our email list, like us on Facebook, and follow us on Twitter!
Nothing in this coupon book really stands out as being an amazing deal. There are Keurig K-Cup Packs at $5 off, as well as Starbucks Via at $3.25 off and Starbucks Frappuccino at $3 off, so basically all the coffee lovers are covered. Another couple interesting items to note are the Muscle Milk at $7 off and the Fiber One bars at $3.60 off. As for myself, I'm really curious about the Flameless LED Candle Variety Pack, which seems like a fantastic deal at $15.99 for 11 candles. Unfortunately that's the only item of interest to me this month. The tire coupon has switched back to Michelin this month. You may also notice that it has a different time period than the rest of the coupon book, extending past Sunday September 28th and going through Wednesday October 1st. That surely means that the October coupon book will start Thursday October 2nd, as to avoid having a gap between tire coupon availability.
If you've bought something recently that goes on sale starting September 4th I'd recommend bringing your receipt into the store, going to membership, and asking for a price match. They'll send you to the special cashier (first checkstand) to get your money refunded. If it's been within two weeks you shouldn't have an issue. If it's been longer you may have to buy the item again and return it with the old receipt. What are you going to pick up out of the latest coupon book?