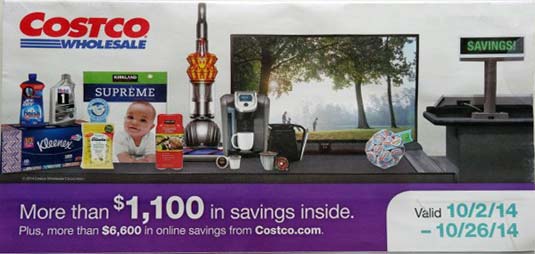 For your early viewing pleasure I have the October 2014 Costco Coupon Book available now. This gives you the chance to plan your upcoming shopping trips in advance and figure out what to wait to buy in the store. If you'd like to view, download, or print the coupon book out just click the link above. The September coupons are still valid through Sunday September 28th if you'd like to look at those deals as well. The new October coupon book will run from October 2nd through October 26th. Once again all items are Instant Savings, with the exception of Glasses, which will require a physical coupon book or the app. If you want to be the first one to find out when we post the latest coupon book please subscribe to our email list, like us on Facebook, and follow us on Twitter!
There's a few items of interest in this coupon book. The 46″ and 55″ Samsung Smart LED TV's are both $130 off. If you're in the market for a Dyson vacuum this could be a good time to get one at $70 off. The Dyson Hot + Cool Heater fan is very nice, although still probably too expensive for most despite the $65 off. I love the Braun Series 7 Shaver and highly recommend it. I also hear of interest in the Craisins and the Potstickers. As for myself, I may check out the Vizio Sound Bar. I like that it does Bluetooth and that the Subwoofer is wireless. I also really like the Head Multisport Gloves they get every year, and my last pair ripped, so I might get some at $3 off. I've been wanting to try the Kirkland Signature Ravioli Lasagna, so this will likely be the push I need to try it. As predicted, the tire coupon is once again Michelin. That means it will be Bridgestone in the November Costco coupon book.
If you've bought something recently that goes on sale starting October 2nd I'd recommend bringing your receipt into the store, going to membership, and asking for a price match. They'll send you to the special cashier (first checkstand) to get your money refunded. If it's been within two weeks you shouldn't have an issue. If it's been longer you may have to buy the item again and return it with the old receipt. What are you going to pick up out of the latest coupon book?