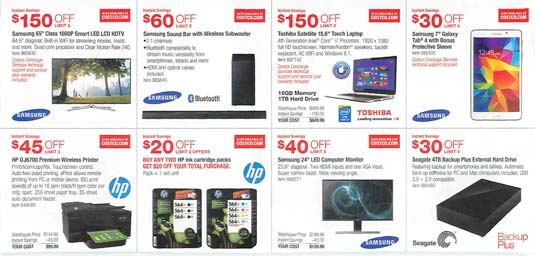 Starting next Thursday, August 7th, is the August 2014 Costco Coupon Book. Here is an early preview of it in case you want to see what to wait to buy until the coupons start or plan your shopping ahead of time. Clicking the link above will allow you to view, download or print the coupon book out. The July 2014 coupons are still valid through this Sunday. The new coupon book will run from Thursday August 7th through Sunday August 31st. As seems to be the new normal, there are no in-store items that require the coupon book or app (besides the usual tires, glasses, and photo center). If you want to be the first one to find out when we post the latest coupon book please subscribe to our email list, like us on Facebook, and follow us on Twitter!
There is something in this coupon book which I find a little unique. The Finish Powerball Tabs and Finish Jet-Dry are buy one get one free (BOGO), which makes them a great deal. Also of note is that Huggies are on sale, which makes them a pretty good deal as well. The discount on the Bounty paper towels is a little bigger than normal at $4 off and it's a good time to stock up on Honey Bunches of Oats. I will try the Glad trash bags because I need some new ones and I've never tried them. I will also check my Ziploc inventory and stock up if I'm low. I could really use some more laundry detergent, but not sure if I want to try Tide or stick with Costco's Kirkland Signature. I REALLY like the ZonePerfect bars, and was surprised when they went out of stock last month, but it looks like it's because they redid the packaging, so I am very excited to see they are coming back. They come in Fudge Graham and Chocolate Peanut Butter and both flavors are fantastic! For the last month of two, the tire coupon is Bridgestone, which means Michelin is coming up in the September coupon book.
If you've bought something recently that goes on sale starting August 7th I'd recommend bringing your receipt into the store, going to membership, and asking for a price match. They'll send you to the special cashier (first checkstand) to get your money refunded. If it's been within two weeks you shouldn't have an issue. If it's been longer you may have to buy the item again and return it with the old receipt. What are you going to pick up out of the latest coupon book?