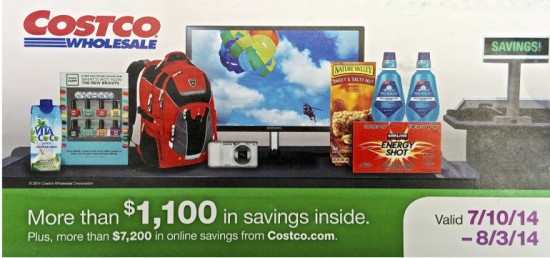 Out now is the new July 2014 Costco Coupon Book which starts Thursday July 10th. If you click the link above it will allow you to view, download, or print the coupon book out. It's nice when there are only four days between coupon books, since the June 2014 coupons ended just last Sunday. The coupon book runs from Thursday July 10th to Sunday August 3rd. For the third month in a row all in-store items on coupon do not require a coupon book or the app. If you want to be the first one to find out when we post the latest coupon book please subscribe to our email list, like us on Facebook, and follow us on Twitter!
One thing that is different this month is that the tire coupon does not end on Sunday the 3rd. It actually goes to Wednesday the 6th, which makes me think that the August 2014 Costco Coupon Book will start on Thursday the 7th. That way Costco can always have a tire coupon running. We'll have to wait and see if that is the case. Not much to write home about except maybe the Oral-B replacement brush heads. As for myself, might pickup the Starbucks Frappuccino if it's a decent price after the $3 off. I've also wanted contact lens solution for a while, so I might pickup a box of that at $4 off, probably Opti-Free. I also like getting the Grilled Chicken Sandwiches and having them for lunch and adding avocado and bbq sauce. The tires are now back to Bridgestone, and will assuredly run for the July and August coupon books.
If you've bought something recently that went on sale starting June 12th I'd recommend bringing your receipt into the store, going to membership, and asking for a price match. They'll send you to the special cashier (first checkstand) to get your money refunded. If it's been within two weeks you shouldn't have an issue. If it's been longer you may have to buy the item again and return it with the old receipt. Read more to see a list of items on each page. What are you going to pick up out of the latest coupon book?
Page 1
$50 off JVC 55″ Class 1080p LED LCD HDTV
$100 off Dyson Ball DC65 Animal Plus Upright Vacuum
Novaform Mattress Toppers CHOOSE FROM: $20 OFF Twin AND/OR Full $30 OFF Queen, King AND/OR Cal King
$30 off Oral-B Professional Care Rechargeable Toothbrushes 2 pk
Page 2
$8 off Oral-B Replacement Brush Heads
$30 off JVC 32″ Class 1080p LED LCD HDTV
$100 off HP Pavilion TouchSmart 17.3″ Laptop Computer
$20 off Seagate 3TB Backup Plus External Hard Drive
$40 off HP 6525 All-In-One Inkjet Printer
$50 off Samsung 24″ Class 1080p LED LCD HDTV
$40 off Samsung Galaxy Tab 4 10.1″ with Bonus Protective Sleeve
$80 off Samsung Galaxy 2 WiFi Camera
Page 3
T-Mobile – Samsung Galaxy S 5 (Black), Verizon – Samsung Galaxy S 5 (White), AT&T – Samsung Galaxy 5 (Black), Sprint- Samsung Galaxy S 5 (White)
$39.99 after $30 off Logitech Ultrathin Keyboard Cover for iPad Air
$64.99 after $15 off iHome Lightning Alarm Dock
$1.50 off Xerox Premium Super Ream Multipurpose Paper
$23.99 after $6 off Boogie Board 8.5″ LCD Writing Tablet
$15 off Swiffer BISSELL Steamboost Steam Mop and Swiffer Sweeper Vac Pack
$2 off Jenna Hipp 8-Piece Mini Nail Polish Kit
Page 4
$20 off Strivectin SD Advanced Intensive Concentrate
$8 off Olay Regenerist Luminous Tone Perfecting Cream
$4 off Colgate 360° Optic White Toothbrush
$4.50 off Colgate Optic White Toothpaste
$2.50 off Crest Pro-Health Mouth Rinse
$5 off Gillette Fusion ProGlide Power Razor + 6 Cartridges
$2.50 off Always CHOOSE FROM: Ultra Thin Regular, Ultra Thin Overnight, Long Super Maxi
$3 off Tampax Pearl Tampons Regular OR Super 96 ct
$3 off Dove Body Wash
$7 off 3M Scotch Heavy Duty Packaging Tape 8 ct
Page 5
$9 off Chevron Supreme AND/OR Formula Shell Motor Oil
$3 off Apache 2′ x 3′ All Seasons Half Round Entry Floor Mat
$7 off High Sierra Adult Backpack
$3 off Karen Neuburger Ladies' Lounge Pant
$2 off K. Bell No-Show Ladies' Sock 9 pk
$6 off Rubbermaid Premier Food Storage Set
$30 off Sealy Eastgate Twin Mattress
$6 off Comfort Revolution Contour Gel Bed Pillow
$20 off Bayside Furnishings Metrex Mesh Office Chair
$20 off Nutrisystem $100 Gift Card
Page 6
$5 off Joint Juice Glucosamine Chondroitin
$3 off Kirkland Signature Optifiber
$6 off Nature's Bounty Ultra Strength Advanced Probiotic 10
$7 off Kirkland Signature Energy Shot AND/OR Energy Shot Extra Strength
$7 off Qunol Liquid CoQ10 100 mg 20oz AND/OR Mega CoQ10 100mg 120ct
$2 off CHOOSE FROM: Neosporin Ointment 2/1 oz + 0.5oz, Bengay Ultra Strength 2/4 oz, Desitin Rapid Relief Cream 2/6 oz, Tucks Medicated Pads 2/100 ct
$3 off Centrum Silver 50+ Men's AND/OR Women's Multivitamin
$4.50 off Zantac Tablets 150 mg AND/OR Dulcolax Laxative Tablets 200 ct
$2 off Salonpas Pain Relieving Patches
$2.50 off L'il Critters CHOOSE FROM: Gummy Vites 275 ct, Calcium Gummy Bears 200 ct, Omega-3 DHA Gummy Fish 180 ct
Page 7
$3 off Wipe 'n Clear Biodegradable Lens Wipes
$4 off Kirkland Signature CHOOSE FROM: Coenzyme Q10 300 mg 100 ct, Glucosamine 1500 mg + MSM 375 ct, Extra-Strength Glucosamine Chondroitin 220 ct, Vitamin B-12 5000 mcg 300 ct
$2.50 off Kirkland Signature CHOOSE FROM: Enteric-Coated Fish Oil 1/day 180 ct, Vitamin D3 2000 I.U. 600 ct, Mature Adult Multivitamin 400 ct, Vitamin C with Rose Hips 1000 mg 500 ct
$4 off Nature Made Magnesium
$4 off CHOOSE FROM: Clear Care Solution 2/16 oz + 3 oz Travel Size, Alcon Opti-Free Replenish 2/14 oz, Puro Moist Multi-Purpose Solution 2/14 oz, Systane Ultra 3/10 mL
$1.50 off G.H. Cretors Chicago Mix Popcorn
$2 off Party-Tizers Veggie Dippin' Chips
$3.30 off Nature Valley Sweet & Salty Nut Granola Bars AND/OR Oats & Dark Chocolate Bars
$5 off Vita Coco Coconut Water
$4 off V8 V-Fusion Variety Pack
Page 8
$2.80 off Skippy OR Jif Peanut Butter
$2.30 off Folgers Classic Roast Ground Coffee
Langers Mango Nectar $1.50 OFF 128 oz OR $2.25 OFF 2/3 Liter
$3.20 off Kraft Macaroni & Cheese
$2.50 off Sunny D
$2.30 off Honey Nut Cheerios 2/27.5 oz AND/OR Multi Grain Cheerios 2/18.75 oz
$2.20 off Kellogg's Special K Cereal with Red Berries
$2.70 off Scotch-Brite Sponges
$2 off Kirkland Signature Environmentally Responsible Dish Detergent
$2 off Cascade Advanced Power Gel OR Powder
Page 9
$2.50 off Drano Ultra
$2.80 off Kirkland Signature Environmentally Responsible Laundry Detergent
$3.50 off Kirkland Signature Ultra Clean Laundry Pacs
$4.50 off Gain Powder Laundry Detergent
$4 off Gain Liquid Laundry Detergent
$3 off Swiffer Sweeper Dry Cloths 80 ct, Dusters 24 ct, Wet Cloths 60 ct AND/OR Starter Kit
$2.70 off Clorox Toilet Bowl Cleaner 6/24 oz AND/OR Clorox Clean-Up with Bleach
$10 off Iams Dog Food
$4 off Jerky Treats for Dogs
$3.20 off Cadet Duck Breast Jerky for Dogs
Page 10
$5 off Monster Energy Drink
$1.50 off Kirkland Signature Water
$3.50 off Perrier Sparkling Water
Dr Pepper AND/OR Diet Dr Pepper $1.50 OFF 24 ct OR $2 OFF 36 ct, 32 ct OR 30 ct
Mountain Dew AND/OR Diet Mountain Dew $1.50 OFF 32 ct, 30 ct OR 24 ct OR $2 OFF 36 ct
$2.50 off Propel Zero Variety Pack
$3 off Starbucks Frappuccino
$4 off Brawny Mega Pick-A-Size Paper Towels
$3.50 off Kleenex Facial Tissue
$4.30 off Cottonelle Ultra Bath Tissue
Page 11
$4 off Dannon Light & Fit Greek Yogurt
$3 off Haagen-Dazs Vanilla & Almonds Milk Chocolate Ice Cream Bars
$4 off Perdue Popcorn Chicken
$2.30 off Pierre Signatures Grilled Chicken Sandwich
$1 off Kirkland Signature Butter Pound Cake
$3.70 off Kraft American Singles
$70 off ANY SET OF 4 Bridgestone Tires
GET $15 OFF ONE COMPLETE PAIR of youth eyeglasses
Page 12
Buy Select Brother Toner and Get a Free 5-Ream Case of Costco Copy & Print Paper
$4 off Bounty 2-Ply or Bounty 1-Ply Paper Towel Rolls
$3 off Georgia-Pacific Signature Multifold Paper Towels
$189.99 after $100 off Brother Business Smart Pro Series MFC-J6920DW All-in-One Inkjet Printer
$599.99 after $200 off BIGHORN 19ECB Safe
$1499.99 after $500 off Lorex 16-Channel 1080p HD NVR Security Camera System
$200 off Portofino Signature Patio Resort Umbrella
$250 off Duracabinet Pro ll 6-Piece All-Steel Garage Storage System
Page 13
$999.99 after $100 off Dell XPS 8700 Desktop Computer (Chassis Only)
$799.99 after $200 off HP 15t Quad 15.6″ TouchSmart Laptop Computer
$699.99 after $100 off Toshiba Satellite S55 15.6″ Laptop Computer
$499.99 after $50 off Dell Inspiron 3000 15.6″ Laptop Computer
$1199.99 after $300 off Gorilla Sahara Adventure Playset
$1500 off Evolution LSX-703 70-Jet 6-Person Spa
$200 off Paradiso 6-Piece Deep Seating Modular Sectional
$30-$60 off Stainless Steel Kitchen Sinks by Hahn and Clark