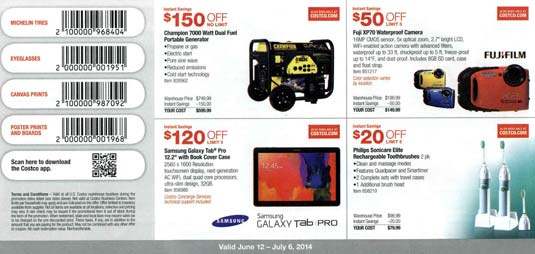 The June 2014 Costco coupon book begins next Thursday, June 12th. Clicking the link above will allow you to view it, download it, or print it. It is valid from June 12th through July 6th. For the second month in a row all regular items are Instant Savings. I hope this is a permanent change that all Costco members should enjoy. Basically it means you won't need the coupon book or app to get discounts on any items with the exception of glasses and tires. All discounts will be applied automatically at the register.
There are a few items worth mentioning within the booklet. Food wise the Drumsticks don't go on sale that often, so that is a good deal. Same can be said for Red Bull, I can't remember the last time that was on sale, and $7 off is quite a heavy discount. The Kirkland Signature chocolate chunk cookies are hardly ever on sale and at $5.50 for 24 cookies you can't beat that price. Lastly, the Harmonics Laminate Flooring is good quality and a good deal when not on discount, so that would be something to consider for a summer project. As for me, it does not look like I'll be picking up anything. What I can tell you is that I tried the Charmin Ultra Soft last time it was on coupon and am not impressed. Much preferred is Kirkland Signature toilet paper. Also, I have the ION Block Rocker and it is awesome. If you're in the market for a bluetooth portable speaker this one will blow you away. The tire coupon is Michelin for the second month, so that means for July and August it will be Bridgestone.
If you've bought something recently that went on sale starting June 12th I'd recommend bringing your receipt into the store, going to membership, and asking for a price match. They'll send you to the special cashier (first checkstand) to get your money refunded. If it's been within two weeks you shouldn't have an issue. If it's been longer you may have to buy the item again and return it with the old receipt. Read more to see a list of items on each page. What are you going to pick up out of the latest coupon book?
Page 1
$150 off Champion 7000 Watt Dual Fuel Portable Generator
$50 off Fuji XP70 Waterproof Camera
$120 off Samsung Galaxy Tab Pro 12.2″ with Book Cover Case
$20 off Philips Sonicare Elite Rechargeable Toothbrushes 2 pk
Page 2
$30 off Ninja Ultra Kitchen System
$150 off Samsung 55″ Class 1080p Smart LED LCD HDTV
$100 off HP Envy Chassis-Only Desktop PC Computer
$15 off Samsung Blu-ray Player with WiFi
$20 off VIZI0 38″ Sound Bar with Wireless Subwoofer
$100 off HP Pavilion Touchsmart 15.6″ Laptop Computer
$20 off Seagate 1.5TB Portable Hard Drive
$30 off Panasonic 5-Handset Phone KX-TG465SK
Page 3
T-Mobile – Samsung Galaxy S 5 (White), Verizon – Samsung Galaxy S 5 (Black), AT&T – Samsung Galaxy S 5 (White), Sprint – Samsung Galaxy S 5 (Black)
$100 off Sony PJ350 HD Projection Camcorder
SanDisk Media CHOOSE FROM: $7 OFF 16GB Ultra Plus SDHC 2 pk, $7 OFF 16GB Ultra USB 3 pk, $7 OFF 32GB Ultra USB 3.0, $5 OFF 32GB Extreme SDHC, $5 OFF 32GB Ultra Plus MicroSD, $5 OFF 64GB Ultra Plus MicroSD, $5 OFF 64GB Ultra USB 3.0
$15 off Motorola H19TXT Bluetooth Headset with Car Adapter Included
$30 off ION Block Rocker Portable Speaker
$20 off ECOROX Portable Speaker
$2 off Duracell Alkaline Coppertop AND/OR Quantum Batteries AA AND/OR AAA
Page 4
$2.90 off Sunchips 30 ct Variety pack
$1.60 off Doritos Supreme Cheddar 30oz
$3.40 off Kellogg's Nutri-Grain Cereal Bars 48ct
$5 off Zico Coconut Water 6/1 Liter
$2 off Kellogg's Frosted Flakes
$2.60 off Quaker Natural Granola Cereal
$2 off Hellmann's OR Best Foods Mayonnaise 64oz
$3 off Tasty Bite Madras Lentils 6/10 oz
$5 off Splenda Sweetener Packets 1,000 ct AND/OR Granulated 1.63 lbs
$4.50 off Starbucks French Roast Whole Bean Coffee 2.5 lbs
Page 5
$3.25 off Starbucks Via Instant Coffee Colombian AND/OR Italian Roast
$2 off THINaddictives Cranberry Almond Thins
$3.50 off V8 Vegetable Juice 28/11.5 oz Cans
$2 off Vanity Fair Napkins Everyday 660 ct AND/OR Dinner 240 ct
$7 off Red Bull Energy Drink
$2 off Palmolive Liquid Dish Soap
$2.25 off Hefty Foam Plates
$3.40 OFF Chinet AND/OR $3 OFF Hefty Diamond Paper Plates
$2 off ANY Charmin Bath Tissue
$2 off ANY Bounty Paper Towels
Page 6
$2.50 off ANY Tide Liquid OR Powder Laundry Detergent
$2 off ANY Downy Fabric Enhancer
$1.80 off Bounce Dryer Sheets
$3 off all Free & Clear AND/OR Stainlifter Liquid Laundry Detergent
$3 off Clorox 2 Liquid Stain Remover & Color Booster
$3 OFF Fresh Step Scoopable AND/OR $2.50 OFF Scoop Away Scoopable Cat Litter
$4.30 off Kingsford 100% All Natural Competition Charcoal Briquets
$3.20 off Gatorade Variety Pack 30/16.9 oz AND/OR 24/20 oz
$3 off Starbucks Refreshers Variety Pack
$3 OFF Finish Powerball Tabs 110 ct AND/OR $2.50 OFF Jet-Dry 32 oz
Page 7
$3.30 OFF Lysol Spray AND/OR $2 OFF Advanced Toilet Bowl Cleaner
$3 off Air Wick Scented Oils
$3 OFF Woolite Complete OR Dark AND/OR $2.50 OFF Resolve Spray 'n Wash 22 oz Trigger + 144 oz Refill
$3 off Scotch-Brite Hardwood Floor Mop
$8 off Harmonics Laminate Flooring with Attached Pad
$2.70 off POM Wonderful 60 oz
$2.50 off Nestlé Drumstick Variety Pack 16 ct
$3.25 off Palermo's Pizza
$2.30 off Ziploc Freezer Gallon, Freezer Quart, Storage Bag Variety Pack, Slider Variety Pack AND/OR Sandwich Bags
$3.25 off Neutrogena Beach Defense Sunscreen SPF 70
Page 8
$6.50 off Olay Total Effects SPF 15
$3 off Vaseline Spray & Go Moisturizer
$2.50 off Softsoap Advanced Clean Liquid Hand Wash
$3 off Band-Aid Assorted Premium Bandages 165 ct
$10 off Crest 3D White Whitestrips
BUY Gillette Fusion Cartridges 16 ct AND Gillette Comfort Advantage Shave Gel 4/8.4 oz GET $8.99 OFF YOUR TOTAL PURCHASE
$5 off Gillette CustomPlus 3 Disposable Razors 26 ct OR Gillette Venus Disposable Razors 14 ct
$3 off Oral-B Glide Pro-Health Floss
$6 off Huggies Pull-Ups
$2.50 off Dove Men + Care Bars
Page 9
$5 off Kirkland Signature Supreme Diapers
$10 off Mobil1 Motor Oil
$3 off Cal Innovations Expandable Lunch Kit
$30 off Aerobed Queen Airbed with Headboard
$10 off PUR Stainless Steel Style Faucet Mount System with 2 Filters AND/OR Replacement Filters 6 pk
$4 off Charisma Down Alternative Pillow
$5 off Kenneth Cole New York Large Leather Zip Around Wallet
$50 off Sealy Posturepedic Kingman Mattress Set
$1.50 off Kirkland Signature Gourmet Chocolate Chunk Cookies
$2 off Kirkland Signature Caesar Salad with Dressing, Croutons, Parmesan and Lemon Wedges
Page 10
$3.50 off Cottonelle Freshcare Flushable Cleansing Cloths
$6 off Prilosec OTC Tablets
$5 off Focus Factor
$11 off Cosamin DS
$3 off Green Tea Fat Burner
$3.50 off CHOOSE FROM: NeilMed Sinus Rinse Kit 250 ct, Breathe Right Extra Clear Strips 44 ct, Extra Tan Strips 44ct
$12 off CHOOSE FROM: Nicorette Original Gum 2mg OR 4mg 200ct, Fresh Mint Gum 2 mg OR 4mg 200ct, Nicoderm CQ Patches 14 mg OR 21mg 21ct
$3 off CHOOSE FROM: Centrum Multivitamin 365 ct + 60 ct, Silver Multivitamin 285 ct, Caltrate 600 mg + D 320 ct, Advil Tablets 200mg 360ct
$3.50 off CHOOSE FROM: Aleve Liquid Gels 220mg 160ct, One A Day Women's OR Men's Multi 250ct, Citracal Calcium Citrate + D 280ct
$4 off Nature Made CHOOSE FROM: Super B-Complex 460ct, Adult Vitamin D3 Gummies 275ct, Organic Flaxseed Oil 1400mg 300ct
Page 11
$5 off Nature Made CHOOSE FROM: Prenatal Multi + DHA 150ct, Vitamin B-12 1000mcg 375ct, Adult Fish Oil Gummies 220ct, Triple Omega 180ct
$4 off Natrol CHOOSE FROM: 5-HTP 100mg 150ct, Melatonin 5mg 250ct, Biotin 5000mcg 250ct
$6 off Nature Made CHOOSE FROM: Triple Strength Triple Flex 170ct OR 150ct, CholestOFF Plus 200ct, Diabetes Health Pack 60ct
$7 off Qunol Liquid CoQ10 100mg 20oz AND/OR Mega CoQ10 100 mg 120ct
$5 off Schiff CHOOSE FROM: Mega-Red Krill Oil 300mg 110ct, Mega-Red Extra-Strength Krill Oil 500mg 80ct, Mega-Red Joint Care 60ct, Move-Free Advanced 170ct, Glucosamine 1500mg with D 340ct
$5 off Nature's Bounty CHOOSE FROM: Hair, Skin & Nails 250ct, Vitamin D3 5000 I.U. 300ct, Ester-C 500mg 300ct
$6 off CHOOSE FROM: Nature's Bounty Sublingual Vitamin B-12 250ct, Maximum Strength Fish Oil 1400mg 130ct, Osteo Bi-Flex 170ct
$4 off CHOOSE FROM: AmLactin Moisturizing Body Lotion 20oz, Slo-Niacin 500mg 175ct, Schiff Digestive Advantage Probiotic Gummies 120ct
$70 off ANY SET OF 4 Michelin Tires
$20 off A COMPLETE PAIR of Prescription Polarized Eyeglasses
Page 12
$19.99 after $5 off WypAll X80 Cleaning Wipes
15% off Georgia-Pacific SofPul Centerpull Hand Towels and Dispenser
$3 off per case Georgia-Pacific Spectrum Paper
$329.99 after $30 off NeatDesk Desktop Scanner and Digital Filing System for PC or Mac
$499.99 after $200 off Swann "Defend & Deter" 16-Channel 960H Security Camera System
$319.99 after $60 off De'Longhi Pinguino Portable Room Air Conditioner/Dehumidifier/Purifying Fan
$179.99 after $50 off Danby ArcticAire 70-Pint Dehumidifier
$1999.99 after $450 off Shelby 6-Piece Queen Bedroom Set
Page 13
$1299.99 After $300 OFF Sports Afield 7240 Executive Vault
Dell Inspiron 15 15.6″ Touchscreen Laptop Computer
Toshiba S75 17.3″ Laptop Computer
HP ENVY 700qe Desktop Computer with 25″ Monitor
Sleep Science 10″ Split-King Memory Foam Mattress with Adjustable Base
Sealy Posturepedic Barnhart Plush Euro Pillowtop Queen Mattress Set
Brampton 10′ x 8′ Wood Storage Shed
Terra Vista 7-Piece Seating Set
Page 14
$500 – $1000 OFF Select Divine Spas and Aquaterra Spas
$1599.99 after $400 off Cedar Summit Cedar Hill Resort Premium Playset
$499.99 after $100 OFF Jimmy Styks i3 Inflatable Stand-Up Paddle Board Bundle
$1999.99 after $500 off Brunswick Brae Loch Billiard Table
$1399.99 after $300 off Portofino 7-Piece Dining Set
$269.99 after $100 off First Alert Digital Waterproof Fire-Resistant Safe
Calvin Top Grain Leather 5-Piece Modular Sectional
Beckett 4-Piece Top Grain Leather Set