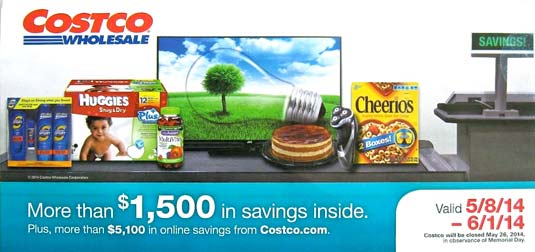 The May 2014 Costco Coupon Book is now posted for those of you interested in seeing what deals and specials Costco is offering this month. Clicking the link above will allow you to view it, download it, or print it. The coupons run from May 8th through June 1st. For the first time ever all of the regular items are Instant Savings. This is a welcome change, as you won't need the coupon book or app to get discounts on any items, they will instead be applied automatically. The exceptions are the Costco special department items — tires, glasses and ink refills — those will require the book or app still.
There are a lot of good deals to be had in the coupon book. People are excited about the Kirkland Signature facial and bath tissues at $3 off, the motor oil at $9 off, and the protein drinks at $5 off. The Coleman tent at $100 after $30 off is a great deal too. As for myself, I'll likely pick up the Brownie Brittle at $2 off, which if you haven't tried it, you totally should! It is great with a bit of vanilla ice cream on top. Also, the Coppertone sunscreen at $5 off is a great deal for the upcoming summer. I really like the mini stick for putting sunscreen on your face and not worrying about it getting into your eyes later. As predicted, the tire coupon is back to Michelin, and should be the same for the June coupon book as well.
If you've bought something recently that went on sale starting May 8th I'd recommend bringing your receipt into the store, going to membership, and asking for a price match. They'll send you to the special cashier (first checkstand) to get your money refunded. If it's been within two weeks you shouldn't have an issue. If it's been longer you may have to buy the item again and return it with the old receipt. If you're looking to buy one of the 9 items requiring a coupon book I'd recommend downloading the Costco app. If you don't have a smartphone you can stop by the membership counter and see if they have any extra coupon books on hand, which they often do. Read more below to see a list of items in the coupon book. What are you going to pick up out of the latest coupon book?
Page 1
$25 off Keurig Platinum Brewer
$5 off Starbucks House Blend K-Cup Portion Packs 54 ct
$3 off Gloria Vanderbilt Ladies' Belted Capri
$30 off Simpson 3000 PSI Honda-Powered Gas Pressure Washer
Page 2
$200 off Samsung 50″ Class 1080p Smart LED LCD HDTV
$30 off JVC 39″ Class 1080p LED LCD HDTV
SANUS Simplicity Flat-Panel TV Wall Mounts CHOOSE FROM: $30 OFF 37-80″ Full-Motion Mount 125-Ib. capacity, $20 OFF 37-80″ Low-Profile Tilt Mount 125-Ib. capacity, $10 OFF 22-47″ Full-Motion Mount 60-Ib. capacity
$25 off Samsung 3D Blu-ray Player with WiFi
$80 off Panasonic HC-V550 High-Definition Digital Camcorder
$80 off Panasonic ZS-35 Digital Long-Zoom Camera
$125 off HP Envy TouchSmart 17.3″ Laptop with beats audio
$20 off Seagate 3TB Backup Plus External Hard Drive
Page 3
T-Mobile – LG G2, Verizon – Samsung Galaxy S 4 (White), AT&T – Samsung Galaxy S 4 (Black), Sprint- Samsung Galaxy S 4 (Black)
$60 off HP Photosmart 7525 Wireless Inkjet Printer
$159.99 after $30 off Garmin 2598LMT 5″ GPS
$339.99 after $50 off DeLonghi 12.5K BTU Portable Air Conditioner
$219.99 after $60 off VIZIO 5.1 Sound Bar with Wireless Subwoofer and Satellite Speakers
$30 off Philips Sonicare Flexcare Rechargeable Toothbrush 2 pk
$10 off Philips Sonicare Replacement Brush Heads 6 ct
Page 4
$20 off Philips Norelco PowerTouch Shaver with Aquatec
$7 off Oster Die-Cast Blender
$8 off FoodSaver Heat-Seal Vacuum Bag and Roll Combo
$3.75 off Aveeno Lotion
$3 off Olay Complete UV Moisturizer
$4 off Neutrogena Rainbath
$5 off Coppertone Sport SPF 30 Sunscreen
$3.50 off Off! Familycare Insect Repellent
$3 off Oral-B 3D White Pulsar Battery Toothbrushes
$4 off Colgate Total Advanced Whitening Toothpaste
Page 5
$5 off Premier Nutrition Protein Shake
BUY Gillette Fusion ProGlide Power Blades 14 ct AND Gillette Comfort Advantage Shave Gel 4 ct -> GET $8.99 OFF YOUR TOTAL PURCHASE
$6 off Schick Intuition Razor + 12 Cartridges
$6 off Huggies Snug & Dry Plus Diapers
$5 off Huggies Natural Care Plus Wipes
$4 off Nexxus Therappe Shampoo AND/OR Humectress Conditioner
$2.50 off Scotch Precision Ultra Edge 8″ Scissors
$10 off Waterpik Chrome Handheld Shower Head
$9 off Chevron Supreme AND/OR Formula Shell Motor Oil
$5 off California Innovations 50-Can Tabletop Soft Cooler
Page 6
$10 OFF Aqua Chem 3″ Chlorinating Tabs Plus 40 lbs AND/OR $5 OFF Aqua Chem Shock Plus 24 pk
$8 off Brita 10-Cup Monterey Pitcher AND/OR Pitcher Filters 10 ct
$6 off Novaform Comfort Curve Memory Foam Bed Pillow
$8 off Disney Animated Movies – Blu-ray
$6 off Disney Animated Movies – DVD
$30 off Samsonite 2-Piece HiLite Sphere Wheel Lightweight Luggage Set
$5 off CHOOSE FROM: Prevacid Capsules 15 mg 3/14 ct, Phillips Colon Health Probiotic 110 ct, Benefiber Powder 190 dose
$10 off Align Daily Probiotic
$4.50 off CHOOSE FROM: Zantac Tablets 150 mg, Dulcolax Laxative Tablets 200 ct, Gas-X Extra Strength Softgels 120 ct
$5 off Joint Juice Glucosamine Chondroitin
Page 7
$2 off Kirkland Signature Multi-Purpose Solution
$3 off Refresh Tears 4/15 mL + 5 mL AND/OR Refresh Plus 100 ct
$5 off Bausch + Lomb CHOOSE FROM: Renu Fresh Multipurpose Solution 2/16oz + 2oz, Biotrue Multi-Purpose Solution 2/16oz, Boston Advance Contact Solution 2/4oz + 1oz
$5 off Bausch + Lomb CHOOSE FROM: Ocuvite 2/120 ct, Ocuvite Adult 50+ 150 ct, PreserVision 180 ct, PreserVision with Lutein 180 ct
$4 off Kirkland Signature Coenzyme Q10
$4 off Excedrin Extra Strength Caplets 300 ct AND/OR Migraine Caplets 300 ct
$3 off Kirkland Signature CHOOSE FROM: Aller-Tec Tablets 10 mg 365ct, AllerClear Tablets 10 mg 365ct, Aller-Tec Childrens Syrup 2/8 fl oz
$6 off Kirkland Signature Aller-Fex Tablets180 mg
$4 off Dietworks Green Coffee Bean Extract 400mg 180ct AND/OR Garcinia Gambogia 210 ct
$3 off CHOOSE FROM: Advil Liqui-Gels 200mg 240ct, PM Caplets 180ct, Thermacare Heatwraps Neck 9 ct OR Back 6 ct
Page 8
$3 off Kirkland Signature Mature Adult Multivitamin 400 ct AND/OR Performance Multivitamin 300 ct
$3 off CHOOSE FROM: Vitafusion MultiVites 250 ct, Calcium Gummies 2/100 ct, Fiber Well Gummies 220 ct, Green Tea Fat Burner 200 ct
$3.50 off CHOOSE FROM: Tums Ultra Berry 265 ct, Ultra-Strength Assorted Fruit 330 ct, Citrucel Caplets 240 ct, Beano Tablets 120ct + 12ct
$3.50 off CHOOSE FROM: Aleve Caplets 220 mg 320 ct, One A Day 50+ Advantage Men's Multi 200 ct, 50+ Advantage Women's Multi 200 ct
$5 off Nature Made CHOOSE FROM: Fish Oil 1200 mg 2/200ct, Vitamin E 400 I.U. 225 ct, Vitamin D3 1000 I.U. 2/300 ct
$8 off Nature Made Coenzyme Q10 200mg 120ct AND/OR SAM-e Complete 400mg 60ct
$2 off Kirkland Signature CHOOSE FROM: Calcium 600 mg + D3 500ct, Super B-Complex with Electrolytes 460 ct, Vitamin E 400 I.U. 500 ct
$4 off Pure Alaska Omega-3 Wild Alaska Salmon Oil 1000mg 180ct AND/OR Omega-3 EPA+DHA 500 mg 180 ct
$4.50 off Pure Protein Bar Variety Pack
$3.20 off Fiber One Oats & Chocolate Bars
Page 9
$2 off Food Should Taste Good Multigrain Tortilla Chips
$4.25 off Mars Chocolate Variety Pack
$2.70 off Kashi Go Lean Crunch! Cereal
$2 off Cheerios
$2 off Cheez-It Crackers
$2 off Stacy's Pita Chips
$2 off Sheila G's Brownie Brittle
$2 off Classico Pasta Sauce
$2 off Heinz Picnic Pack
$3 off Starbucks Frappuccino
Page 10
$2 off Maxwell House 42.5 oz AND/OR Yuban Gold Coffee 44 oz
$2.50 off Gatorade All Stars
$3.50 off Glacéau Vitaminwater AND/OR Vitaminwater Zero Variety Packs
$3.30 off San Pellegrino Sparkling Fruit Beverage Variety Pack
$3 off Kraft Easy Mac Cups
$2 off Kirkland Signature Caramel Tres Leches
$2 off Nabisco Oreo Sandwich Cookies
$5 off Monster Energy Drink
$3 off Dixie Ultra Plates
$2.50 off Kirkland Signature Clear Cutlery Combo Pack
Page 11
$3 OFF Cascade Complete Action Pacs 85 ct OR $2.50 OFF Cascade Action Pacs 90 ct
$2.75 off Clorox Toilet Bowl Cleaner 6/24 oz AND/OR Automatic Toilet Bowl Cleaner
$2.50 off Pine-Sol 175oz AND/OR Liquid-Plumr
$4.50 OFF Gain Powder OR $3.50 OFF Gain Liquid Laundry Detergent
$4 off Arm & Hammer Oxi Clean Max Liquid Laundry Detergent
$3 off Swiffer Dry Cloths 80 ct, Dusters 24ct, Wet Cloths 60ct OR Starter Kit
$2 off Dawn Platinum Advanced Power Liquid Dish Soap
$2.70 off Scotch-Brite Sponges
$4 off Oxi Clean Versatile Stain Remover
$3.50 OFF Kirkland Signature Laundry Pacs OR $2.90 OFF Ultra OR Free & Clear Liquid Laundry Detergent