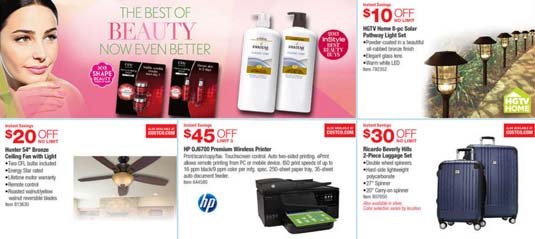 Just released is the April 2014 Costco Coupon Book. Clicking the link above will allow you to view it, download it, or print it if you'd like. The coupons run from April 10th to May 4th. The March coupon book had only 7 items that required a book or the app, and this coupon book has 9 items that require it. The rest are Instant Savings, meaning the discount will automatically be taken off at the register.
Once again not that exciting of a coupon book. I feel that is the norm for Costco coupon books these days. The item I've heard most talked about it the Hunter ceiling fan on the first page. At only $79 after $20 off it is a great deal, and I've heard great reviews on it as well. Besides that people always like the potstickers, and the frosted mini wheats. With summer coming up the sunscreen is always a good buy as well. For myself, I will likely pick up some beef jerky and maybe some raviolis, but that is about it. For the second month in a row the tire coupon is Bridgestone, which means it will switch to Michelin next month.
If you've bought something recently that is going on sale starting Thursday I'd recommend bringing your receipt into the store, going to membership, and asking for a price match. They'll send you to the special cashier (first checkstand) to get your money refunded. If it's been within two weeks you shouldn't have an issue. If it's been longer you may have to buy the item again and return it with the old receipt. If you're looking to buy one of the 9 items requiring a coupon book I'd recommend downloading the Costco app. If you don't have a smartphone you can stop by the membership counter and see if they have any extra coupon books on hand, which they often do. What are you going to pick up out of the latest coupon book?