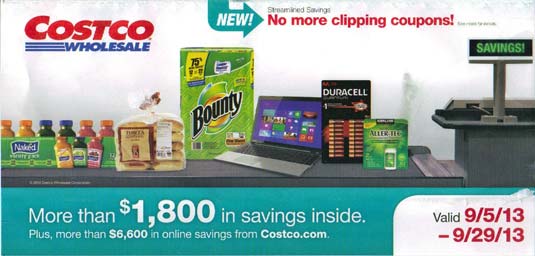 Here is the early preview of the upcoming September 2013 Costco coupon book. See it before you get it in the mail or can view it in the app so that you don't buy something this week that will be on coupon starting next Thursday. The link above will allow you to view or download the coupons, which run from September 5th until September 29th. Valid for two more days is the August 2013 coupon book if you'd like to review it before it expires on Sunday. As I mentioned last month, the booklet has a new design to it, focusing on using the mobile app to present your coupons. While most of the items on sale don't require any coupon, some will have a blue arrow at the top of them, which means you need the booklet or app to get the discount. Remember, the booklet says that additional books will NOT be available at the warehouse, which is a change from the past. If you'd like to be notified as soon as deals come up, make sure to subscribe to our email list, like us on Facebook, and follow us on Twitter!
Not every coupon book is a home run for everyone. We all buy different things at Costco, and get excited over different things on discount. For September it seems like most excitement is over the KS Laundry Detergent and the Naked Juice Value Pack. Usually the wiper blades become buy one get one free in the fall, so a bummer that they're only $3 off. Still, only a difference of a dollar or two. As for myself, I am intrigued by the Naked juice, but I want to know how it compares at the per ounce cost to other juices. I like the bourbon chicken, but don't want to eat it all myself so I'll probably pass on that. I might pick up the Torta rolls and give those a try. I'll also compare the Muscle Milk powder to the CytoSport Whey Protein they sell and see which one I want to pick up. The tire coupon is back to Michelin after two months on Bridgestone.
You can download the Costco app if you didn't get the coupon book mailed to you, and show the cashier your coupons from your phone. Also, at some locations the cashier will have the coupons already and automatically scan it for you. I  heard they are getting more strict on this though. These coupons will not work in store, as you need the barcode. Have you tried any of the items in this coupon book? What did you think?