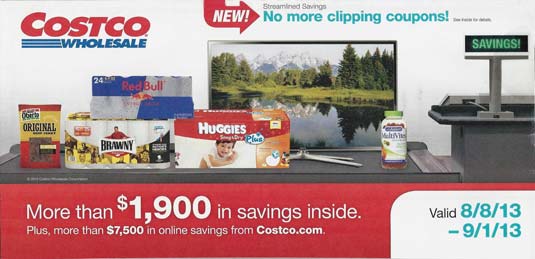 This Thursday is the start of the August 2013 Costco coupon book. This link will allow you to view or download the coupons, which run from August 8th until September 1st. There are only four days between the July 2013 coupon book, which ended Sunday, and this one, which starts on Thursday. Costco has completely redesigned the coupon book this month. All over the coupon book it talks about how you can use the new Costco app to show your coupons in store. There are not barcodes on the back of every coupon, but instead just a couple barcodes in the first two pages of the book, which are good for the whole book.  Items that are not "instant savings" have a blue arrow on the top of them saying "Book or App required", in which there are 18 throughout the book. Also, the coupon book makes sure to point out all of the items that are available on Costco.com, with a red box which says "Also Available at Costco.com". Lastly, the book says that additional books will NOT be available at the warehouse, which is a change from the past. If you'd like to be notified as soon as deals come up, make sure to subscribe to our email list, like us on Facebook, and follow us on Twitter!
Most would describe this as a good coupon book. Hardly ever are diapers on sale, and with $6 off Huggies, it is a remarkable deal. Even those without children are considering buying them to stock up for when that day comes! Also, the Spinach and Mozzarella Ravioli are a great product at regular price. As for myself, I may buy the IZZE Sparkling Juice, as my spouse is a big fan. We could also use some more Dixie Plates, so it will be nice to save $2 on those. Bridgestone is back for the second month in a row, so I would expect next month it would go back to Michelin.
You can download the Costco app if you didn't get the coupon book mailed to you, and show the cashier your coupons from your phone. Also, at some locations the cashier will have the coupons already and automatically scan it for you. I  heard they are getting more strict on this though. These coupons will not work in store, as you need the barcode. Have you tried any of the items in this coupon book? What did you think?