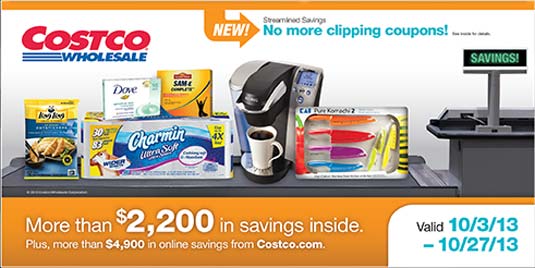 For your viewing pleasure I have posted the new October 2013 Costco coupon book. This gives you a chance to see it before you get it in the mail, can view it online, or in the app. The above link will allow you to view or download the coupons if you'd like, and is valid from October 3rd to October 27th. Also, valid until Sunday is the September 2013 coupon book if you haven't seen that. While most of the items on sale don't require any coupon, some will have a blue arrow at the top of them, which means you need the booklet or app to get the discount. Remember, the booklet says that additional books will NOT be available at the warehouse, which is a change from the past. If you'd like to be notified as soon as deals come up, make sure to subscribe to our email list, like us on Facebook, and follow us on Twitter!
Not much to write home about in this coupon book. Some are excited about the Purina cat food, which should be $14.49 after coupon, which comes out to approximately $0.40 per can. Another item of interest is the Kai Pure Komachi 2 Knives, which are only $24.99. I heard great reviews about them last year when they were on sale, and are priced at $60 on Amazon. Lastly, there is a lot of interest in the 80″ Vizio TV, which is $600 off, which should make it $3,299. As for myself, I am picking up the Braun Series 5 Razor. I bought one last year and it is SO much better than my old Norelco. The shaver will be $100 after $20 coupon. The tire coupon is Michelin for the second month in a row. That means you should expect Bridgestone next month.
You can download the Costco app if you didn't get the coupon book mailed to you, and show the cashier your coupons from your phone. Also, at some locations the cashier will have the coupons already and automatically scan it for you. I  heard they are getting more strict on this though. These coupons will not work in store, as you need the barcode. Read more if you'd like to see a list of items and their after coupon prices. Have you tried any of the items in this coupon book? What did you think?
Classico Sauce 3/32 oz $7.49
Instant Savings: -$2, Limit 3
Final Price: $5.49
Crazy Cuizine Orange Chicken 66 oz $14.49
Instant Savings: -$3.75, Limit 5
Final Price: $10.74
Fruit by the Foot  42 ct $10.79
Instant Savings: -$2.90, Limit 2
Final Price: $7.89
Kirkland Signature Granola Snack Mix (in the Bakery) $8.99
Instant Savings: -$1.50, No Limit
Final Price: $7.49
Kirkland Signature StockPot Broccoli Cheddar Soup 2/32 oz $9.99
Instant Savings: -$2.50, Limit 2
Final Price: $7.49
Nestle Toll House Semi-Sweet Morsels 72 oz $10.79
Instant Savings: -$2.50, Limit 98
Final Price: $8.29
Nutella Hazelnut Spread 2/26.5 oz $9.89
Instant Savings: -$2.50, Limit 5
Final Price: $7.39
Ocean Spray Craisins 48 oz $7.79
Instant Savings: -$3, Limit 1
Final Price: $4.79
Pierre Signatures Angus Cheeseburgers (Frozen) 8/6.2 oz $12.99
Instant Savings: -$4, Limit 4
Final Price: $8.99
Quaker Oatmeal Squares 58 oz $7.39
Instant Savings: -$2.25, Limit 2
Final Price: $5.14
Yoplait Go-Gurt Simple 32/2.25 oz $7.89
Instant Savings: -$2.90, Limit 3
Final Price: $4.99
Dove Beauty Bar 16 ct $15.99
Instant Savings: -$3.25, Limit 2
Final Price: $12.74
Listerine Cool Mint Mouthwash 2/1.5 L $9.99
Instant Savings: -$2.50, Limit 2
Final Price: $7.49
Pantene Shampoo &/or Conditioner 40 oz $7.99
Book or App Required for Discount: -$2
Final Price: $5.99
Softsoap Advanced Clean Liquid Hand Wash 2/80 oz $8.99
Instant Savings: -$2.50, Limit 2
Final Price: $6.49
Purina Fancy Feast Cat Food 36/3 oz $19.49  (other locations may have the 48 ct at a different price)
Instant Savings: -$5, Limit 3
Final Price: $14.49  (approx. $0.40 per can)
Braun Series 5 Razor $119.99
Instant Savings: -$20
Final Price: $99.99
HP Officejet Pro 8600 Plus-e AIO Printer $249.99
Instant Savings: -$75, Limit 3
Final Price: $174.99
Scotch Precision Ultra Edge 8″ Scissors 3 pk $9.99
Instant Savings: -$2.50, Limit 5
Final Price: $7.49
HP Envy TouchSmart 15.6″ Laptop with beatsaudio $999.99
12GB Memory, 1TB Hard Drive, 4th Gen Intel Core i7 Quad Core Processor
Instant Savings: -$150, Limit 5
Final Price: $849.99
AT&T LG Optimus G Pro  Up to $180 off, Limit 5
Sprint HTC One  Up to $100 off, Limit 5
Verizon HTC One  Up to $50 off, Limit 5