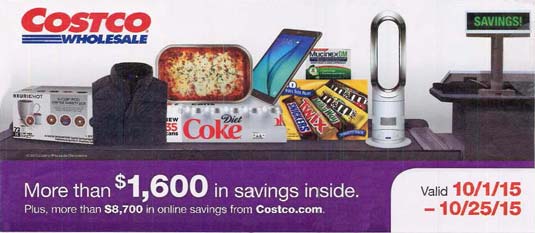 We've once again been able to secure a really early preview of the upcoming October 2015 Costco Coupon Book! The coupons start on October 1st and run through the 25th. Clicking the link above will bring you to the pages so you can view or print the coupons. Also, you can see the upcoming November 2015 Costco coupon book if you'd like, which starts October 29th. This early preview will allow you to plan your upcoming shopping trips so you can hold off on buying certain items that will be on sale in October. If you want to be the first one to find out when we post the latest coupon book please subscribe to our email list, like us on Facebook, and follow us on Twitter!
For all the upcoming holidays and parties you'd think the October coupon book would be a little more exciting, but for us, it's not. We own the heated plush throw and it works great on cold nights to warm up the sheets and avoid using the heater. We also have a Little Giant ladder and love that as well. The rechargable Eneloop batteries are the best money can buy, and a good price at Costco. Lastly, we have a Braun Series 7 shaver and highly recommend it if you're in the market. The tire coupon is Michelin for the second month now.
What items in this months Costco coupon book stand out to you as must buys? Read more to see the coupon book pages below. A download link will be poster later.