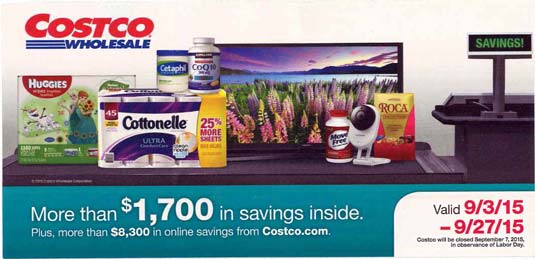 Here is a very early release of the September 2015 Costco Coupon Book! It will begin September 3rd and run through the 27th. By clicking the link above you will be able to view, print, or download the coupons. Looking at what's going on sale ahead of time will allow you to pre-plan your upcoming shopping trips and wait to buy things that will soon be going on discount. Also, we have just posted the upcoming October 2015 Costco Coupon Book if you want to take a look at that! The September ad flyer is a little smaller than last months at 17 pages. If you want to be the first one to find out when we post the latest coupon book please subscribe to our email list, like us on Facebook, and follow us on Twitter!
Our initial reaction is that the September coupon book is just average on deals. The Shark vacuum looks like a pretty good deal at $160 after coupon. I really love my Dyson from Costco, but if I was in the market for a vacuum I'd give the Shark a try first and if I didn't like it I could easily return it to Costco thanks to the generous return policy. Diapers are on sale for the second month in a row, but this time Huggies. With El Nino supposedly coming to bring one of the wettest winters we've had, picking up an umbrella or two might be a good choice as well, at only $8 after coupon. I love the 7 LED Candle pack. It smells great, and looks great, and is very easy to operate. I might even get a second set for myself. Nothing else in the coupon book really stands out as a must by for me. The tire coupon has switched back to Michelin for the next two months, ending October 25th.
Which Costco items in this coupon book are you going to pick up and which ones are you curious to learn more about? Read more to see a list of items with final prices that are in this months coupon book.
FOOD
Annie's Bunny Snacks Variety Pack 36 ct $11.99
Instant Savings: -$3 = $8.99
Cheez-It Crackers 2/24 oz $7.99
Instant Savings: -$2 = $5.99
Crunchmaster Multi-Grain Crackers 2/14 oz $9.99
Instant Savings: -$2.50 = $7.49
Dannon Activia Probiotic Yogurt Variety Pack 24/4 oz $9.99
Instant Savings: -$3.50 = $6.49
Frito-Lay Select Mix Variety Pack 28 ct $11.69
Instant Savings: -$2.90 = $8.79
General Mills Cinnamon Toast Crunch 2/24.75 oz $6.99
Instant Savings: -$2.40 = $4.59
Jimmy Dean Croissant Breakfast Sandwiches 12/4.5 oz $10.99
Instant Savings: -$3 = $7.99
Kraft Easy Mac Cups 12/2.05 oz $9.89
Instant Savings: -$2.70 = $7.19
La Brea Bakery Torta Sandwich Rolls 12 ct $6.49
Instant Savings: -$1 = $5.49
Laughing Cow Creamy Swiss Original Cheese Wedges 4/6 oz $9.39
Instant Savings: -$2.40 = $6.99
Marie Callender's Chicken Pot Pies 8/10 oz $11.79
Instant Savings: -$3 = $8.79
Nature's Path Pumpkin Flax Granola 2/17.65 oz $7.69
Instant Savings: -$2.50 = $5.19
Philadelphia Cream Cheese 48 oz $7.99
Instant Savings: -$2 = $5.99
Quaker Instant Oatmeal Variety Pack 52 ct $9.79
Instant Savings: -$3 = $6.79
Sabatasso's Pizza Singles Variety Pack 12 ct $10.69
Instant Savings: -$2.80 = $7.89
Smucker's Uncrustables Peanut Butter & Grape Jelly Sandwiches 18 ct $10.99
Instant Savings: -$2.75 = $8.24
BEVERAGES
Dr. Pepper &/or Diet Dr. Pepper 36 ct $8.99
Instant Savings: -$2.10 = $6.89
Keurig Green Mountain K-Cup Pods 80 ct $39.99
Instant Savings: -$5 = $34.99
Kirkland Signature Water 70/8 oz $6.69
Instant Savings: -$1.50 = $5.19
San Pellegrino Sparkling Fruit Beverage Variety Pack 24/11.15 oz $15.99
Instant Savings: -$3.50 = $12.49
Starbucks Frappuccino 12/9.5 oz $14.59
Instant Savings: -$3 = $11.59
Starbucks French Roast Whole Bean Coffee 2.5 lbs $19.99
Instant Savings: -$4.50 = $15.49
Starbucks VIA Instant Coffee Colombia 26 ct $14.99
Instant Savings: -$3 = $11.99
HOME
Altair Outdoor LED Lantern with Optional Arm Kit $37.99
Instant Savings: -$8 = $29.99
Circulon Hard Anodized 13-Piece Cookware Set $199.99
Instant Savings: -$40 = $159.99
Hansgrohe Cento Kitchen Faucet $259.99
Instant Savings: -$80 = $179.99
Harmonics Laminate Flooring with Attached Pad $39.99
Instant Savings: -$10 = $29.99
LED Candles with Remote $29.99
Instant Savings: -$5 = $24.99
Oster Dura-Built Blender $34.99
Instant Savings: -$10 = $24.99
Sabatier Nonslip Cutting Board Set 3 pk $16.99
Instant Savings: -$4 = $12.99
Shark Rotator Professional Lift-Away Vacuum $199.99
Instant Savings: -$40 = $159.99
PERSONAL CARE
Depend Adult Underwear $42.99
Instant Savings: -$8.50 = $34.49
Head & Shoulders 2-in-1 40 oz $10.49
Instant Savings: -$2.50 = $7.99
Kirkland Signature Facial Tissue 12/90 ct $14.69
Instant Savings: -$3 = $11.69
Lubriderm Daily Moisture Lotion 2/24 oz + 1/6 oz $13.99
Instant Savings: -$3.75 = $10.24
Oral-B Glide Pro-Health Floss 6 ct $12.99
Instant Savings: -$3 = $9.99
Oral-B Pro-Health CrissCross Toothbrushes 8 ct $13.99
Instant Savings: -$4 = $9.99
Philips Norelco Shaver 4600 $79.99
Instant Savings: -$20 = $59.99
Q-tips 3/625 ct $8.99
Instant Savings: -$2 = $6.99
Sonicare Plaque Control Plus Rechargeable Toothbrush 2-pk $99.99
Instant Savings: -$20 = $79.99
Waterpik Ultra-Traveler Water Flosser Combo $79.99
Instant Savings: -$20 = $59.99
HOUSEHOLD/CLEANING
Cascade Complete Action Pacs 90 ct $15.99
Instant Savings: -$3.20 = $12.79
Downy Unstopables In-Wash Scent Booster 36.2 oz $14.99
Instant Savings: -$3 = $11.99
KS Fabric Softener Sheets 2/250 ct $8.79
Instant Savings: -$2 = $6.79
KS Ultra Clean Regular Liquid Laundry Detergent 126 loads $14.69 &/or
KS Free & Clear Ultra Clean Liquid Laundry Detergent 126 loads $13.99
Instant Savings: -$2.90 = $11.79 (Regular), $11.09 (Free & Clear)
Mr. Clean Magic Eraser Variety Pack 9 ct $8.99
Instant Savings: -$2 = $6.99
Oxi Clean Versatile Stain Remover 290 loads $17.99
Instant Savings: -$4 = $13.99
Palmolive Liquid Dish Soap 90 oz $7.99
Instant Savings: -$2 = $5.99
Scotch-Brite Sponges Heavy Duty 21 ct $13.39 &/or
Scotch-Brite Sponges Non-Scratch 18 ct $12.49
Instant Savings: -$2.70 = $10.69 (Heavy Duty) or $9.79 (Non-Scratch)
PETS
Pedigree Dentastix Chews 51 ct $16.59
Instant Savings: -$4.60 = $11.99
Pedigree Dry Dog Food 55 lbs $23.99
Instant Savings: -$5 = $18.99
Scoop Away Cat Litter 42 lbs $11.99
Instant Savings: -$2.60 = $9.39
ACCESSORIES
ShedRain Umbrella $9.99
Instant Savings: -$2 = $7.99
OFFICE SUPPLIES
3M Scotch Tape 6,600″ $11.99
Instant Savings: -$3.50 = $8.49
ELECTRONICS
Acer Aspire Desktop with Windows 10 $699.99
Instant Savings: -$100 = $599.99
D-Link AC750 Wireless Range Extender $49.99
Instant Savings: -$10 = $39.99
Epson Workforce WF3640 Wireless All-in-One Printer $159.99
Instant Savings: -$60 = $99.99
HP Pavilion 15.6″ Full HD Touch Laptop with Windows 10 $899.99
Instant Savings: -$125 = $774.99
Panasonic 3-Handset Phone KX-TG433SK $49.99
Instant Savings: -$10 = $39.99
Samsung 48″ Class 1080p Smart LED LCD TV $564.99
Instant Savings: -$100 = $464.99
Samsung 60″ Class 1080p Smart LED LCD TV $934.99
Instant Savings: -$120 = $814.99
Samsung Wi-Fi Observation Camera $139.99
Instant Savings: -$40 = $99.99
Vizio 70″ Class 1080p Smart LED LCD TV $1,369.99
Instant Savings: -$280 = $1,089.99
AUTOMOTIVE
Febreze Air Freshener Vent Clips 4 ct $7.99
Instant Savings: -$2 = $5.99